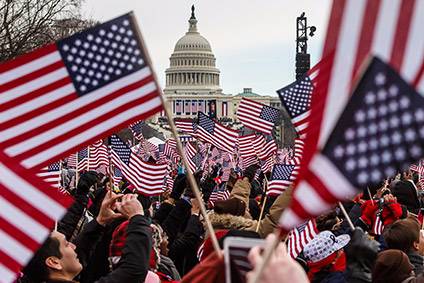 Trump has embarked on a simple if sometimes poorly executed plan to restrict trade. That's nothing new. What is new, though, are the implications, believes Robert Antoshak, managing director at Olah Inc.
There's an expression in American politics of "speaking on the stump," which comes from a time when politicians running for office would travel from town to town and stand on tree stumps shouting their speeches to crowds of voters.
The Internet provides today's equivalent. And you don't to be a politician to voice your opinion. Well, dear reader, today is your lucky day. Here's my stump speech about the current state of affairs in Washington and how rhetoric – along with policy changes adopted by the Trump Administration – may potentially affect the global textile and apparel business.
America has abdicated its role as a leader in open borders and global trade
Trump has embarked on a simple if sometimes poorly executed plan to restrict trade. That's nothing new. What is new, though, are the implications. America has abdicated its role as a leader in open borders and global trade. Indeed, Trump may or may not build a physical wall between the US and Mexico, but at a minimum Trump's anti-trade, isolationist rhetoric implies that doing business in the United States will only become more difficult for companies accustomed to importing from manufacturers around the world.
All of the growth in global trade we've experienced over the past couple of decades may be coming to an end – or at least altered, if not severely curtailed. Bilateral and multilateral free trade agreements paved the way for more significant trade. Trade, however, has taken on an unpropitious connotation in Washington these days. For sure, not everyone in DC sees global commerce as something inherently wrong; far from it. But the head of the American Executive Branch of government seems to dislike trade, at least regarding trade agreements that he says were "bad deals" for America.
So the current administration has turned away from free trade agreements. For example, the Trump Administration has dumped the TPP, is renegotiating NAFTA – or more appropriately, is looking to exit the North American Free Trade Agreement – and has questioned the viability of the WTO. And then there are negotiations over KORUS (the US-Korea Free Trade Agreement), a new Section 301 case against China, and talk of walking away from DR-CAFTA if the US decided to bail on from NAFTA.
On top of all of that, there's the US abandonment of the Paris Climate Accord, an agreement that was not trade-specific per se, but has been ridiculed by the Trump Administration as being somehow against American business. Of course, free trade has created winners and losers, but more significantly free trade has created opportunities for so many. Some industries lost out while others gained. US textiles producers, for instance, lost out against nimble competitors in Asia and elsewhere.
As if those developments weren't enough, domestic initiatives have fallen on hard times. Efforts to overhaul Obamacare, the American sort-of national healthcare programme, have come to naught, while at the same time, efforts have begun to modernise the country's income tax system appeared mired in political discord. Attempts to initiate infrastructure projects have fallen by the wayside, as have many government programmes supporting the poor.
In all cases, the rallying cry of politicians seems to be to get anything done, to show movement that things can get done in Washington. Of course, whether such developments are good for the vast majority of Americans is another matter entirely. That seems to get lost in the policy debates. But in reality, it's more about the last gasp of an increasingly dysfunctional American political system.
But I digress. After all, this publication is for the global textile and apparel industries. But these developments affect our industry in many, many ways – the trick, of course, is to understand how.
"Trump's 'America first' looks more and more like 'America alone.'"
A recent article in The Washington Post put the current dilemma for policymakers succinctly: "Trump's 'America first' looks more and more like 'America alone.'" Political, social and economic change is challenging the system. Traditional politics is reeling.
And it's not just in the US. There's also Brexit, a rejection of pan-European cooperation and joint economic development. In either case, it seems that party systems in the developed world appear to be under significant pressure.
It is curious that during this time of retrenchment in parts of the world, changes at retail have coincided with these broader societal alterations. Why is that? In many ways, retailers are a reactionary bunch. The very nature of the retail business forces companies to react to the changing tastes of consumers. According to Steve Jobs, it's rare to sell consumers things they don't even know they want. That's hard to do.
But as in retail, that's also hard for politicians. In turn, that translates into economic effects, often forces that take years to manifest. Although many people want to see and experience changes immediately, in reality, change – even rapid change – takes time. A lot of time.
So the effects of globalisation and, in turn, the rise of nationalism has taken years to develop. The same goes for retail. It is a reflection of a changing society. Social media affects both. Think of Trump's tweets and mobile phone purchasing. Changing messaging – it effects both. Think of two unrelated developments: "America First" and fast fashion. One is a reaction to societal change, while the other is a response to weak retail demand. What do they have in common? They are replies to change.
Is today's consumer a nationalist who spends less in stores? Is this how societal decline looks? As an American, gosh I hope not. But as a consultant in the textile and apparel industry, I can't help but feel that changes we've experienced are the result of something more profound. The analyst in me is worried. Indeed, societal change doesn't just reside in newspaper headlines or on some Twitter feed. No, it's deeper than that.
With retail sales flat and with a growing oversupply of textiles and apparel globally, with uneven global economic growth, and with unrest in the masses of consumers throughout the developed world, we need to be concerned about our business. It's more than just anticipating the next fashion trends.
To be successful in today's business, an executive needs to be part bookkeeper, part salesperson, part product developer, and part social scientist. The world has and will move on. For instance, the TPP continues – only without the United States.
Has all of this uncertainty over trade affected imports of textiles and apparel? Not really. Trade was flat before Trump took office. It's more a result of changes in the retail business. Has closing of US borders resulted in a renaissance in domestic manufacturing? No. There are pockets of initiatives around the country, but in reality, many of those efforts pre-date Trump.
In a political sense, Trump has put America on a course where interactions with the world will only become more problematic. Isolation is not the answer, but for Trump, such separation is tantamount to "America First." Trump's policies, though, overplay his hand.
Our industry, however, is vulnerable to changes brought about by his trade policies – and we need to clear-eyed about the implications of his programmes while our markets evolve.