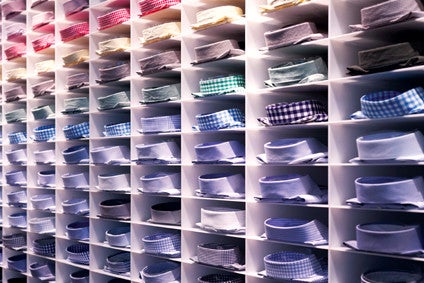 Many apparel brands struggle with overdevelopment, leading to wasted time and effort. For brands looking to overcome this, colour is an important consideration, explains Dustin Bowersox, market manager for textiles and apparel at Datacolor.
The current process for designing apparel begins with inspiration, trends and sketches. For any given design, there are typically multiple colourways tested with mills. Samples are often couriered across oceans and continents back to the brands, and after several rounds of re-dye requests, a majority are rejected. This includes rejections based purely on feasibility concerns – when brands waste time developing fabric-colour combinations that are impossible to execute or accurately reproduce.
This overdevelopment for a single design wastes an exceptional amount of time and resources. Plus, these lab exercises are surprisingly costly. In fact, each lab dip costs upwards of $150 – much of which can be attributed to courier fees. Furthermore, this process generates an extreme amount of waste between the dyeing and physical samples – which adds up over time and across designs.
"With the support of modern colour management technology and colour science, brands can dramatically cut back on their volume of overdevelopment"
The process is archaic, and it doesn't have to be the reality today. While apparel colour palettes are driven by trends and design teams, the development and execution of that colour palette can be directed by a purely objective workflow. With the support of modern colour management technology and colour science, brands can dramatically cut back on their volume of overdevelopment.
The following are some strategies to consider for reducing overdevelopment as it relates to colour:
Start off on the right foot
Apparel design begins with inspiration, which can take a multitude of forms – from fabric swatches and paint chips to leaves and pottery. Visually matching the colour of those design inspiration samples introduces countless inefficiencies and opportunities for error.
That's where digital colour measurement tools can help streamline things. By measuring the design inspiration sample, the colour office can search existing custom library and colour standards provider libraries for similar shades, thereby eliminating the extra time and cost required to develop custom colour standards.
Portable colour matching systems are great for designers on-the-go, allowing real-time colour matching at the source of inspiration. Additionally, the introduction of hyperspectral imaging spectrophotometers allows for the measurement of traditionally non-measurable materials, like heather, mesh, prints, lace, and other textured and multi-coloured sources of inspiration that designers might bring to the table.
Go digital with colour quality reviews
Objectively analyse the colour quality of physical samples, without the need to ship, reject and re-ship these lab dips back and forth from supplier to brand.
Colour management tools, like spectrophotometers, can be used to measure the colour of samples and generate colour data, which is analysed and communicated using quality control software. The colour of a textile sample can then be broken down into very clear expectations for quality, which are known as tolerances. If a measured sample is within tolerance, it passes; while a colour outside of tolerance would fail.
This process is superior to visual colour evaluations, which are subjective and can vary widely between individuals and environments.
Say, for example, that a brand wants ebony dyed on 100% cotton. With the help of a spectrophotometer and quality control software, it is possible to take this information, create a colour formula, scale up, measure the sample and prove numerically that a mill can deliver on the brand's quality expectations – without ever sending a physical sample for brand approval.
Identify problems before development
Colour feasibility issues could be identified before development even began, helping to cut down on design colourways that would ultimately have been rejected. Just because a designer can dream it up, that does not mean it is executable.
Certain dyes won't chemically adhere to particular kinds of fabrics. For example, neon dyes on cotton have poor colour-fastness with regard to light and washing. Additionally, some colour-fabric combinations result in metamerism – a phenomenon in which two samples appear to be the same colour in one lighting condition but look like different shades under another light source. Another concern is the shortage of certain types of dye materials and the rising costs of many dyes and chemicals, which can make it too costly or cumbersome to dye certain colours.
A robust and highly integrated colour management process and technologies could identify these roadblocks before designs went to development, thus completely avoiding wasted time and resources.
Shift (some) colour quality approval rights to suppliers
Reduce the burden of oversight by transitioning some colour quality approval rights to the point of production.
With the right digital colour management tools in place, brands can communicate clear pass/fail criteria for colour quality, allowing mills to more easily meet brand expectations for quality. Ideally, this also means suppliers would then be empowered to make critical quality decisions at the point of production, thus easing the burden on brands and reducing the back and forth.
No brand wants to be surprised by the product that ultimately hits the supply floor; that's why traditional approval processes exist. However, they can be burdensome, they are often costly, and they could easily be adjusted – without fear that colour quality will waver.
The key to this is to establish confidence in one's suppliers. Industry recognised assessment programmes exist to increase brand confidence that mills understand brand expectations, have trained and certified staff, and have the technology needed to execute – like light boxes, quality control software and spectrophotometers. Additionally, web-based portals can give brands visibility into a mill's production data. The increased level of transparency offered by such programmes can help brands ensure efficient and timely production by more quickly identifying and taking action on products that pose quality risks.
The ultimate goal is to give brands the confidence to relinquish some approval rights to the mills. This new approval process helps cut down on development by allowing mills to prove numerically that they can deliver quality expectations without ever physically sending a sample for brand approval.
Colour is a key consideration when implementing strategies to reduce overdevelopment. Supply chain managers who prioritise managing colour more effectively throughout the product development workflow will be rewarded with a significant reduction in development, less wasted time, money and resources, and a reduced environmental impact.
About the author: Dustin Bowersox is the market manager for textiles and apparel at Datacolor, and has more than 20 years of experience in the textile and colour industry. Datacolor is a global leader in colour management solutions and provides software, instruments and services to assure accurate colour of materials, products and images.