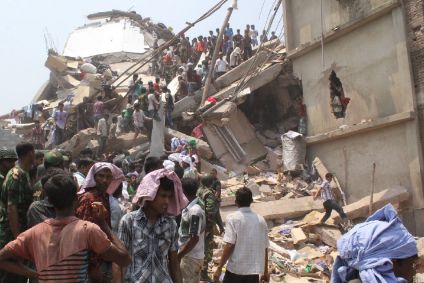 Five years ago, the Rana Plaza catastrophe made Bangladesh notorious – and turned our industry into a pariah. Today, our reaction to the catastrophe has helped Bangladesh become a beacon for how poor countries can pull themselves out of poverty and, in the process, transform human rights and gender equality. All through clothing exports to the West. You will probably never again help achieve anything so extraordinary.
Things were bad before Rana Plaza
Bangladesh was born out of a savage civil war in 1971. It had no natural resources, its neighbours were almost as poor, and it sat on the edge of an earthquake zone, battered by monsoons and tsunamis. President Nixon's key foreign affairs advisor, Henry Kissinger, decided that it "is and always will be a basket case."
It had the same GDP per head ($95) as Haiti – and, unlike Haiti, had no rich market on its doorstep.
Forty years on…
By 2013, and with almost no foreign investment, Bangladesh had become the world's largest clothing exporter after China. Millions of jobs had been created and its GDP had grown ninefold since 1971.
Bangladesh's achievements weren't only economic: in 2010, the country received a UN Millennium Development Goals Award for its remarkable decline in infant mortality, and was beating other very poor countries in its battle against extreme poverty and hunger, educational improvement and advances in gender equality.
But there were serious black spots:
At BDT3,000 ($38) a month, the minimum wage was almost the lowest on earth;
Worker safety: at Clothesource, we were logging between 60 and 80 deaths a year in clothing factory accidents; the highest recorded anywhere;
Pervading violence. Political disputes were settled – or often not – in riots between the two parties who controlled the country almost since its birth, killing dozens. That's how disputes were handled in the clothing industry too. Both sides used thugs to intimidate their opponents and their supporters. And governments (of either party) supported employers, and their trade organisations like the BGMEA ands BKMEA.
The government systematically intimidated garment workers. Most notoriously, in 2012 the government's intelligence agency brutally murdered garment union organiser Aminul Islam.
24 April 2013
To everyone's horror – but almost no-one's surprise – at least 1,500 people were killed when the multi-storey Rana Plaza clothing factory complex collapsed: the worst recorded peacetime industrial accident anywhere, ever.
Many were surprised, though, how quickly European and American clothing importers reacted.
Political activists had been pushing a factory safety proposal for years. Within weeks of the collapse, cooperating with Western and Bangladeshi unions, importers finally adopted a modified version. Around 300 companies quickly signed up to separate consortia in the US and Europe.
Those consortia offered long-term commitment and financial support. They also imposed almost identical standards of safety protection on Bangladeshi factories – almost all still locally owned.
Though political activists criticised the details, collaboration between unions and importers was remarkable – with unions now able to appeal over factory owners' heads to buyers, who did indeed fire unsatisfactory factories.
Activists raised frequent – and usually well-founded – worries about building standards and the pace of factory upgrading. But industrial safety improved almost immediately. Like roads, no building is ever 100% safe: what really matters is having safety rules that are always enforced.
The consortia made it clear almost from the start that broken safety rules meant no more orders – though workers would be compensated. Locked fire doors? Smoking near flammable material? Workers not instantly evacuated if danger was suspected? Termination.
In the subsequent five years: at most a dozen accidental deaths in clothing factories.
2017
By the end of 2017, Bangladesh's clothing exports to the EU were two-thirds those of China – and six times those of Turkey.
Four million people now worked in clothing factories, with almost as many again working in businesses depending on those factories. Bangladesh's GDP per head was now $1400 – more than twice Haiti's. And Haiti was getting nine times as much foreign aid per head.
Almost entirely the result of its clothing industry. But progress on the other problems was patchy.
Wages: Bangladesh's minimum wage was still just $64 a month.
Union harassment: In 2016, the government's neurosis about "subversion" meant workers were threatened with sedition charges (carrying a sentence of life imprisonment) if they told visiting US politicians the truth about working conditions in factories. As the crackdown on union activities worsened, at least 1,500 workers were dismissed, and 38 union leaders and workers were arrested on unsubstantiated charges after a largely peaceful protest in December 2016. The importers put their feet down. Threatening to boycott a BGMEA "summit" planned to publicise the country, they confronted the government and the BGMEA. The charges were dropped, the dismissed workers reinstated, and employers agreed to stop union harassment and forget about any further charges. It didn't end immediately, of course, but a watershed had been crossed.
State terrorism: In spite of intensive pressure from unions, industry associations, and the country's trading partners, there was still been no progress in bringing the killers of Aminul Islam to justice.
The past month
On 15 March a UN committee announced that Bangladesh could graduate from its Least Developed Country (LDC) category. The category was invented, like Bangladesh itself, in 1971. It includes the 47 most desperately poor countries on earth: only five have graduated up to now, all either tiny or with natural resources like diamonds or oil.
When Bangladesh's 163 million people do leave, one-third of the world's LDC population will no longer be categorised as desperately poor. This is arguably the fastest escape from deep poverty anywhere, ever – including 18th/19th Century Britain, and 20th Century China.
On 5 April, "despite obstructions from factory owners, registered unions in Bangladesh have grown fivefold since 2013," says the US-based Workers' Solidarity Centre. It estimates half the new unions are led by women
On 7 April, 12 union members were granted bail on charges including attempted murder after an alleged violent attack on a factory. Eighteen months earlier, they'd have gone straight to jail for a peaceful protest march.
On 8 April, the first indicted Aminul Islam murderer – known to the police as an Intelligence agent – was convicted and sentenced. More suspects remain, and it is possible no others may ever be convicted. By contrast, in neighbouring Pakistan charges were being dropped against a politician known to have ordered a 2012 arson attack on a Karachi clothing factory in which 252 workers were killed.
Violence and injustice persist, but there is now evidence of respect for the rule of law and for freedom of unions that was unimaginable even 18 months ago. And a far wider acknowledgement of the role of women.
Summary
How did the world's business media report that March UN meeting? Marking what's arguably capitalism's greatest ever achievement.
The Wall St Journal didn't. A few days later, its Facebook page, commenting on Bangladesh, included a far too frequent comment: "Tariffs need to be applied to stop the exploitation of these workers here and yes in China and Vietnam too." In other words: To stop exploitation we should stop creating jobs. Great idea.
At The Economist, no mention. The cover story was all about Facebook. Nothing at the Financial Times either. Its one mention of Bangladesh doubted the importance of education in poor countries.
The fact is, Bangladesh has made immense strides since Rana Plaza. Most, incidentally, the result of virtuous circles made possible by the forced collaboration of Bangladeshi manufacturers, Western buyers, multinational unions – and tens (or maybe hundreds) of thousands of brave Bangladeshi protesters and whistle-blowers.
Helped by interventions from Western politicians, but made possible by thousands of actions by hundreds of individual Bangladeshis. And publicised by hundreds of writers; sometimes encouraging Bangladeshis, sometimes infuriating them.
I was one of the writers some Bangladeshis complained about. I'm sorry about anything I got wrong – but I really was trying to be helpful. And now we DO seem to be moving in the same direction.
Real friends of Bangladesh will see the past five years as a horrible event spurning real progress in prosperity, human development, improved rights and gender equality.
Over the next few days, I'll be looking at the solutions they suggest to problems like wages, building safety and worker conditions – and compare progress in Bangladesh with other countries.
But the important thing today is to salute the huge strides Bangladeshis have made since that awful day when, with specialist equipment unable to get to Rana Plaza, thousands started digging their friends and neighbours out of the rubble with their bare hands.