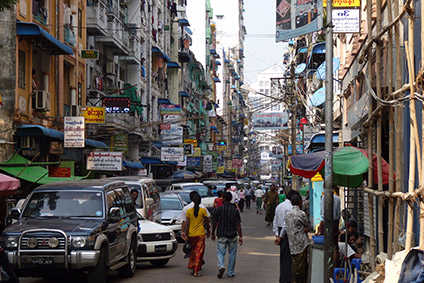 Apparel "road warriors" look at the coup in Myanmar and suspect a situation that may be slow to resolve. They also anticipate that prospects are starting to fade.
It was more than ten years ago that "road warriors" arrived in Burma to help with a garment assembly business under the banner of democracy. Their concept would provide entry level jobs to fulfil the reality of a stable population – one prone to a lack of violence and revolution.
With that perspective in mind, the assembly business for apparel (and other manufacturing areas like handbags and travel goods) has been growing by leaps and bounds with approximately 450,000 workers employed in select areas like apparel. The most immediate concern for Myanmar is that years of industry progress and job creation may suddenly float away because of the 31 January coup by the Burmese Military – a group that put their hands up to democracy and blatantly said: "Not so fast."
The military apparently felt threatened because they didn't appreciate the results of last November's free and fair election. They claimed election fraud and exercised a clause in the Myanmar Constitution – calling for a "state of emergency" and then took control of the country.
Over the years, many industry "road warriors" thought they were just doing their job when they shipped off to Myanmar to establish a sourcing base, while others realised that they were on a mission to help the country. Individuals involved in this aspect of the fashion industry are not usually politically motivated; they are technicians who help developing countries grow and prosper. Sometimes, as may be the case in Myanmar, they watch countries lose control and slide backwards.
It was an uncomfortable day for Myanmar, when the (military aligned) Union Solidarity and Development Party (USDP) decided that they won an election they had lost. The military took control of the government from the National League for Democracy (NLD) party and their leader – Nobel Peace Prize Laureate – Aung San Suu Kyi. The coup was led by General Min Aung Hlaing, who is now in charge of Myanmar.
International condemnation of the event has been swift, but to little avail. The situation continues as civilian protestors have taken to the streets, while the military tighten their grip. Most forms of communication in the country have been restricted and air travel is shuttered until April. Fashion firms operating in Myanmar have reason to be concerned for their business, and for the many workers that they directly and indirectly employ.
Crazy sourcing situations
There are individuals in the fashion industry who will tell you that understanding political misdeeds in unstable foreign countries (where product is sourced) will eventually become a familiar part of your existence. I recall a similar event that happened in 1991 (at 3:30 am Hong Kong Time) when I received an anxious phone call from New York – advising me that the United States would participate in an international embargo against the country of Haiti. At that time, our company was operating in five Haitian factories with several thousand employees.
There was a need to react swiftly because manufacturing was being forced to vacate Haiti. We would need to stop sending fabric and other raw material into the country, and we also had to extricate our finished products before the curtain closed. In the meantime, US retail remained on a seasonal schedule, and the back-to-school selling period was fast approaching. The company had containers (full of fabric) that would be piling up in the port of Miami that were destined for Haiti. This was a truly ugly situation with few places to turn for help, and the potential for huge financial losses.
Being in Hong Kong at the time the embargo was announced, I was tasked with finding a long-distance solution for the Haiti problem. Just about everyone who sources in Asia usually has a secret friend (somewhere) that knows how to navigate every crazy situation that could possibly happen in the sourcing world (and this Haiti problem was no exception).
At 8:00 am that same morning of the New York phone call, I tracked down my secret friend "Winston" who was living on a boat in Hong Kong. I left the Regent Hotel in Kowloon, grabbed a taxi to Causeway Bay, and found Winston lounging on his boat. As always, a meeting with Winston would be intellectually stimulating but, to be honest, I was under a lot of stress, and I wasn't sure this was a problem that could easily be solved.
Winston listened carefully to my Haitian tale of distress. He calmly told me to fly to San Pedro Sula, Honduras and find his old assistant "Sammy." He was clear that Sammy could help me find a home for the un-sewn goods that were piling up in Miami. A few hours later, as I left his boat, my only parting comment to Winston was: "Where the hell is Honduras?"
The next day, I boarded a plane to New York, changed my clothes on arrival, boarded another plane to Miami, then got on a third plane to San Pedro Sula, Honduras. The aircraft landed in the middle of a banana plantation and (miracle of miracles) Sammy met me on the tarmac. We jumped into an old beat-up jeep and headed to a newly built factory on a road that had more mud and potholes than hard packed dirt. Sammy was going to help me.
The reason I mention this story is that "road warriors" reading this missive will fully understand what I am talking about. What happened in Haiti all those years ago isn't too different than what is happening in Myanmar today. There was an election. One party won. The other party didn't like the outcome, and the military decided to adjust the results.
If you have ever lived or worked as a fashion "road warrior," you can usually anticipate political turmoil. With Myanmar, the first salvo towards unwinding democracy happened in 2017 – when the military threatened the Rohingya Muslim population in Rakhine State. As violence unfolded, more than one million Rohingya were forced to flee the country, with most heading north to Bangladesh.
In essence, the military dominated the Rohingya situation because the world did little to intervene. Surely, there have been sanctions and global condemnations against the interference in Rakhine State, but the military essentially did what they set out to do – with little interference. Myanmar is primarily a Buddhist country and the actions against the Rohingya were considered as an act of ethnic cleansing. Once having "gotten away" with their first major action, the declaration of a "state of emergency" to overtake their political loss to the NLD was just another form of running the government the way they chose to run it – which totally defied the free election and the will of the people.
It's hard to say what the world will do about Myanmar this time around. Some sanctions have already been levied against the country and more are likely on the way. Companies doing business there are re-evaluating their tenure in the country. Certainly, new business will be hesitant to enter.
It is true that no-one thought life or work in Burma was going to be easy. In 1995, Aung San Suu Kyi said: "The struggle for democracy and human rights in Burma is a struggle for life and dignity. It is a struggle the encompasses our political, social, and economic aspirations."
Industry "road warriors" have done their part and can only observe this play as it unfolds on the world's stage.
One can say to the "road warriors" that it is better to have tried and failed, than never to have tried at all.
After all, who really knows what will happen next?
About the author: Rick Helfenbein is an independent industry consultant. He was the former chairman, president and CEO of the American Apparel & Footwear Association (AAFA), and has appeared on CNN, CNBC, BBC, FOX, Bloomberg, and Yahoo Finance. Follow him on LinkedIn and on Twitter @rhelfen