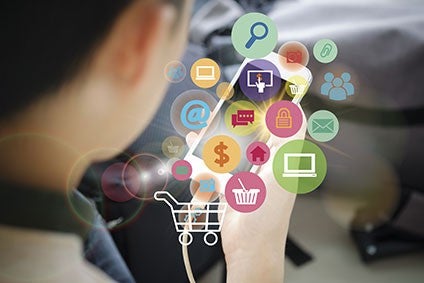 When asking consumers what they miss most during lockdown, shopping with friends on a Saturday afternoon is surely among the answers. And it is not just about the shopping, but also about the social activity that goes along with it. Interacting with friends, having them pick out pieces we may have never seen. But what's the alternative?
Virtual strolling. When Facebook introduced its Facebook Shops it was precisely for this purpose. With Shops, Facebook is merging some of its earlier e-commerce efforts, offering merchants on Facebook and Instagram ready-made online stores that they can fill with their products. Users can stroll through their feeds and when they see something they like, purchase these products directly from the app.
It sounds simple, but has social commerce in Europe already reached the stage where it can replace the weekend shopping spree with family and friends? In fact, the Facebook Shops are indeed closely aligned with consumers' natural shopping behaviour by combining the random discovery of products and social inspiration. Much like meeting people in the real world, Instagram brings together users with common interests. Just virtually. This way, users get interested in products they didn't even know they wanted.
The three magic Cs of shopping: content, community and commerce
In China, social commerce is already several steps ahead of the West – the main driver being that user acquisition costs are sky-high. The costs of acquiring new customers on Alibaba and JD.com are CNY812 (US$123) and CNY176 (US$26) respectively. As such, brands in China have shifted to social commerce to help them reach new customers. And the combination of content, community and commerce is working as it improves the user's online shopping experience.
The fast-growing social commerce market was expected to reach nearly CNY3.5 trillion (US$530bn) by the end of 2020. Group-buying and WeChat-based social commerce exceed 90% of the overall market and the pandemic has increased the number of consumers who understand and use social commerce as a new way of shopping and integrating it into their daily lives.
Pinduoduo as a first mover has set new standards
One platform has immersed social media and e-commerce directly into its business model: Pinduoduo. One of its key assets is group-buying. Within three years of its launch, Pinduoduo has grown into China's third-largest e-commerce platform. It offers group-buying deals at reduced prices and incentivises users to share good bargains among their friends and family on social media. In this case, customers can enjoy the steeply discounted product price and earn the commissions if their friends join the group-buying deal and successfully place orders.
Pinduoduo offers an interactive, socially engaged e-commerce model that is different from the traditional "search, pay and leave" model of e-commerce. The so-called legacy model is both intention-based and transaction-based and was designed because it was born in the era of desktop computers, when the user had to schedule a certain amount of time to complete a task – in this case buying something – online within a certain amount of time. This means that you need to know what you want to buy, enter the keywords, then choose what you want and pay, and then move on to the rest of the day.
But with the proliferation of smartphones and mobile Internet, consumers today have ubiquitous access to the online world. They are no longer chained to their desktops and can surf online without having to fulfil a specific purpose or task. Pinduoduo's interactive e-commerce takes this paradigm shift into account.
Instead of offering an online catalogue, it recommends products that may be of interest to the consumer, based on their shopping habits and other signals. If someone only has five minutes while waiting for a bus or train, that is fine, Pinduoduo could entertain them with a game that offers a small reward.
Last summer, Pinduoduo also ventured into high-priced product categories, including international brands such as Estée Lauder, SKII and Dyson, in a bid to break the perception among consumers that it mainly sells knock-off and low-end products. The purpose of launching high-end products is to increase the penetration of high-spending users and strengthen the competitiveness of the platform in categories such as electronic devices, mom & baby, beauty and other categories.
The omnipotent WeChat Mini Program grants access to 1 billion users
Another emerging example is WeChat social commerce. WeChat Mini Programs have been taking China's e-commerce industry by storm. WeChat is the most popular social commerce platform in China, attracting more than 1.1 billion monthly active users.
The new business model based on the WeChat ecology provides a wide range of acquaintance customer groups (such as friend circles and community/business) and broad reach (official account subscription messages, coupon distribution, exclusive customer service interaction/content marketing, etc), lowering barriers to entry and helping brands to drive private domain traffic.
Witnessed in the post-pandemic era, an increasing number of luxury brands such as Givenchy, Burberry and Cartier are using WeChat Mini Programs to sell directly to digital-savvy consumers. The milestone of the Mini Program this year is the launch of the live-streaming feature in April. WeChat's focus is not on introducing live-streaming as a critical function, but on integrating live-streaming with its Mini Programs.
Live-streaming is not just a sales channel, but a place for brands to have deep and direct communications with customers. As the brands have a deep understanding of their products, as well as customers' needs, they can help them select the most suitable products. The merchants can also use rewards to encourage viewers to share live-stream links with their friends and communities.
About the author: Elena Gatti has been managing director of the Azoya Group's sales activities in the DACH region in Europe since November 2016. Azoya is a borderless commerce group that helps international brands and retailers expand to the world's largest e-commerce market: China.