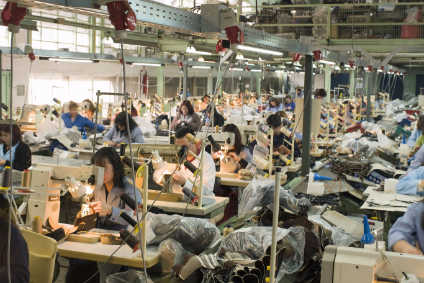 We are now in the early stages of a new revolution that will completely change the apparel industry – and is being run by a new generation of consumers and a new generation of suppliers, writes David Birnbaum, as he offers his take on the year ahead.
Predictions for the new year invariably take different courses – but, equally invariably, at some point they all fall into the same hole: "The coming year will bring revolutionary change to the global garment industry."
There was a time when the expression "moving at a glacial pace" was meant to describe the slowest progress imaginable. Yet here we are operating in a world where glaciers are moving backwards faster than our industry is moving forward. I ask you, What kind of revolution is that?
Think about this: In 1975, Inditex instituted speed-to-market, which made Zara the largest and most successful garment retailer in the world. Here we are 44 years later still debating if speed-to-market is the way to go. What are we waiting for?
Think about this: In the early 1970s, Hong Kong based factories were providing complete product development – from receipt of designer sketch to sample approval – all within a period of less than 30 days. Here we are, in 2019, asking whether transfer of product development to the factories is at all possible.
The underlying problem is clear: Industry-wide arrested development.
Changes such as speed-to-market cannot take place while our senior managers are still living 40 years in the past. Importers cannot transfer product development to their factories when the factories they have selected are so incompetent that the buying office must simplify the style to the point where the factory can actually make the goods.
Our record regarding corporate social responsibility is even worse.
In the past 20 years, our industry's most successful effort to improve garment factory working conditions came as the result of the dual Tazreen fire and Rana Plaza catastrophes, when importers and retailers from both the US and the EU created organisations to ensure that no repetition of these terrible events could happen again. These organisations effected real positive change. Of course, excessive overtime, 7-day working weeks, wages below subsistence levels are all still rampant. However, sewers in Bangladesh can now feel safe that while working at their machines they will not be burnt alive nor will the ceiling fall on their heads.
If this is indeed the best our industry can do, our industry is not doing well.
Let me say at once that many importers and suppliers are moving in the right direction. On the factory side, transnational operators such as Esquel, TAL and Crystal International are not only on the cutting edge of technology, they also look at their workers as their most important capital assets, providing ongoing training to improve productivity as well as social benefits to reduce attrition. Surprisingly, there are some great factories located in some of the most difficult countries such as Youngone in Bangladesh and Orient Craft in India.
However, against those at the top of the corporate social responsibility (CSR) ladder we have the grifter-factories at the bottom.
Have you ever heard the term Taj Mahal Factory? This describes factories located in South Asia. The Taj Mahal factories are so named because they are unbelievably beautiful with marble floored entries and other accoutrements, we associate with Moghul architecture at its height. The workrooms are immaculate, filled with light, where sewers sit in ergonomic chairs. Talk to one of the workers: they will tell you of the wonderful conditions in which they work – limited overtime, good wages, day-care centres for their children. I would not be surprised if the factory has one cappuccino machine for every 10 sewers. This is clearly the cutting edge of compliance and corporate social responsibility; that is until you realise the factory has only 180 machines, about 5% of the supplier's required capacity. Where do they make the other 95%? I will give you a hint: the places they are really making the goods have no cappuccino machines.
The other side of the equation
What is true of the supplier side is equally true of the customer side. There are many importers and retailers operating at the highest ethical standards: PVH, VF and Target in the US and, in the UK, M&S and Primark just to name a few.
However, just as there are grifter suppliers, so too are there con-artist customers. One of the best examples occurred with the Tazreen/Rana Plaza dual catastrophes. The very moment when fire trucks, ambulances and other disaster teams were pulling burnt and broken bodies out of the buildings, these customers were on the spot with their public relations professionals: "These were not approved factories! We did not know our goods were being manufactured there."
You didn't know? Come-on guys: are you telling us you placed goods in a Bangladesh based factory and failed to carry out any in-process inspection?
The grifter factories and conman importers follow the same fundamental and unalterable belief: Speak loud enough and often enough and the buying public will believe anything you throw at them. With their loud and oft-repeated schtick, they have defined the industry – but perhaps not the way they had hoped.
Ask the millennials. Better yet, ask the post-millennials.
What do you think of garment factories? More often than not they would describe them as gulags forcing women to work excessive overtime, 7-day working weeks, with wages below subsistence levels. How would you describe the brand importers and retailers? More often than not they would use terms such as liars and exploiters of women and children.
Don't cringe. This is good news!
Real change starts at the bottom. Upper-class elites and idealistic NGOs can offer support, but that support has value only when there exists a popular base of ordinary people so incensed with the situation that they are prepared to take action.
Our industry has passed that tipping point. Our industry is now in the early stages of a revolution. I am not referring here to high-tech fabrics, robotic machinery or big data. These are important but in no way revolutionary. They are rather the latest iterations of a trend dating back to the 18th Century to what we call the Industrial Revolution.
The new revolution that will completely change our industry is being run by the new generation of consumers and their new generation suppliers. It is characterised by two underlying beliefs:
Informed cynicism: We live in world where advertising counts for less than nothing with the new generation of consumers. It has been overtaken by social media, where ordinary people review and critique every product.
The non-garmento garment industry: Internet startups are now the fastest growing clothing retail sector. For the most part these companies are being started by consumers who, unable to find the product they are looking for, decided to go into business for themselves. These are not starry-eyed idealists. In fact, many if not most of these new companies are run by MBAs, who are now teaching the old garmentos just how to run a profitable business.
Fortunately for the new revolutionaries, the old garmentos are too busy arguing whether-speed-to-market is the way to go or whether factories can actually participate in product development. With their heads firmly facing backwards, they cannot see they are moving steadily towards extinction.