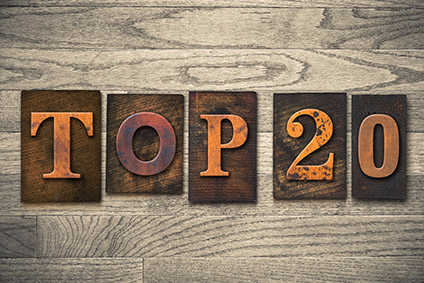 The most-read comment articles on just-style in 2018 are dominated by President Trump and the ongoing US-China trade war, with our writers looking at the potential impact and implications of tariffs on China garments. But the year also marked the launch of the new re:source by just-style online sourcing tool, and ongoing debate and discussion on digitalisation, speed, wages and sustainability. We also took time to reflect on the fifth anniversary of the Rana Plaza disaster.
1: re:source – the future of apparel sourcing starts here What has 26 million rows of data, more than 90+ trade agreements, in-depth profiles of the world's top 25 garment producing countries, and 20 years of clothing trade data? Answer: the new re:source suite of apparel sourcing tools developed by the team here at just-style. And best of all? It's now live.
2: Winners and losers of a Trump tariff on China garments As President Donald Trump prepares to impose punitive tariffs on Chinese imports into the United States – which could include apparel and footwear – we look at the potential winners and losers in the global garment trade.
3: Four stages on the road to digital transformation More businesses are making meaningful progress towards the goal of becoming digital enterprises. But while digital transformation pushes brands to innovate from the bottom up, change needs to begin at the top.
4: Trump to the American retail consumer – "You're Fired" We are all trying hard to rationalise or explain what the Trump administration is trying to do, writes Rick Helfenbein, president and CEO of the American Apparel & Footwear Association (AAFA). Apparently, we are attempting to stop unfair trade practices – promoted by China – by taxing ourselves and taking money out of our own pockets. Makes sense, right?
5: Faster fashion – How to shorten the apparel calendar To get new styles into stores more quickly, fashion companies must improve internal collaboration, tap into consumer insights, and start to digitise the value chain, according to insight from McKinsey.
6: What does the future hold for Made in China? Trade wars between the US and China are ramping up – but China's role within the global apparel supply chain is already weakening and retailers are increasingly turning to other countries for their clothing needs. So what does the future hold for 'Made in China'?
7: Who pays for a higher wage for garment factory workers? Despite ongoing statutory minimum wage rises in a number of countries and their provinces, there continues to be a disconnect between buying departments and compliance teams when it comes to costing labour in price negotiations. So who should pay for a minimum wage increase? Two industry experts share their thoughts.
8: Gaps remain in India's move towards sustainability India's textile and garment industry is making strides in ensuring ethical compliance and environmental standards in its factories. Yet gaps still exist, and filling these will be key if it is to reach its full potential, cement long-term relationships with brands, and compete more effectively in Asia.
9: The unintended consequences of China clothing tariffs – Comment If President Donald Trump imposes punitive tariffs on Chinese garment imports into the United States, the move would simply subsidise every other apparel exporting country in the world, in the form of increased orders at higher prices.
10: China's factories about to pay a lot more in payroll taxes For years Chinese factories failed to enroll workers onto the country's social insurance scheme. But things could be about to change. From January next year responsibility for collecting payroll taxes will pass from the local social security bureau to local tax authorities, who have the capability and corporate tax data to ensure much better levels of compliance.
11: Four ways to ensure sustainable fashion is here to stay With London Fashion Week kicking off today, how can the fashion industry make sure that sustainable fashion is always in season rather than a passing fad?
12: Global supply chains still missing sourcing strategy links Like the scientists and academics debating the missing link in human evolution, global supply chains are still missing "links" when it comes to their sourcing strategies – even after years of practice. In today's supply chains this is the compelling connection between sourcing and logistics.
13: From Field to Shelf – The challenge for cotton amid a changing consumer Cotton is being battered on all fronts, from false information campaigns, to competition from synthetic alternatives, and a changing consumer. The challenge now facing the cotton industry is how to regain its footing, explains Robert Antoshak, managing director at Olah Inc.
14: Rana Plaza five years on – A time for reflection As the global garment industry stops to reflect on the tragic events that took place in Bangladesh exactly five years ago today (24 April), it is also a time to consider what has changed, what hasn't – and what still needs to be done. Here we share the views of a number of industry executives and stakeholders on progress so far.
15: Science of Apparel – a model for the industry of the future There is a growing trend that indicates the reimagining of the relationship between the customer and supplier – and also the way in which the suppliers and factories are valued, writes Emma Birnbaum. And she believes Science of Apparel sets a new standard for the future.
16: The failure of the US garment industry – Part I For the past 20 years, imports have accounted for between 97%-98% of all garments sold in the United States. But while everyone seems to agree that cheap labour from poor countries has all but destroyed the domestic US manufacturing industry, that assumption is not borne out by the data. In fact, labour rates – high or low – have nothing to do with imports, garments or otherwise. Here, in the first of a three-part series, David Birnbaum takes a look at the failure of the US garment industry.
17: Machine learning – The intelligent way to grow margin Profits and gross margins are under pressure for fashion retailers. But could Artificial Intelligence (AI) hold the key to optimising markdowns and unlocking value in the supply chain?
18: Technologies transforming key points of the supply chain Adopting new technologies has become critical in organisations across all industries to help improve process efficiency, effectiveness, and boost performance. Here are some with the potential to revolutionise key points of the apparel retail supply chain.
19: Key apparel supply chain takeaways from Sourcing at MAGIC The MAGIC trade show held earlier this month in Las Vegas provided Dr Sheng Lu, associate professor in the Department of Fashion and Apparel Studies at the University of Delaware, with an ideal opportunity to talk with vendors from some leading apparel sourcing destinations about the latest sourcing trends and the overall business environment.
20: No miracle at midnight on the coming garment tariffs – Comment China is the target in the upcoming trade war with the US, and Donald Trump's latest threat to impose tariffs on all US$500bn of imported goods from China will undoubtedly hit garments. But replacing China means replacing 37-42% of all US apparel imports – and its deflationary impact on FOB prices.