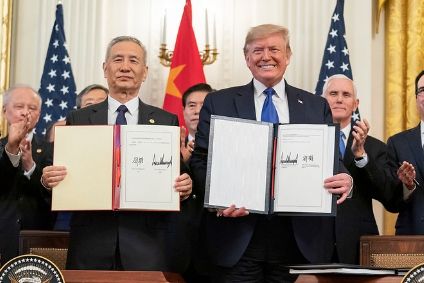 The 'Phase One' trade agreement signed between the US and China is a step in the right direction, but offers little relief to apparel firms in the ongoing trade conflict.
The deal, announced late last year and signed last week, covers a range of issues including intellectual property, technology, agriculture and currency. It also paves the way for several changes to the punitive tariffs currently in place on Chinese imports into the US.
For apparel, the additional 15% tariffs that came into play last September on Tranche 4A goods – which includes most garments imported from China – will now be reduced to 7.5% from 14 February. And new tariffs that had been due to begin on 15 December on most remaining Chinese clothing items have been suspended.
The 'Phase One' agreement is a long-awaited move after almost two years of trade tensions, but brings only limited benefits for US apparel and footwear importers. The truth of the matter is that punitive tariffs still remain on 92% of the clothing shipped from China to the US. The rate might have been halved to 7.5%, yet it is applied on top of already existing tariffs that average 10.4% for woven garments and 14.4% for knitted items.
There is also little to be excited about elsewhere in the just-released text of the deal. China has pledged to increase purchases of US products, including cotton, to at least $40bn per year starting in 2020 – yet commodity-specific details have not been released. It is also set to import more US-made spinning, weaving and knitting machines – but US clothing and footwear manufacturers continue to face punitive tariffs on key materials and machinery not available domestically. Retaliatory tariffs on Chinese imports of American cotton, hides, leather, textiles, shoes, and clothing also remain in place.
Industry groups are continuing to push for the full removal of all punitive levies, as well as pressing the Trump administration to move quickly to begin the Phase Two talks to find a solution to the trade war.
But the next stages remain clouded in uncertainty. No timeframe is given for further negotiations between Washington and Beijing. While Trump last month tweeted that talks on the Phase Two deal would begin immediately, progress could be stalled by impeachment proceedings and the November 2020 election.
It is also unclear if the US would reimpose tariffs if China reneges on its commitment to make additional purchases of US goods and services in the next two years. Perhaps tellingly, the deal gives both sides to end the agreement with 60 days' written notice.
There is also concern that tensions may flare up elsewhere – including the treatment of China's Muslim minorities in Xinjiang, the region that produces over 80% of China's cotton and whose exports are already being closely scrutinised by US authorities.
The Trump administration could also have Europe in its sights for the next round of tariffs, having already imposed additional duties of 25% on some clothing imported from the EU in an ongoing row over aircraft subsidies.
The lingering uncertainties in all these areas will continue to weigh on global clothing and footwear supply chains into the future. With a complete rollback of US-China tariffs unlikely in the coming months, US brands and retailers will continue to face challenges as they try to plan their sourcing strategies for the seasons ahead.
'Managed-by-China' move
The tariff spat has already accelerated efforts by clothing and footwear brands and retailers to diversify their sourcing out of China into other countries in South and Southeast Asia. But as already documented on just-style, it's not a simple shift.
China is by far the largest clothing and footwear supplier, accounting for 42% of all apparel and 69% of all shoes imported into the United States last year. All other countries combined are ill-equipped to handle the sheer volume of capacity that would be required to move production out of China.
There's also the bigger picture to consider. China had a 31.3% share of world apparel exports by value in 2018. No other country can match the size of its supply base, its range of skills, its quality levels, its product variety and the completeness of its supply chain from raw materials to final products – or has the capacity to absorb its business. China also continues to appeal to apparel buyers as rising wages are largely being offset by efficiency and productivity gains.
In addition, the country plays a key role as a textile supplier, as the world's largest producer of fibre and fabric and the largest textile exporter, with the value of shipments last year reaching 37.6% of the global total.
Its on-going investment in modern spinning, weaving and knitting machinery is also helping to drive better quality, lower production costs and more environmentally-friendly production – and shores up China's future position as the key supplier of fabric and trims.
Relocating orders to apparel exporters such as Bangladesh, Vietnam and Cambodia not only requires finding suitable suppliers in those countries, but may also expose firms to a new range of risks in areas including freedom of association and decent wages – meaning proper due diligence is key. And of course this takes time, perhaps the one thing companies don't have when trade policy can apparently change with one presidential tweet.
While it's widely believed the "next China" will be a group of countries serving specific markets, China will continue to remain a force as 'Made-in-China' becomes 'Managed-by-China' and its domination of upstream services and technical know-how persists.
But the stark reality is that once demand for made-in-China production has gone, or shifted to supply China's domestic demand, it won't easily come back.
Click on the following link for another take on China sourcing – Fall of the dragon and rise of the rest.