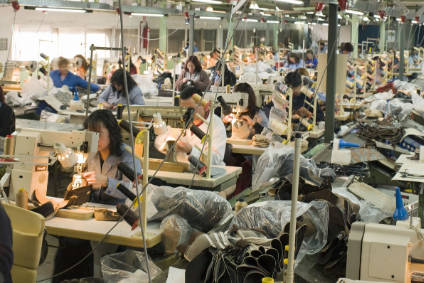 Supply chain transparency is an urgent issue facing retail organisations today, as it's often deep down in the supply chain where the most significant brand, reputation and financial risks live.
This collaborative Q&A around transparency and sustainability in the retail supply chain includes insights from Pierre-Francois Thaler, co-founder and CEO of social and ethical performance ratings platform EcoVadis, and Sue Welch, CEO of product lifecycle management (PLM) provider Bamboo Rose.
What is driving the desire for greater visibility and transparency in the retail supply chain?
Sue Welch: "Consumers – especially millennials and Gen Z – are more socially conscious today than ever. They genuinely care about where and how products are produced. Very few organisations currently have end-to-end visibility into their top tier suppliers, and that lack of transparency can lead to problems for brands. When incidents occur, such as when a substandard factory collapses or unsustainable harvesting leads to habitat loss and it makes the news, brands suffer if they are associated with that supplier – even if they didn't know about the situation.
"In years past, consumers only cared about price and availability. That is no longer the case. Consumers are willing to spend more for products made by companies viewed as socially responsible and who are taking steps to ensure the protection of workers and the environment.
"In addition, multiple standards across the globe have been enacted to ensure safe and sustainable manufacturing. A lack of visibility and oversight into the practices of suppliers can have serious consequences in terms of being assessed including fines and other, potentially more severe penalties, from regulating bodies."
Pierre-Francois Thaler: "As consumers become more conscious of what they spend money on and where their products come from, retailers that focus on offering valuable, responsibly-sourced products, rather than the lowest cost, will find themselves one step ahead of the competition. This generation of consumers, built largely of millennials, is buying with 20% less income than their baby boomer counterparts. Even so, sustainability is a key concern that drives their spending habits.
"Retailers have turned to price cutting to save money and appeal to the customer base, and though these methods may lower short-term expenses, they have the potential to result in significant brand, reputation and financial risks – which costs more in the long-run.
"Transparency plays a key part in sustainability, which continues to attract investors and consumers. Sustainable sourcing programmes reduce risk and liability, ensure compliance with rules and regulations, and improve the bottom-line by helping identify and develop suppliers who can produce the product that satisfying consumer demand for ethically sourced products."
How does transparency affect the retail operation?
Sue Welch: Retail success depends on the timely delivery of quality products that consumers want to buy – on trend at the right price at the right time. It sounds simplistic on the surface, but it's a very complex and intricate equation. Any breakdown in the process can have catastrophic consequences. Retailers need visibility into every stage of the product lifecycle, but few have invested in the proper technology to encourage collaboration and transparency on an ongoing basis. Product lifecycle management platforms designed specifically for retail can help. They allow all members of the retail supply chain to communicate and collaborate digitally, which means that issues relating to a company's ecological or social impact can come to light and be mitigated much more quickly."
Pierre-Francois Thaler: "When retailers have a thorough understanding of suppliers' business practices, they are better equipped to meet consumer expectations in sourcing responsible, high-quality products. By increasing transparency throughout the retail supply chain, companies know where materials are coming from, what their suppliers' practices are in environmental, social and ethical practices, as well as their financial situations, when supplier evaluations were last performed and other pertinent sustainability information that helps inform their decision-making and production processes.
"Retailers succeed when they give consumers what they want, when they want it and for a reasonable price. To be successful, retailers must leverage insights from across the supply chain and focus on transparency. On the other end, you have retailers caught up in a "race to the bottom," cutting corners to produce low cost products as quickly as possible. In some cases, they jeopardise the workforce, or rely on sub-standard suppliers to cut costs. Without processes in place to hold companies and the industry accountable, retailers and their suppliers may unknowingly (or worse, knowingly) compromise environmental practices (use of water, or waste products, etc) or worker safety in an effort to deliver products at the lowest possible cost."
Why is visibility such a challenge for the retail industry?
Sue Welch: "The vast size of the retail and manufacturing industry complicates a retailer's ability to know what is happening at every step of the process. He or she is sourcing product from hundreds of suppliers, who are also sourcing products from hundreds of suppliers, and so on, around the globe.
"Further complicating matters is the fact that there is no standard reporting procedure across industry and location. Some suppliers are advanced in their capabilities to capture and communicate data and information. Others still operate with what we call "old school" systems – including email, spreadsheets and handwritten notes. These are difficult to analyse, and certainly don't update in real time. It's time for retailers to begin adopting technology that is designed for their specific industry."
Pierre-Francois Thaler: "Retailers often source from multiple suppliers, each with their own sub-suppliers, which makes having full transparency across all tiers of the supply chain very complex. This landscape is also challenging when working internationally because suppliers in different regions have different regulations and compliance standards to meet. Gaining insight and transparency into each step of the product development process is crucial, but hard to do because of all the moving pieces and the pressure to produce high quality products quickly and for lower costs."
Can the levels of visibility and transparency be improved upon?
Sue Welch: "Absolutely, and many retailers and brands are already taking those steps. They want to work the same way they do in their consumer life – visually, collaboratively and on-the-go – so they're adopting the collaborative, digital and mobile platforms that enable it. With more collaboration comes more transparency and oversight into every stage of the product lifecycle.
"Consumers are bringing greater awareness of, and concern for, environmental and social issues than we've seen in the past, and that's good for the world. The brands who can ensure customers of their responsible supply chains will see rewards for their efforts."
Pierre-Francois Thaler: "EcoVadis' recent Sustainable Procurement Barometer found that only 15% of organisations have complete supply chain visibility into the CSR and sustainability performance of both tier one and two suppliers, and only six percent reported full visibility into tier three suppliers and beyond.
"Retailers can't hold back when it comes to embracing sustainability and transparency – brands need to prove the transformation to consumers. By building visibility and transparency into procurement processes throughout the supply chain, retailers are better able to address risk mitigation and delight their customers.
"Digitising the supply chain end-to-end and focusing on continual progress in sustainability allows businesses to capture data insights they didn't have access to before, which helps them make more informed and confident procurement and supply chain decisions. Retailers should focus on creating company visions that incorporate transparency throughout all processes and communication, whether internal or external. They should also invest in technology to monitor risks and report successes, with a continuing focus on areas that require improvement. The platform should make it easy to assess supplier progress and risk, benchmark performance and put corrective action plans in place."