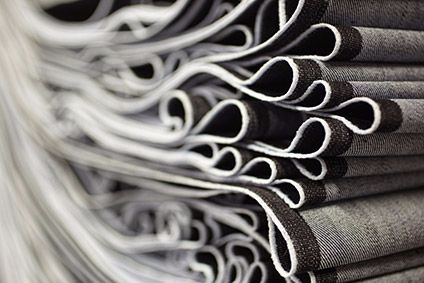 In an increasingly competitive world, it is time for the US textile industry to consider a new strategy, according to David Birnbaum. Instead of relying on free-trade partners for exports, he suggests a move away from garment related fabrics, a focus on high-tech materials, and replacing the yarn forward rule with fibre-only could be the key to reinvention.
We think of the textile industry as fabric making. And so it is. However, according to international definitions (Harmonized Tariff Schedule [HTS] chapters 50-55, 60) it is much more – including all materials from fibre to finished fabric and products as diverse as sewing thread and ribbon. If the automotive industry were subject to the same broad definitions it would include steel, aluminium, glass, batteries and other electric appliances as well as computers and telecommunications; and products as diverse as wheelbarrows and 18-wheel heavy-duty trucks.
The US textile industry follows broad definition – and taken collectively it is very much a mixed bag. At the top it has world-class, highly productive and profitable sectors, such as fibre (cotton growing) and yarn (spinning). It also has some of the very best products, including industrial textiles and automotive/aeronautical fabrics.
At the other extreme it includes some sectors that exist only through political favours. For example, as part of every US garment-related free trade agreement (FTA) and trade preference agreement (TPA) is a clause requiring made-in-US pocket lining for all garments shipped duty free to the US. This may be unfair, but in the real world it is simply a cost of doing business. The price might be higher, the quality indifferent – but at the end of the day, how much damage can pocket lining cause?
However, when political clout moves from the minute pocket lining sector to the major garment related fabric sector, the harm substantial. Everybody pays the price, from the consumer, to the domestic garment industry, the cotton growers and indeed the textile industry itself.
In this increasingly competitive world, the textile industry might consider a new strategy: one where it stops throwing away good money to support an area that has become moribund.
The challenges facing the US textile industry can be summed up in five graphs.
#1: The industry has lost its domestic customers. On the one hand, with imports accounting for 95% of all garment retail sales, there are no longer many customers. On the other hand, textile imports totaling $3 billion annually, have become a serious factor.
#2: The industry is no longer competitive on a global basis.
#3: The industry relies its free trade partners NAFTA and DR-CAFTA for 82% of its fabric exports. 15 years ago, exports from NAFTA and DR-CAFTA accounted for over 27% of total US garment imports. As of 2017 that number had fallen to less than 15%. Why is the US textile industry concentrating its effort on the 15% and not the other 85%?
The answer lies in what we call the captive customer syndrome. To qualify for duty-free access to the US, factories located in NAFTA and DR-CAFTA must follow the yarn forward rule – that is, must be sewn in the free trade area, of fabric woven (or knit) in the free trade area, from yarn spun in the free trade area. As a result, these factories import fabric from the US because they have to. Under regulation they cannot go elsewhere for their material. Holding a gun to your customer's head is not a good long-term business strategy. At the very least it leads to questionable practices.
The textile industry is global. Garment factories from China to the EU buy fabric everywhere from the EU to China. If the US textile industry cannot export fabric on an open market basis, the problem is with the US, not the rest of the world.
#4: The US textile industry's single most successful sector is re-exports: fabrics that have been imported from third party countries, then exported with changes. In the period 2008-2017 re-exports have increased from $115m to $251m annually.
#5: Not surprisingly, most re-exports are shipped to NAFTA and DR-CAFTA countries, where garment exports to the US are strictly governed by the yarn forward rule.
I have to point out that re-exports to these countries are not in themselves a violation of the free trade agreements. There are exceptions that allow for shipments from third party countries. However, you do not want your industry to rely on re-exports for growth. These are at best questionable practices that might well lead US mills to cross a line.
The time has come the US textile industry to reinvent itself.
#1: Move away from garment related fabrics. Exporting fabrics from the US to garment makers is not a long-term source of profit. In this regard the industry has two choices:
Take a page from the book of successful textile industries and relocate weaving (and knitting) operations to countries with successful and/or potentially successful garment industries. For example, when the US was involved in the Trans-Pacific Partnership (TPP) negotiations it ensured that member countries would follow the yarn forward rule. Rather than creating a new market for the US textile industry, the result was massive investment by Asian textile producers in Vietnam's then miniscule textile industry. Yarn forward created yet another competitor. We see the same issue today when these same Asian textile producers are opening mills in Ethiopia to take advantage of that country's remarkably low cost of electricity.
Leave the sector altogether and concentrate on areas where the US industry is competitive.
#2: Return to core competency. The US fabric industry has areas where it is still a world leader – notably industrial textiles and automotive and aeronautical textiles. These sectors require now high-tech fabrics. The US is a leader in innovation in these areas. Ironically, at its peak the textile industry was the dominant force for textile innovation. Go back to your roots.
#3: Replace the yarn forward rule with fibre-only, whereby exporting countries with duty-free access to the US would be free to buy all fabrics from any country, provided that the fibre (cotton or synthetic feed stock) comes from the US or the elsewhere in the specific free trade area. This will be of enormous benefit to everyone.
With US tariffs on garment imports of 16%-32%, US farmers and chemical producers will be able to dramatically increase exports, at premium prices;
The US garment makers will finally be released from the captive-customer status, and as result will be able to rebuild the US garment industry;
US consumers will benefit from better garments at more reasonable prices;
US textile producers will have to learn to compete with imports on a level playing field. The EU textile industry can compete; why not the US?
It is past time that the US textile industry stops playing in the political arena and moves back to the textile making arena.