The future of the apparel industry will be shaped by a range of disruptive themes, with augmented reality (AR) being one of the themes that will have a significant impact on apparel companies. A detailed analysis of the theme, insights into the leading companies, and their thematic and valuation scorecards are included in GlobalData's thematic research report,Metaverse Market Size, Share, Trends, Analysis and Forecasts By Vertical (BFSI, Retail, Media and Entertainment, Education, Aerospace and Defense, Manufacturing, Others), Component Stack (Hardware, Software, Services), Region and Segment 2022-2030. Buy the report here.
AR is a technology that allows the user to see the real world overlaid with digital data and is expected to grow at a compounded annual growth rate (CAGR) of 36% till 2030, according to GlobalData forecasts. This growth is in part due to the hype surrounding the metaverse. Internationally renowned retailers have announced their ambitions to enter the metaverse to increase brand awareness and appeal to a tech-savvy younger consumer base.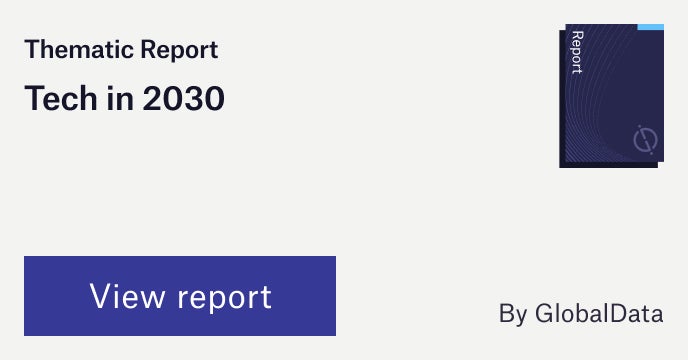 Exclusively online home and apparel retailers are the top adopters of AR. This is because they are digitally native and sell high-ticket items, which require more research and consideration from consumers. AR is mainly used to place digital overlays on items in real-life scenarios so users can visualise how they would look in their homes or on their bodies. This accounts for the increasing use of magic mirrors and AR smartphone applications. However, there is still a long way to go before AR can be a convincing substitute for being able to see products in-store. AR must first make the online and in-store retail experience more efficient and easier to navigate. In-store AR navigation tools allow consumers to find their way around large spaces. Taking inspiration from social media AR filters and mobile games (like Pokémon Go), retailers could use AR to increase brand awareness and engagement with consumers in-store. As the technology matures, AR could become more pervasive across all facets of retail.
However, not all companies are equal when it comes to their capabilities and investments in the key themes that matter most to their industry. Understanding how companies are positioned and ranked in the most important themes can be a key leading indicator of their future earnings potential and relative competitive position.
According to GlobalData's thematic research report, AR in Retail and Apparel, leading adopters include: Burberry, DRESSX, Inditex, LVMH and Nike.
Insights from top ranked companies
Nike
Nike uses AR to boost brand awareness, attract younger customers and improve the customer experience. In 2019, it launched Nike Fit, an AR application that accurately measures foot size through a smartphone, saving time and cost for consumers. In 2021, Nike also dipped its toes into the metaverse, acquiring RTFKT, a company that develops digital versions of sneakers through digital overlays. It is one of the first apparel brands to actively engage with the development of the metaverse.
LVMH
The French fashion giant has been a loud proponent of AR. LVMH claims that AR is becoming standard practice for ecommerce, media, and advertising. It uses the technology to create digital overlays of its garments, hosting fashion shows in the digital realm using AR. In May 2021, Louis Vuitton opened a pop-up store in Paris, in which visitors could use an AR app to interact with the company's animated mascots, named Zoom with Friends, as part of their 'Walk in the Park' collection.
To further understand the key themes and technologies disrupting the apparel industry, access GlobalData's latest thematic research report on AR in Retail and Apparel.
JD.com
Home Depot
Lowe's
The Kroger Co.
Wayfair
Apple
Walmart
Alibaba
Rewe
Amazon
Tesco
Carrefour
Best Buy
Walgreens Boots Alliance
Bed Bath & Beyond
FNAC Darty
Ceconomy
Edeka
Target
Seven & I Holdings
Kingfisher
Auchan
Ikea
Rite
Tengelmann
Ace Hardware
Wesfarmers
dm-drogerie Markt
Woolworths
Dixons Carphone
Premium Insights
From
The gold standard of business intelligence.
Blending expert knowledge with cutting-edge technology, GlobalData's unrivalled proprietary data will enable you to decode what's happening in your market. You can make better informed decisions and gain a future-proof advantage over your competitors.