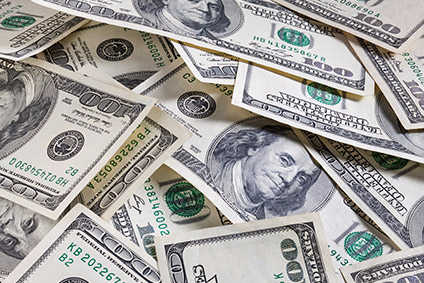 When a crisis such as the Covid-19 pandemic hits a supply chain as complex as that of clothing, financing problems can gum up commercial relationships – meaning governments, regional and international organisations all need to step in.
"If you go out of business, no one gets paid," notes Julia Hughes, president of the USA Fashion Industry Association (USFIA).
In the US alone, the last month has seen US retail giant JCPenney file for Chapter 11 Bankruptcy protection, a move that will see some of its near-850 stores close; while J.Crew and Neiman Marcus have also done the same.
And the likelihood is that more fashion brands and retailers will go into administration, unable to pay rents, essential staff costs, warehousing, bank fees and more, when little or no income is coming in.
Public financing can be critical in the short term, enabling clothing companies and their suppliers to breathe and unlock some payments to supply chain partners and staff that might otherwise have been lost, protecting long-term relationships. "There's no easy solution here. But we're all in this together, throughout the supply chain," says Hughes.
The problem, of course, is that some companies are in better shape than others to withstand the loss of cash flow. Where this hurts too much: "The CFO will change payment terms and cancel orders," warns the USFIA president.
So governments should be flexible in offering financial support. While backing for small business (a common thread in state Covid-19 responses) is valuable, major retailers often pay heavy rents, so rent abatement programmes could really help the apparel sector, she suggests.
Similarly, a deferment of import duty payments – a major cost for brands – would be a boon, says Hughes. A key problem going forward could be criteria to identify companies who are usually solidly profitable and hence deserving of support. But for now, the USFIA president accepts that a "blanket" strategy, keeping the industry alive during the crisis so that it can recover naturally afterwards, is a more realistic move.
Stores reopening and restocking
Another financing issue will be how brands and retailers remodel stores for the post-Covid 19 era, to avoid shops becoming hotspots for new Covid-19 outbreaks after strict lockdown restrictions are eased.
"You won't have racks right next to each other. How can you handle returns? How can you try things on? You might worry who tried something on before you?" This will mean new systems as well as new store design.
How will that be paid for? Borrowing or sales? Buyers are talking to suppliers about 'back-to-school' and the festive Christmas/New Year/Thanksgiving season – but understandably, with many having been burned by order cancellations and scrapped payments, suppliers are nervous about new commitments.
A recent survey of 35 fashion brands and retailers found that despite mounting public pressure, 40% have made no public commitment to pay in full for completed orders. Separately, an online tracker is monitoring the response of leading apparel and footwear brands and retailers to their suppliers and workers during the coronavirus crisis.
Hughes expects many suppliers to require some upfront money and maybe proof that brands are covered against surprise loss of earnings, perhaps through insurance.
These discussions are critical now, given China's tough pandemic response appears to have been effective, with manufacturers reopening, using workplace social distancing and temperature checks along with government tracing of workers' movements through mobile phone surveillance. Also, Hughes says there is evidence that South-east Asian manufacturers are also getting back to work, so financing issues may become urgent.
Financial support
International organisations have certainly been helping.
Apparel brands and retailers – including adidas, C&A, H&M Group, Inditex, M&S and Primark – in April joined employer organisations, unions and the International Labour Organization (ILO) to try to secure emergency funds to support garment factories and workers through the Covid-19 pandemic. However, no further details have been released.
The World Bank in March announced a package of US$12bn to help countries coping with Covid-19, including providing finance for private companies. The bank's International Finance Corporation (IFC) has made US$8bn available for private companies, with most money being fed through client financial institutions, helping them to offer trade and medium-term financing, plus working-capital support, to companies facing supply chain disruptions.
The IFC has also signed deals with Agence Française de Développement (AFD) subsidiary Proparco and Germany's DEG (Deutsche Investitions- und Entwicklungsgesellschaft) to combine forces in financing projects.
As the health crisis develops, its financial implications will probably worsen requiring more intervention, a World Bank blog warned last month – with "a sharp deterioration in the quality of assets held by financial institutions….likely." It is important to "flatten the curve of insolvencies" with relief to prevent viable firms going under, said the bank.
Global sourcing
Meanwhile academics have also been focusing attention on the fallout of the health crisis on global supply chains – offering considered conclusions that might aid future supply chain finance assistance.
For instance, a paper by Richard Baldwin, of the Graduate Institute, Geneva, Switzerland, and the London-based Centre for Economic and Policy Research, and Eiichi Tomiura, of Hitotsubashi University, Japan, notes apparel and footwear companies have been shown to be "particularly vulnerable to East Asian supply disruptions."
However, they call on industry and government to resist the temptation to abandon international trade for local sourcing after the pandemic. Instead, "redundant dual sourcing from multiple countries" would ease the dependence on China that has made this health emergency so damaging to clothing supply chains, albeit with some increased costs.
They note how Japanese multinationals had already diversified FDI away from China, before Covid-19 struck. "We hope more intensive use of ICT (information and communications technology) enables firms to more effectively coordinate global sourcing," the paper says.
Local governments
Mike Flanagan, CEO of UK-based apparel industry consultancy Clothesource, notes the ability to secure financing during the pandemic depends to a large extent on location, especially public financing.
The British government, for instance, has been generous to small- and medium-sized clothing companies with its coronavirus 'bounce back loan' offering aid from GBP2,000 (US$2,435) up to 25% of turnover up to GBP50,000 (US$60,000), with the government guaranteeing 100% of the loan, no interest for 12 months, and 2.5% thereafter.
Companies in Germany have been able tap even greater largesse: state-backed loans of up to EUR800,000 (US$872,000), which are largely issued on a demand basis. This could be a problem for companies in Brazil, for instance, where credit checks are required before the Caixa Economica Federal offers credit covering 30% of small-and-medium sized company revenue over two months.
As Flanagan puts it: "The impact of Covid-19 depends on the sanity of local governments."
Of course, for manufacturers, the reliability of existing clients is also a major factor. "Most businesses selling to clothes retailers found orders cancelled abruptly: but those dealing with the cowboys found mountains of unpaid bills going back months remaining unpaid, or arbitrarily discounted."
See also: Apparel industry payment terms no longer fit for purpose.