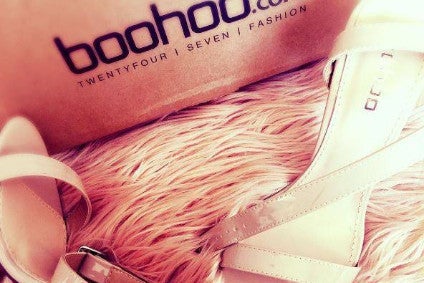 Fast fashion retailer Boohoo has acquired the online businesses and all associated intellectual property of British women's wear brands Oasis and Warehouse from investment firm Hilco Capital Limited in a GBP5.25m (US$6.6m) cash deal.
In line with its previous acquisitions, Boohoo will integrate Oasis and Warehouse onto its platform in the coming months, where they will benefit from the group's insight, infrastructure, supply chain, and operating model.
The brands, which Boohoo says are a "complementary addition" to its portfolio, generated direct online revenues of GBP46.8m in aggregate in their most recent financial year ending February 2020, according to unaudited management information.
Administrators were appointed to Oasis and Warehouse in April, with the Oasis and Warehouse Group announcing it would cease trading online and close all stores indefinitely two months later after administrators were unable to secure a buyer for the fashion business.
Some stock and intellectual property assets associated with the group were, however, sold to Hilco Capital.
Boohoo's latest acquisition follows a share placing last month that raised GBP197.7m (US$241.4m) in less than 24 hours in a move designed to help it fund future acquisitions amid the Covid-19 pandemic.
While a number of retailers have raised funds in recent months including Asos and Joules, Boohoo is understood to have been the first to explicitly link the additional funds for acquisitions.
The acquisitive group, which also operates its namesake Boohoo brand, PrettyLittleThing (PLT), and the NastyGal label, purchased MissPap in May of last year, followed by the online businesses of the Karen Millen and Coast fashion brands in a GBP18.2m deal in August.
More recently, it acquired the remaining 34% stake in its PLT brand in a deal that could potentially be worth GBP323.8m (US$397m).
Boohoo said today (17 June) the acquisition continues to represent an "important further step towards achieving our vision to lead the fashion e-commerce market globally."
Analysts believe a number of factors are driving the online retailer's success:
Strength in digital – "Once again the importance of a strong digital presence has been proven," says Elliott Jacobs, EMEA commerce consulting director at LiveArea. "Boohoo has been able to cope, and even flourish, with unprecedented change because it invested in building an agile, digital platform that delivers in terms of experience and reliability. With the move to buy Oasis and Warehouse, the company is seeking to position themselves as the leading fashion e-commerce brand and roll out their digital prowess even further. This will not be the last acquisition from companies with strong underlying growth, built on e-commerce. Expect companies like Boohoo to continue snapping up cheap assets to secure their positions in the market."
Online shift – "Few firms have managed to perform well in coronavirus lockdown, but Boohoo is definitely one of them," says Nigel Frith, senior market analyst at www.asktraders.com. "It has outperformed in the crisis in every way with sales surging, profits being upgraded, and acquisitions in full swing. The strategy of buying up high street names with strong brands but poor sales and transferring them to its online platform is proving to be a winner. The move by Boohoo to buy up Warehouse and Oasis is part of a bigger shift of high street stores moving online. This was a transition that was in play prior to coronavirus. However, the Covid-19 outbreak has accelerated a shift in habits that was already well underway."
Integration skills – "Clearly the fallout from Covid-19 globally may give the company the opportunity to bolt-on further additional brands through M&A activity. The company has shown through the acquisitions of MissPap, Karen Millen and Coast that it has the integration skills to develop new brands across the group and has shown its continued appetite with the acquisition of the Warehouse and Oasis brands," notes Greg Lawless, analyst at Shore Capital.
Appetite and balance sheet – "The shopping spree begins. The first GBP5m of Boohoo's GBP200m equity raise for M&A activity has been deployed, to acquire the online business of recently administrated brands Oasis and Warehouse. Boohoo has been interested in these brands for months, and was a late-stage bidder in early May, though no price agreement was reached then," says Aneesha Sherman, at Bernstein Research. "Formerly part of the Karen Millen and Coast family, these new brands will be folded into the supply chain and operational infrastructure over the coming months. Based on last year's accounts, the business will bring just under GBP50m of online revenue. Overall, these are overwhelmingly positive results in a dismal market."
First-quarter results
The news comes as the online retailer reported a 45% surge in total group revenue to GBP367.8m in the three months to the end of May, compared to GBP254.3m a year earlier.
Boohoo said trading in the middle of March through to early April was mixed, as a result of the impact of the Covid-19 pandemic, initially with a marked decrease in year-on-year growth. Performance across all brands and geographies improved throughout April, however, with a "robust" performance delivered in May.
Strong underlying growth was cited across the Boohoo, PLT, and Nasty Gal labels, with the group's newest brands continuing to trade strongly, partly boosted by demand for loungewear and athleisure during lockdown.
By region, revenue increased 30% in the UK to GBP183m and by 66% in the rest of Europe to GBP63.4m. Sales in the US surged 79% to GBP92m and rose 22% to GBP29.4m in the rest of the world. Gross margin was up 60 basis points year on year to 55.6%.
"During unprecedented and challenging times, the group has delivered a very strong trading and operational performance," said CEO John Lyttle. "Whilst there is a period of uncertainty within the markets in which we operate, the Group is well-positioned to continue making progress towards leading the fashion e-commerce market globally."
Outlook and guidance
For the current financial year ending 28 February 2021, Boohoo expects to deliver another year of strong profitable growth, and ahead of market expectations.
Revenue growth is anticipated to be approximately 25% for the current financial year, with an adjusted EBITDA margin of 9.5% to 10%.
The group said its guidance reflects ongoing investments into its more established brands as well as anticipated investments into new and recently acquired brands through the course of the financial year.