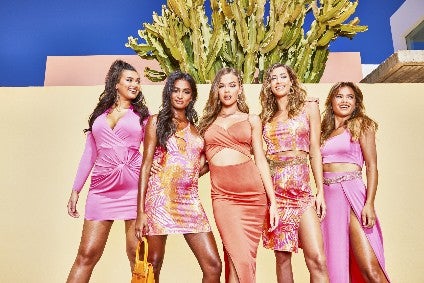 Boohoo's share price slumped 22% in morning trading today (8 July) as a growing number of retailers ditched the group's brands from their websites over claims of exploitation and unsafe conditions at one of its UK supplier factories. Analysts have questioned where Boohoo goes from here and how it will affect fashion's transparency problem.
Next and ASOS were among the names to announce they would not be selling Boohoo brands after claims of exploitation and unsafe conditions at one of its UK supplier factories surfaced last week.
The UK fast-fashion giant, responded today (8 July) with an immediate independent review of its UK supply chain, after earlier promising it would cut ties with factories that breach its supplier code of conduct.
"Though questions about Boohoo's ethics have not hindered its impressive growth previously, this allegation is more likely to make an impression on shoppers due to its location and occurrence during a time when retailers' actions are increasingly under scrutiny," says Emily Salter, retail analyst at GlobalData. "The demand for cheap fashionable clothing will not disappear but the press coverage and actions resulting from the allegation could have long-lasting impacts on transparency in fashion."
While Boohoo this morning announced plans to launch an immediate independent review into its UK supply chain as a result of the allegations, Next, Asos, Zalando, Very.co.uk, and Amazon have all dropped the Boohoo brands, which include Nasty Gal and Pretty Little Thing, from their websites.
"The decision by stockists to pull the Boohoo brands' products from their websites is a bold move, but the right one to send a clear message to consumers that they do not endorse such practices. As these retailers stock hundreds of brands, they do not stand to lose much from this, whereas Boohoo has lost its main wholesale partners, impacting its sales," Salter adds.
"Though this specific incident is important, it points to the wider problem of the lack of transparency in the supply chain that is endemic in the fashion industry. Despite retailers having plenty of other problems to deal with amidst Covid-19, this high profile slip up will accelerate their efforts towards transparency, under pressure from consumers and investors."
Negative impact
Clive Black, analyst at ShoreCapital, questions what the negative impact will be from the supplier issues.
"We do not know the quantum but we do know that sales will be impacted by not being on the Asos, Next, and Zalando websites in the short term and we find it hard to believe that sales for the group's brands won't be impacted given the current media storm.
"We have noticed a surge in social media hashtags including 'BoycottBoohoo' and we highlight that millennial consumers are interested in both sustainability and business ethics. We also question the impact on the cost base and question whether Boohoo has been experiencing input prices for goods that might be no longer sustainable. This may put pressure on gross margins and prices could rise, which would negatively impact their competitiveness. We also wonder what the new compliance measures that the company has announced this week will mean for the cost base. In our view, it will be potentially higher operating costs to demonstrate that the company has the appropriate processes in place for its supply base."
Black also suggests Boohoo could take internal disciplinary action with respect to matters arising from the reports. "Additionally, there could also, therefore, be a rise in Boohoo's cost base for garments if its investigations reveal notable issues in situ in Leicester."
Looking ahead, Bernstein analysts believe Boohoo may now look to shift some of its sourcing to southern Europe to preserve margins.
"Southern Europe production will add only one day of lead time, and at a lower cost (including air freight). We expect a small percent of Leicester production to stay local, focusing on the highest-margin, shortest lead-time orders (e.g. re-orders of fast-selling items) where saving one day of lead time is critical."
Bernstein says it sees plenty of option value for incremental margin improvements from distribution efficiency, ASP accretion, differential promotion, and margin-accretive merger and acquisition.
"Given the massive price drop we are positive on the path forward, though given management's lack of clear response and the investigations still pending, we do not know enough yet to update estimates. We will continue to be in touch with the company and monitor the situation," it adds.
John Perry, managing director of Scala, a leading provider of management services for the supply chain and logistics sector, adds while a supplier's human rights practices and labour standards might be found to be below-par, it is always going to be the customer-facing company that feels the repercussions.
"Adverse business impact can come about from problems in a number of areas, such as at the manufacturing source, in transportation or routing or, as we have seen here, in the manufacturer's supply chain. Failure of one or more aspects may present a major or even existential risk to the company – as Boohoo has already found – which also highlights the need for increased supply chain resilience and robustness.
"Businesses should, therefore, partner with suppliers that share their own ethical values, wherever possible. Establishing and communicating expectations through a supplier code of conduct is a particularly effective way for businesses to involve their supply chain partners in their efforts.
"By working towards greater transparency, resilience and ethical standards throughout their supply chain, businesses improve their own CSR credentials, while boosting their reputation and profitability."
Lack of engagement
Boohoo was one of a number of brands last year ruled to be the "least engaged" apparel retailers by British MPs when it comes to sustainability actions and labour market initiatives. Others included Missguided, Sports Direct and JD Sports.
In January last year, a UK Environmental Audit Committee ruled that brands and retailers were "failing to promote environmental sustainability and protect their workers," following a probe into the environmental and social impacts of the garment industry at the end of last year.
Mary Creagh MP, chair of the Environmental Audit Committee, said at the time: "By publishing this information, customers can choose whether they want to spend money with a company that is doing little to protect the environment or promote proper wages for garment workers. We hope this motivates underperforming retailers to start taking responsibility for their workers and their environmental impact."
In a tweet today, the MP posed a number of questions. "Will Boohoo publish the results of that investigation? The best auditors are workers and their representatives. So will Boohoo finally work with @UsdawUnion, @GMB_union, @ethicaltrade to stamp out future abuses?".
The Environmental Audit Committee, meanwhile, tweeted: "Boohoo ignored the results of @CommonsEAC fashion inquiry. After its share price fell by a third, and its influencers wobble, it has now appointed a QC to investigate itself. Money talks."