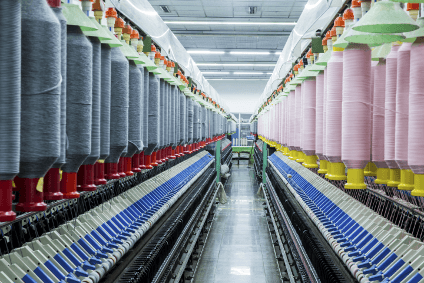 Central American garment suppliers are fretting over delays of up to a month in essential Chinese fabric supplies as a result of the coronavirus (Covid-19) outbreak.
"Of the $500m we export from CAFTA (Central American Free Trade Agreement) monthly, 40% is yarn and yarn thread [in finished clothes] that comes from China and Asia," says Alejandro Ceballos, president of the Guatemalan apparel and textile industry association Vestex (Asociación de la industria del Vestuario y Textiles).
He adds that monthly fabric imports total 200m pounds worth around US$300m at current prices.
"Chinese yarn factories continue to operate but they are seeing delays to leave ports. If this continues, it could be a big problem for us as we can't suddenly install enough local capacity to meet this shortage."
Adds Ceballos: "If the US starts demanding our yarn [as it could face a squeeze itself], then we could really be in trouble."
DR-CAFTA – as the trade block linking Guatemala, El Salvador, Nicaragua, Honduras, Costa Rica and Dominican Republic into a free-trade corridor with the US is called – makes apparel for top brands including Under Armour, Walmart, Target and Dickies, among many others.
Garment delivery on schedule
Ceballos notes the virus, which has so far infected over 80,000 people and killed 2,800, has not yet forced the region's makers to cancel garment deliveries to brands north of the border.
However, if the fast-spreading disease, which reached Brazil on Tuesday (25 February) after passing through the Middle East, Europe and other Asian countries, continues for two more months, that might change.
In a statement earlier this week, the National Council of Textiles Organizations (NCTO), acknowledged the infection is causing supply chain bottlenecks.
The body, which represents US textiles makers including artificial and synthetic filament and fibres, says it will support brands looking for alternative sourcing destinations. It downplayed Ceballos's worries, however, noting that "the western hemisphere's sourcing platform provides a sound alternative as companies look to diversify their sourcing.
"The region has immediate capacity to meet worldwide demands with duty-free access through well-established supply chains," aided by free-trade agreements such as DR-CAFTA and NAFTA as well as tariff preference levels, it says.
Hangzhou fabrics
Central America buys the bulk of its fabric from Hangzhou in China's Zhejiang province, southwest of Shanghai, ordering from the likes of Cagnan Weixiang Spinning Factory and Dongguan Quiej Textile Company, which have faced logistic disruptions stemming from the disease.
Ceballos says Central America also buys yarn from US suppliers and other makers in Guatemala, El Salvador and Honduras. However, capacity is insufficient to meet the magnitude of shipments from China, the world's largest clothing maker, he claims.
If shortages accentuate, "we could bring fabric from other countries but they would not meet rules of origin [for free-trade status] and would be very expensive," Ceballos adds. Brazil could be a candidate within Latin America but its product prices are very high. "China's thread and texturised yarn is half the price" of alternatives found elsewhere, he concludes.
Transport issues?
While China has reportedly contained the crisis, with apparel factories now operating at near normal rates, some executives say there could be transport delays.
"We could see some ships that don't leave their ports because of fear of staff being infected," says Jose Vicente Calad, vice president of Colombian textiles group Calad. He adds that Colombia is not suffering like Central America because it has a broader local supply of raw materials.
"So far, however, the 45-day lead time for merchandise leaving Asia for Latin America is expected to be met but if things [the virus] continue for three to four more months, it probably won't," Calad concludes.
Click on the following link for more insight into how the coronavirus is impacting the global apparel supply chain: Is coronavirus a threat to the clothing industry?