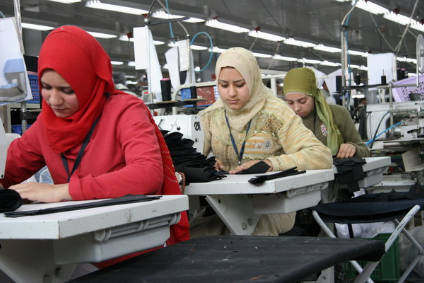 A free trade zone system in Egypt that links businesses with Israeli suppliers is being targeted by Chinese clothing companies wanting to access the US, amid fears an accelerating Trump trade war risks exports through standard channels.
The resulting investment has been welcomed in Egypt, but some clothing and textile industry commentators are warning that large Chinese firms could muscle out local players unless Egyptian businesses are given time to mature.
Indeed, while the Egyptian government is firmly behind increasing foreign investment via the country's Qualifying Industrial Zones (QIZ) programme, much growth utilising these outlets has been pushed by Hong Kong-based Li & Fung, the world's leading supply chain solutions partner for consumer brands and retailers.
"Li and Fung brought a lot of supply chain partners from Bangladesh and China to Egypt," explains Mohamed Kassem, commissioner of the Destination Africa garment and textile exhibition in Cairo, and chairman of the newly-formed Egyptian Company for Textile Parks Development.
"Their idea is for Cairo to be a hub for the African continent, and increase business between Egypt and Israel," he says. Egyptian goods have duty-free access to the US through the QIZ programme if at least 10.5% of a product's inputs is sourced from Israel.
Given the importance of Israel to the Trump administration and the trade war between China and the US building risk for other avenues of Sino-American trade, the QIZs could be a major driver for increased investment.
"The uncertainty is pushing people to look away from China. Saving 10% to 15% import tax [to the US] is a big incentive," says Samer Riad, general manager of the Riad Group in Cairo, a vertically integrated clothing and textile company.
Indeed, according to the re:source by just-style strategic sourcing tool, the value of US apparel imports from Egypt in 2017 totalled US$896m, 81.3% of which (worth US$729m) were under the QIZ programme.
New 1.2m square metre textile park
Kassem says Egypt plans to attract 40 to 50 textile companies from China, South Korea and Bangladesh, covering the full supply chain, to a new 1.2m square metre textile park, part of the QIZ, in El Minya, Upper Egypt.
The first phase of building this new textile park is to start within the next three to six months, and the second phase later in 2019, with temporary facilities being built initially to speed up production. The third and final phase of establishing a duty-free textile park should be completed within the next two to three years. However, park managers want to see garment manufacturers operational within the first and second phase, Kassem notes.
Riad says upstream investment in fabric mills, dye houses, yarns and spinning is needed in Egypt, as well as Chinese know-how. And there are plenty of incentives. By establishing in Egyptian QIZs, Chinese firms would not have to pay US import duties on man-made fabrics, for instance, that can be as steep as 32% under normal circumstances, and which could increase under a trade war.
Hany Salam, managing director of Salamtex, a lace and textile manufacturer based in El Obour City, north-east of Cairo, and a member of Egypt's Chamber of Ready Made Garments & Textiles, urges caution – saying Egypt has not yet made the switch from producing natural fibres to man-made fibres.
"The Chinese have noticed the situation and want to take advantage of it, but this might affect local manufacturers. The move should be delayed by a few years for the Egyptian sector to mature more. Egypt could take big advantage of the QIZ programme without having the Chinese coming," Salam says.
He adds that as Egyptian companies have recently started manufacturing sportswear and functional fabrics, the sector needs to develop this segment further. Contracts have recently been won by Egyptian companies to manufacture for brands Under Armour, Decathalon, Reebok and Puma in the country.
See also: US-China trade war could accelerate Africa sourcing.