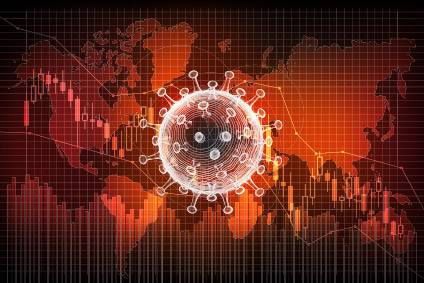 The fast spread of the coronavirus around the globe has created an unprecedented situation for the world economy. But how might Covid-19 affect apparel sourcing and trade? Dr Sheng Lu, associate professor in the Department of Fashion and Apparel Studies at the University of Delaware, has analysed the worst case scenarios.
Like many other sectors, the apparel business worldwide is facing daunting challenges, the likes of which have not been seen before. In major apparel consumption markets such as the EU and US, clothing stores are locked down, giving retailers little choice but to postpone or even cancel sourcing orders. Meanwhile, garment factories in the developing world are struggling hard with both disrupted supply chains and the financial ramifications of large-scale order cancellations.
While there remain many unknowns about the pandemic, we have tried to analyse the possible impact of Covid-19 on apparel sourcing and trade in the worst-case scenario.
Based on the Global Trade Analysis Project Recursive Dynamic (GTAP-RD) model and its latest database, we estimated the trade impact of the coronavirus in three possible scenarios, as summarised in Table 1. All three are inclined to the most pessimistic view of the world economic outlook, but likely situations we may have to face this year. Comparing the results in Scenarios 1 and 2 shows the economic weight of the US, China and the EU, whereas Scenario 3 describes an "apocalyptic" world.
Note: Because China, US and EU are the epicentres of Covid-19, we have assumed the economies in these three countries/regions will be hit harder than the rest of the world
Four preliminary findings are worth noting:
#1: The volume of world apparel trade will be hit hard by Covid-19
As clothing stores are forced to shut down and consumers lose their jobs and struggle financially, the demand for apparel in the EU and US – the world's top two consumption markets – is expected to drop sharply. As shown in Tables 2 and 3, each 1% decline in US and EU Gross Domestic Product (GDP) in 2020 could lead to at least a 2-3% drop in the value of their apparel imports. Notably, during the 2008 financial crisis the value of world apparel imports also fell by as much as 11.5% when the EU and US GDP suffered negative growth of 2.5-3%.
Note: 'Rest of Asia' refers to Asian countries other than China, Vietnam and Bangladesh
Note: 'Rest of Asia' refers to Asian countries other than China, Vietnam and Bangladesh
#2: China could be hit the hardest by the sharp decline in US and EU apparel imports this year
As shown in Tables 2 and 3, China will suffer the most significant drop in its apparel exports to the US and EU in all three scenarios. The reasons are threefold. The first factor is the size effect: as the largest supplier of apparel to the US and EU, and with its unparalleled production capacity, China is often used to fulfil large-volume sourcing orders. In the current situation, however, retailers are most likely to cancel these large-quantity orders, leading to a disproportional loss of China's apparel exports.
Secondly, US and EU apparel imports from China currently cover almost all major categories – which also makes China the most exposed to order cancellation. On top of this, last year's US-China trade war and the outbreak of Covid-19 in China earlier this year mean many US and EU fashion brands and retailers have been shifting sourcing orders from China to other Asian countries, such as Bangladesh and Vietnam. To prioritise their limited resources, US and EU retailers are most likely to accelerate this process in the current difficult time.
Other than China, apparel factories in Bangladesh also could be significantly hit. Similar to the case of China, Bangladesh serves as a leading apparel supplier for BOTH the EU and US markets, making it more exposed to order cancellations than other countries. Notably, as a beneficiary of the EU Everything But Arms (EBA) duty-free trade programme, around 60% of Bangladesh's apparel currently goes to the EU. In comparison, with a more diversified export market, clothing factories in Vietnam are in a better position and have more flexibility to mitigate the impact of declining import demand from the EU and US. In 2018, around 40% of Vietnam's apparel exports went to other markets around the world.
#3: The decline in US and EU apparel imports will have a notable impact on employment in many apparel exporting countries
History shows that a 10% change in the value of apparel exports typically results in a 4%-9% change in garment employment. This means that if US and EU clothing imports drop by 10% in 2020, leading exporter countries such as Bangladesh, Vietnam, Cambodia and India may have to cut 4%-9% of their garment sector jobs accordingly. The social and economic impact of these job losses is very concerning, especially in developing countries such as Bangladesh and Cambodia, where the apparel sector remains the single largest job creator for the local economy, especially for women.
#4: Economic performance in the US, EU and China will largely shape the pattern of apparel trade this year. As shown in Tables 2 and 3, the results in Scenarios 1 and 2 overall are pretty close, suggesting the economic clouds over these three countries and regions together far exceed the rest of the world.
Last but not least, the global apparel supply chain could continue to face a turbulent time over the next 1-2 years, even if Covid-19 is gradually brought under control in the second half of 2020.
Following the 2008 global financial crisis, the value of world apparel exports dropped by 12.8% in 2009. However, the growth rate quickly rebounded to 11.5% the following year. Likewise, should EU and US apparel imports recover to their normal level in 2021, both importers and garment factories may have to deal with a new round of labour shortages, higher raw material prices and a lack of production capacity.
Click on the following link for additional insight: How coronavirus is impacting the global clothing industry