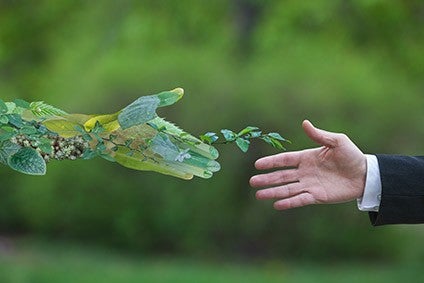 When it comes to implementing sustainable practices, the size of a business is less important than the vision of the CEO, delegates were told during one of the sessions at this year's Fair Wear Foundation Annual Summit in Amsterdam.
"If you are big, your potential impact is also bigger, but of course it's more like a tanker you need to shift – and that really requires courage and vision and perseverance and a long-term focus," Anniek Mauser, sustainability director of Unilever Benelux, told delegates.
"It is maybe easier as a smaller company, although every size has its constraints and challenges, but it is strongly related to the vision of the CEO to really move the needle. It requires courage and perseverance. That, for me, is the most important qualification that's needed to make these changes."
Alfred Beerli of Swiss clothing company Workfashion.com offered a similar view. "I'm not convinced that size matters. It depends on the vision the CEO or the owner has. The bigger you are the bigger impact you can make on the market and in the supply chain.
"The main difference is, I'm the co-owner and I'm fully responsible for everything I do. The big companies are owned by lots of people, and the CEOs are probably not driven by vision but they are more driven by bonuses and money. If he messes up he looks for another job. If I mess up then I really mess up."
Outdoor industry approach
For consumers, sustainability is top of mind for some categories more than others, such as outdoor clothing and footwear.
"We have a totally different approach because we are not a fashion brand, we are part of the outdoor industry and here the consumer is more conscious about those topics," Christian Schneidermeier, CEO of German outdoor wear retailer Ortovox, told delegates. "For those companies it's a bigger topic to have something sustainable because the consumers are already on a higher level than the regular fashion buyer."
The company, which has been a member of the Fair Wear Foundation since 2015, sources from 41 companies across 12 countries, with around 61% of production coming from Europe. And it says the continual improvement of working conditions in its supply chain is an ongoing process, as is its work on sustainability.
"We have a concept which is called Swiss Wool where we use wool from Switzerland as it does not make sense to transport the wool to Asia for production – so those styles are all produced in Europe. We [have] also increased our staff members, so we have a lot of staff taking care of developing [sustainable] processes in our team."
Schneidermeier admits the company is not paying a living wage throughout its supply chain, due to its size and therefore lack of voice on the factory floor, but says this is a goal it is hoping to achieve through collaboration.
"Our goal is to become a Fair Wear leader – this has to be the focus of our activities in the next [few] years and we are ready to work together with our partners and with our competitors in our market because as a small brand, only having 1% or 5% share of the factory, you can't do too much.
"In the outdoor industry, brands are sharing a lot of factories, so it should be our joint effort to work, to really cooperate together in the outdoor industry where we have a leverage of more than 50% sometimes in the factories and this could be the start."
Schneidermeier says Ortovox would be willing to pay a living wage if such collaboration was successful.
"We are already considered a very high price level brand, so on the one hand it's difficult because we can't go too much higher, but on the other side, we are expected to as a high-quality brand. Therefore it's not just one aspect – the product needs [to be] a superior quality, a superior functionality, and it also needs a superior message in terms of sustainability. We have to work on those fields, and yes we are prepared to do that and this will be the focus for the next years."