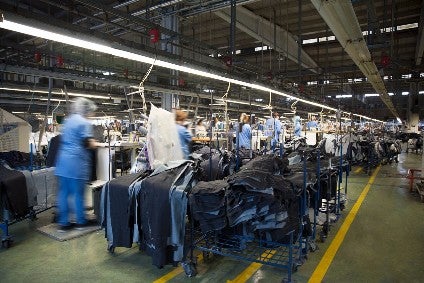 The apparel industry in Honduras is betting that US demand for its key T-shirt and underwear products will rise this year, boosting exports by 10% to $2.9bn and mirroring a similar performance in 2019.
"Last year was an extraordinary one in which we grew 10% as many orders moved to Central America from China because of the trade war," says Guillermo Matamoros, general manager of the Honduran Maquila Association (Asociación Hondureña de Maquiladores – AHM), which represents the country's biggest industrial sector. "If US demand is maintained, we can have another 10% of growth" in 2020.
Latest data from the US Department of Commerce's Office of Textiles and Apparel (OTEXA) shows apparel imports into the US from Honduras rose 9.52% in the 11 months to November 2019 to US$2.56bn, up from US$2.34bn a year earlier.
As tensions in the high-stakes trade spat between the world's two superpowers moderate amid a Phase One trade deal, there is a risk that some of Central America's gained market share could get chipped off, observers say.
However, Matamoros notes any return of US brands back to China will likely be gradual and won't negatively (at least in the short-term) impact Honduras and the other five Central American countries making up the DR-CAFTA (Dominican Republic-Central America Free Trade Agreement) with the US.
A bigger challenge may come from the US economy.
Growth at the world's biggest apparel buyer could fall to 2.5% in 2019 as jet maker Boeing's troubles lop half a point from GDP, according to US Treasury Secretary Steven Mnuchin. That forecast looks optimistic, however, after a Bloomberg survey showed most economists expect a 1.8% gain for the year, down from an estimated 2.3% in 2019. The experts believe a US recession still has a 30% chance.
Investment hike
Whatever happens, Matamoros insists Honduras is working hard to grow its apparel industry, which accounts for the bulk of the impoverished nation's export revenue. In that vein, he counters views that the Honduras 2020 development plan failed to boost the sector's sewing jobs and investment.
The ambitious Honduras 2020 plan was launched to triple apparel exports to $7.4bn and generate 200,000 new textiles jobs to boost the count to 350,000 – all by 2020.
"We expect to get $250m to $300m in apparel investments this year" of $400m in forecast multi-industry maquila commitments for 2020, he notes. Congress has also recently approved a new bill to extend free-zone tax exemptions from 15 years to 25 years.
"The big American factories will continue to invest; there will be [a supply chain shift from] cotton-to-synthetic investments, a new textile mill and expansion of a sewing factory."
Manufacturers will also inject funds to buy new circular knit machines and others to automate fabric output as the nation ramps up sales to other Central American nations making clothing for brands such as Dickies, Under Armour or Nike.
Honduras 2020
Matamoros says manufacturing majors Elcatex and Grupo Kattan are moving to become bigger suppliers of dress shirts for US brands but also increasingly for Central American markets, launching their own distribution and private label trademarks.
"We are seeing Grupo Kattan doing this with Van Heusen tailored shirts and Elcatex with its Pacer apparel label," Matamoros reveals. "They have seen what Zara, Mango and Massimo Dutti have done in the market and are looking to build their regional presence, also with jeans and sportswear."
According to Matamoros, Honduras 2020 has created roughly 20,000 apparel jobs after drawing nearly $1bn in textile mill investments – though that's a far cry from the $3bn originally envisaged.
"Two years ago, we had 140,000 maquila jobs and now we have 165,000, 80% of which are textiles," he says, tempering critics' views that the scheme, which aimed to generate 600,000 jobs and triple exports to $7.4bn, has been a colossal failure.
"We drew $400m in investments last year, and if Honduras 2020 wasn't there, this would have not been possible," Matamoros claims. "The figure is more than double the average gained in the past five years."
Matamoros says a plan to replace Honduras 2020 is currently in the works to bolster future growth, adding that its leadership structure and membership will be overhauled.
Growing uncertainty
However, Joel Almendares, secretary general of the CUTH (Confederación Unitaria de Trabajadores de Honduras) trade union, contradicts Matamoros, claiming that the 2020 scheme did not bring new investment or jobs to the textiles or broader maquila sectors.
He labels the plan "political propaganda" and adds the country's political volatility and migration crisis continues unabated, making foreign manufacturers nervous. The recent departures of Unilever and metals factory Intrefica, triggering 2,000 job losses, is a case in point, he adds.
"The government has portrayed Honduras 2020 as a salvation, claiming it has brought them funds from abroad. The truth is no new investments or investors have come," Almendares charges.
Economists, meanwhile, say migration is set to rise as people continue to flee gang violence and a lack of jobs, making the disputed term of President Juan Orlando Hernandez (under fire from a US drug trafficking probe and questionable election win in 2017), harder to carry through to the 2021 elections.
"There is a possibility that Hernandez won't survive the rest of his term," says economist Hugo Noe-Pino, adding that Tegucigalpa's claims that the maquila sector will secure $400m this year are unrealistic.
"We are tired of hearing the same kind of promises and forecasts every year, only to see them never come true."
Noe-Pino, who was Honduras's former Central Bank chief, notes that social unrest could hit the nation in coming months, mirroring similar riots across Latin America last year against stubborn inequality.