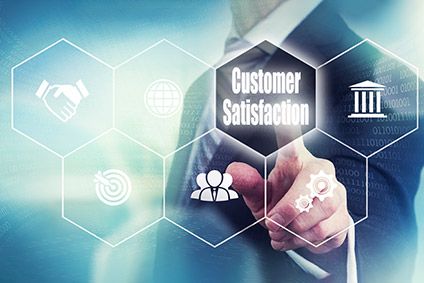 As the fashion industry shifts towards proper omnichannel it requires an on-demand supply chain that combines customisation with the ability to re-stock shops more efficiently and respond to trends more quickly. Unmade is a fashion technology business that provides a digital solution to create customisation at an industrial scale.
"If you look at the way the fashion industry has changed in the last few years, consumer demand has totally evolved," explains Ben Alun-Jones, co-founder of fashion and technology firm Unmade. "Now customers are after uniqueness and variety in what they are buying. But if you look at the supply chain, it hasn't adapted or responded to this change in demand yet."
Indeed, fashion as a business model is not really catering to the need of the consumer outside of bespoke tailoring or couture fashion. And this system for producing, distributing and using clothing operates on a predominantly "take-make-dispose model," which has been widely reported as having become wasteful and polluting.
A recent report published by the Ellen MacArthur Foundation found that around 10% of all apparel products made go straight to landfill after each season because what is made is not tailored to what customers want. It is made months in advance, based on predictions.
One fashion model tackling this well is Inditex's Zara. It has become one of the biggest fashion businesses in the world by reducing the time it takes to create clothes and bring them to market. The control afforded by Zara's in-house design, manufacturing and distribution capabilities allows new collections to reach stores within two weeks of conception compared to a six-month lead time for comparable retailers. And it offers a large number of SKUs in limited quantities based on current trends.
Creating a responsive supply chain
Yet this method, as Alun-Jones explains, is still based on predictions. The next frontier is to use digitalisation, including digital design and 3D printing and scanning, to truly match supply with demand at an individual consumer level – that is, mass customisation.
"What about having a truly responsive supply chain? If you look at other industries, this is already starting to happen. There has been huge innovation in industrial production, like cars at BMW where you can change the trim and interior within 20 hours."
Alun-Jones is attempting something similar with his company Unmade. The firm enables customisation through industrial production for some of the world's biggest and most innovative brands in fashion and sportswear. It handles all steps from online orders to factory floor in existing factories, generating all the files needed to manufacture, pack and ship bespoke order.
So what does mass-customisation mean? It is not ready-made; it is custom fitted. It's the ability for a brand to retain the control but enable the customer to add their name, change colours, or even move and position graphics onto a product.
The current supply chain model means a brand will design product three to six months in advance, manufacture product three months in advance and then try and sell it. While customisation, Alun-Jones says, offers a "far more efficient supply chain," where everything that is made has already been paid for, and the customer can start to be involved in the process.
One company doing this well is US sportswear giant NIKE. Last year the company launched a new initiative that merges digital design with traditional footwear making, allowing select customers to see how custom shoes are designed and manufactured. The model is working well, and currently around one-third of all product sold on Nike's website is customised – representing a massive shift for the company, and the apparel and footwear industry.
How does mass-customisation work?
Through Unmade, consumers have access to some of the biggest clothing brands where they can custom things such as the product design and colour at the same cost and the same speed of production.
"It doesn't mean it's available in two days, but it's the same manufacturing time of the host factory. Once the order is placed online, we generate the manufacturing file and send that to the factory. We plan the production for the day to ensure that even though they are unique orders, we group similar orders together so we get economies of scale, still through unique production."
The idea of mass-customisation piqued Alun-Jones's interest back in 2013 when he ran a design consultancy business working for the British Olympic cycling team designing one-off items of performance clothing. Two years later he co-launched the physical retail and e-commerce platform Unmade, which now employs 26 staff with its own production line.
"What we're trying to do is minimise what would be steps between the customer, the factory and back to the customer and make that as fast as possible," he explains. "When someone places an order online, we want to make sure that as quickly as possible the factory knows everything they need to do, so it can go through [production] faster, if possible, then packing, connect to the shipping company, and then the customer."
To enable this to happen, the company has built three key software tools that allow for the creation and management of the product along its supply chain, allow the customer to engage in the process, and a factory order-management system that groups together orders to optimise production through network factories.
"Everything we've done, we try to think about the way factories work today rather than trying to force them to change everything," Alun-Jones explains.
Amongst other things, it's about creating "intelligent paperwork" that corresponds to production, pre-organising sequences, and ensuring each product has a unique ID, he adds. "We require factories to connect their machines to our platform via the internet. This means we can understand the stages in which the orders are filled.
"We also interface with a number of different shipping companies, so the factories actually become the distribution centres and we don't need to have warehouses for product. This is a super-efficient way of making things as quickly as possible, and shipping it directly to the customer."
Where an order is more complex and needs to come from different factories, for example for a sports team kit comprising caps and tops, then a distribution centre may be needed, Alun-Jones says, so that different orders from different factories get grouped together.
The future process
So while mass-customisation still requires a company to undertake the same process between developing and sourcing, the wait time on the sampling process is eliminated because factories are set up to deliver the products on demand.
"This is the ability to respond to customer needs much, much faster than when you try to do something in advance," Alun-Jones says. "It's involving customers and asking them, 'what do you want to buy?', so giving them more of a say."
And as the fashion industry increasingly shifts towards an omnichannel model, brands are having to connect the different methods of shopping – on a mobile, on a tablet, on a desktop or walking into a store – seamlessly through software.
"The end aim is an on-demand supply chain where it's not just customisation," says Alun-Jones. "Customisation requires a lot of my supply chain, so it's also the ability to re-stock your shops more efficiently and respond to trends quicker."
How mass can customisation get?
In the garment world, where retailers and brands are rushing to differentiate what they offer, there is certainly a desire for mass customisation. The problem for many businesses, and especially smaller ones, however, is a combination of cost and risk: the cost of new product development and technology; and the risk of not having a pre-existing customer willing to take up total production.
As Alun-Jones explains: "In the long run, the ability to customise products could probably apply to every item in some way shape or form. But the reality is, less than half will do it.
"At the minute we don't have a solution for smaller brands. We're a very technology-focused company, there's a lot of effort building that technology, and so we charge quite a lot of money for it…and it maybe only applies to the biggest brands. Our long-term vision is to expand that to support small brands, but we're not there yet."