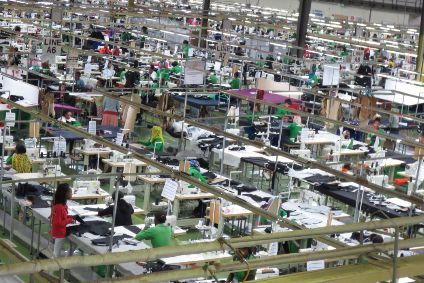 From Bangladesh to Ethiopia, garment manufacturing is a potential path to economic development. But this will only happen if Western brands and retailers adopt specific sourcing practices, according to Dorothée Baumann-Pauly and Auret van Heerden from the NYU Stern Center for Business and Human Rights.
Six years after the Rana Plaza tragedy in Bangladesh, a question still looms large in developing countries where low-wage manufacturing jobs are dominant: whether investments in the garment industry will lead to greater social development, or whether workers will remain "working poor," unable to work themselves out of poverty. The buying practices of Western brands and retailers will play a crucial role in answering this question, and it's critical they get it right.
History has shown a way forward for countries looking to manufacture their way out of poverty. A century ago, garment manufacturing was a path to development for many Western countries, including the United States and – more recently – China. Bangladesh has achieved GDP growth around 6% for the past decade thanks to a booming garment industry that created close to 5 million jobs. Now, many African countries like Ethiopia are looking to this success as a model for their own rapid development from largely agrarian economies to industrialised ones.
However, the picture isn't always rosy: the results of a 2018 garment worker survey by the Centre for Policy Dialogue (CPD), a Dhaka-based think-tank, showed that "at least 17% of [Bangladesh's] garment workers sleep without a bed at night, 86% have to share toilets with other families, and 45% are unable to save anything from their earnings." The NYU Stern Center for Business and Human Rights has also outlined challenges Bangladesh's garment industry still faces, including the need to ensure safe workplaces for all its workers.
A key lesson from Bangladesh is that brands' purchasing practices are a driver of systemic human rights challenges in the garment supply chain
A key lesson from Bangladesh is that brands' purchasing practices are a driver of systemic human rights challenges in the garment supply chain. Tight delivery deadlines, uncertainty over future orders and constant pressure on unit prices can lead manufacturers to cut corners on wages and benefits, health and safety measures and worker protections against harassment and abuse.
Recently, garment manufacturers from Bangladesh, China, India and Sri Lanka have begun setting up factories in Ethiopia to produce garments for Western brands.
These investors are drawn to Ethiopia by a range of factors, including base wages as low as $26 per month – the lowest wage in the global garment sector – a large and young workforce, relatively low levels of corruption, a government with ambitious plans for the garment sector, and a potential, but as yet undelivered, supply of locally grown African cotton, all of which has induced more than 70 garment manufacturers to invest in Ethiopia.
More brands will come, and when they do, it's imperative that we ensure that their investment brings real, sustained social and economic development.
Sourcing practices
Previous studies on Bangladesh's garment sector have shown that garment jobs do not automatically lift workers above the status of working poor; it takes specific policies on the part of government, buyers, and employers to make that happen. Otherwise, developing countries like Ethiopia may continue to stagnate economically, even as major Western brands invest in and source from them.
A new report by the NYU Stern Center for Business and Human Rights finds that Western brands and foreign investors in Ethiopia will play a major role in determining whether manufacturing there is profitable for both companies and workers.
How can brands ensure this?
Firstly, they should make longer-term commitments to Ethiopia and supplier relationships. Anas Tazi, the country director of Décathlon, a French sportswear retail giant, explained that his company only engages with suppliers that are willing to partner for at least five years – preferably even longer – provided they pass a stringent sustainability audit. He also works with suppliers to improve budgeting, productivity and quality over the long term.
Secondly, brands should invest in the training and welfare of workers, including housing. Companies that provide transport, meals, and bonuses that incentivise attendance and productivity are beginning to reduce turnover rates, which exceed 100% every year at some factories. Some companies also train workers to become multi-skilled and eligible for promotions.
Thirdly, brands should improve labour-management relations, including worker representation and complaints mechanisms, so workers are heard and there are adequate channels for resolving disputes.
By adopting the sourcing practices outlined above, buyers and investors in Ethiopia can support a virtuous circle: a better-skilled, more stable and productive workforce that can earn higher wages. This dynamic could give Ethiopian workers a real chance to lift themselves out of poverty, offers a path of sustainable economic development for Ethiopia, and gives major brands the access they need to the workforce of the future.
For more information on the report 'Made in Ethiopia: Challenges in the Garment Industry's New Frontier,' click on the following link: Worker turnover and unrest undermines Ethiopia sourcing.