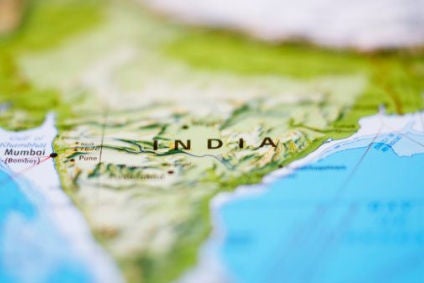 Indian clothing and textile manufacturers have welcomed a series of policy changes announced in the central government's national budget.
Released on 1 February, reforms highlighted by industry representatives include the abolition of anti-dumping duty on key polyester raw material PTA (purified terephthalic acid), cheaper loans to small manufacturing units and exporters, a US$200m investment into developing India's technical textile industry, and a review of principles underpinning future negotiations on free trade agreements (FTA), responding mainly to concerns about cheap imports from Bangladesh.
The withdrawal of duties on PTA "will potentially open up the MMF [manmade fibre] value chain and give a fillip to the entire MMF industry and enhance its global competitiveness," claims Rakesh Biyani, president of Clothing Manufacturers Association of India (CMAI). The manufacture of technical textiles, sportswear and dresses in India could benefit greatly from this move, he says.
Internationally, synthetic fibre accounts for more than 60% of total fabric manufacturing, but in India the comparatively high cost of producing it locally means only 25% of India's textile output is manmade, Kandasamy Selvaraju, secretary general of Southern India Mills' Association, told just-style.
He says raw materials used by synthetic yarn and fabric makers is 20-30% more expensive in India than in China, and accounts for 65% of the cost of manufacturing "non-natural" textiles.
These higher raw material costs are also the main reason that Bangladeshi garments imported under South Asian Free Trade Area (SAFTA) rules have become more competitive in Indian markets, Selvaraju says. "Bangladeshi garment manufacturers use cheaper Chinese fabric for the goods exported to India, which puts Indian manufacturers at a disadvantage," he says, adding, in effect, "Chinese goods are routed through Bangladesh."
These concerns are sharpened by the fact that India and Bangladesh are in the final stages of negotiating a deeper bilateral Comprehensive Economic Partnership Agreement (CEPA) – and were reflected in the budget speech by finance minister Nirmala Sitharaman.
She told the Indian parliament that while FTAs delivered economic benefits, they also posed a threat to India's domestic industry. "In the coming months we shall review Rules of Origin requirements, particularly for certain sensitive items, so as to ensure that FTAs are aligned to the conscious direction of our policy."
As for the US$200m on developing India's technical textile sector, Sitharaman said India imports US$16bn worth of technical textiles annually and the government wants to reduce this figure.
The money will fund R&D, product development and the branding of Indian technical textiles, adds Salvaraju. "The government is also looking at developing clusters or zones for technology development and value addition of [technical textile] products."
Another budget measure welcomed by Biyani is a programme of small loans to micro, small and medium-sized enterprises (MSME), which could be of major benefit to the Indian clothing and textile industry that is still largely comprised of MSME units.
Also of interest are proposals to amend the Factoring Regulation Act 2011, which will enable NBFCs (Non-Banking Financial Companies) to extend invoice financing to MSMEs through the Reserve Bank of India's (the country's central bank) TReDS (Trade Receivables Discounting System), "enhancing their economic and financial sustainability," said the finance minister.
The Apparel Export Promotion Council of India also welcomes the budget. Its chairman, A Sakthivel, highlights a new export credit and promotion system called NIRVIK (Niryat Rin Vikas Yojana) announced by Sitharaman for making higher export credit disbursements with bigger insurance coverage, reduced premiums for small exporters and simplified procedures for claim settlements.
Other areas of the budget he supports include "support for working capital and financing for MSMEs, five-year exemptions from audit for MSMEs and easing of tax filing for start-ups."
Government reforms
While India is the biggest-cotton producer in the world, and has a large and low-cost labour pool, its garment industry faces a number of challenges.
Although apparel exports remain an important part of India's GDP, they have been dropping for the last two years and, because of diversification in India's overall exports, apparel's share has declined.
To increase competitiveness and balance China's growing economic influence in Asia and the Indian Ocean, the government has pledged to make reforms, including further deregulating industries, privatising State Owned Enterprises, and reducing controls on foreign trade and investment.
However, corruption, poor infrastructure, burdensome regulatory requirements, and poor financial and budget management make progress difficult, especially in the apparel sector, which suffers from fragmentation and infrastructural deficiencies that hurt its development.
Last year the United States terminated India's designation as a beneficiary developing country under the Generalized System of Preferences (GSP) programme. While the scheme excludes most textile and apparel products exported to the US, the designation of a country as eligible for GSP sends a strong message that it is taking steps to improve worker and intellectual property rights.
The US also issued antidumping and countervailing duty orders on imports of polyester textured yarn from China and India after reaching a unanimous decision that they are being subsidised and sold at less than fair value.
Workers in India have also protested against labour law reforms introduced by the Modi government that they said put ease of doing business ahead of worker welfare. The 'Code on Wages Bill' amalgamates four separate labour laws that govern fixing and paying wages – but was criticised for undermining the participation of union representatives in the process of fixing minimum wages.
However, in January, the labour code was one of several drafted by India's Ministry of Labour and Employment in a move aimed at simplifying wages, industrial relations, occupational safety, and health and working conditions.
Other recent changes have seen India's Ministry of Commerce announce a slew of relaxations on its foreign direct investment (FDI) rules for single-brand retailers, including an easing of the local sourcing requirements.