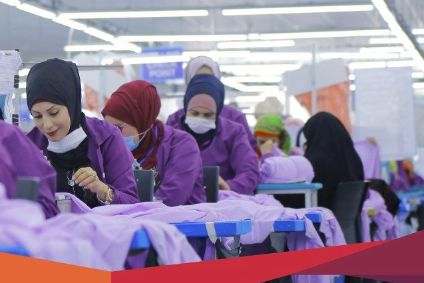 A training scheme aimed at bolstering the number of Jordanians working in the country's garment sector has added 350 recruits to clothing manufacturer Classic Fashion Apparel Industry – with further expansion already planned.
An agreement was inked in mid-July 2019 between the Jordan Hashemite Fund for Human Development (JOHUD) and major clothing manufacturer Classic Fashion Apparel Industry, whose headquarters is in Irbid, northern Jordan, to provide training and the possibility of joining the garment company's workforce.
The initial focus on the scheme is in the Karak governorate, south-west of the capital Amman.
Classic Fashion opened a factory here last year, which currently employs 700 workers. It is expected to reach its full capacity of 1,000 workers in the next four months, says Sanal Kumar, the chairman and managing director of Classic Fashion, which supplies Walmart and other US clients.
JOHUD provides the training facilities and Classic Fashion provides three trainers to teach young Jordanians how to operate sewing machines, check garments and learn about the sector.
"We provide the expertise, and we do not take more than 25 people at a time for training," Kumar explains. So far, 300 women have been trained in soft skills, and 50 are undergoing technical training to be employed at the Karak factory.
In the meantime, Jordan's labour ministry has also allowed Classic Fashion to run two vocational training centres that were previously under government control.
"They were doing it, but realised we can do the training better. The training is not just for our factory, but also for other factories in Jordan. This is going to be a continuous affair, with no specific end date," Kumar adds.
Migrant workers
Jordan's US41.8bn garment sector employs some 65,000 people. But just one-quarter are Jordanian – the majority are migrant workers from Southeast Asia, according to International Labour Organization (ILO) figures.
Despite unemployment at 19.2% of the 9.5m population, Jordanians have not been willing to work in the sector due to low wages, while Jordanian women's economic participation is one of the lowest in the world, according to the ILO.
"This scheme is very important for Jordan as it is targeting people that live in high unemployment areas, and the country is facing tough times, as we're hosting over 1.3 million [Syrian] refugees," says Qais Al-Tarawneh, executive director of JOHUD.
"Initiatives like this won't solve the whole problem, but it will help strategically in having training and factories located in more remote areas."
Classic Fashion is one of Jordan's largest manufacturers, with 19 factories employing over 30,000 people and accounting for 30% of the country's garment exports. As well as Asian migrants, the manufacturer employs some 1,400 Jordanians and 230 Syrian refugees.
To encourage Jordanians to enter the sector once they have completed training, they are paid more than migrant workers, as defined by a Collective Bargaining Agreement struck between the government; the Jordan Garments, Accessories and Textiles Exporters' Association; the Association of Owners of Factories, Workshops and Garments; and Jordan's General Trade Union of Workers in Textile, Garment and Clothing Industries.
"Jordanians get JOD220 (US$310], per month while migrant workers get JOD125 (US$176), with the remaining balance of JOD95 [allocated] for accommodation and three meals a day, which Jordanians do not get," says Kumar.
Worker retention
One of the biggest challenges of employing Jordanians is retaining people. "We have a turnover of 12% to 14%, which is a killer in our industry, training people, then losing them, then training again," says Kumar.
"We need to create an ecosystem not just for workers, but lower and middle management to enter the workforce." He adds this is underway through setting up a Classic Fashion – Yarmouk Seat of Learning Centre, in association with Yarmouk University, in Irbid.
Looking ahead, Classic Fashion is planning to expand training with JOHUD and other partners in the southern port city of Aqaba, to employ 3,000 Jordanians from surrounding areas out of a total workforce of 10,000 at a new factory to open at the end of 2020.
"We have told the government we can set up accommodation in Aqaba so Jordanians can work there during the week. It is in the preliminary stages, and if people are willing to move, the agreement with JOHUD will be a permanent equation," Kumar concludes.
Other initiatives are also trying to encourage up-skilling in the sector, so that Jordanians are keener to take jobs in the industry.
Better Work Jordan, an ILO initiative started in 2009 to improve working conditions in Jordan's apparel sector, has been tasked by stakeholders to develop a national sector strategy.
Plans include introducing garment design training to add value to a sector that is primarily 'cut and sew.' Currently, designs are primarily provided by buyers and retailers, with minimal design in-country.
There has been a massive influx of refugees into Jordan from Syria, many of whom have found work in the local apparel industry.
Jordan benefits from relaxed rules of origin on exports to the European Union under the EU-Jordan Association Agreement. This provides most Jordanian products, including textiles, apparel and footwear, with duty-free access to the EU as long as the garments were cut and sewn in Jordan and the factory making them employs at least 15% Syrian refugees. The scheme is in place until 2030.