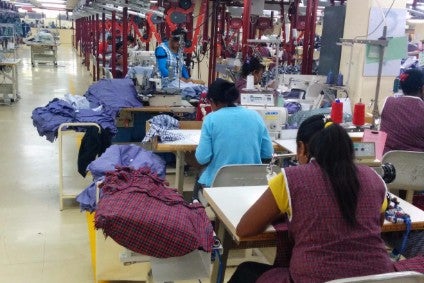 The textile and clothing industry in Mauritius is facing tough times and fresh challenges, with exports falling amidst unfavourable currency shifts.
Clothing and textile exports by value to all destinations fell by 9% in 2016, according to the Mauritius Export Association (MEXA), which has noted such sales declines have been happening for the last five years in key export markets.
"On average, our exports to the UK went down by 5% annually from 2011 to 2015," says Yogesh Singh, MEXA's former chairman. "This drop was further accentuated by 14% in 2016, mainly due to the Brexit impact," with the fall in the pound weakening the ability of Britons to afford imported goods.
"Similarly, our exports to France, which is our third largest export market, fell by 13% from 2011 to 2015 and by an additional 2.12% in 2016.
"Moreover, with the depreciation of the South African Rand, coupled with the structural problems facing their [South Africa's] economy, exports to this destination dropped significantly by around 16.4% in 2016 compared to 2015."
The Brexit effect
The textile and apparel sector has been the Mauritius industry most vulnerable to the Brexit effect, as it represents more than 58% of the country's total exports to the UK, amounting to MUR6.5bn (US$188m) in 2015.
The pound depreciated by more than 10% against the Mauritian rupee from MUR51.92 on 23 June 2016, to MUR47.14 on 24 June 2016 – the day after the Brexit referendum. But on 20 October this year, the pound was even weaker at MUR45.39.
"In 14 months, the rupee lost 10.6% against the pound sterling, the most common foreign currency for our exports to the UK," says MEXA's director general Lilowtee Rujmun-Jooseery. Almost 90% of our revenue on textile and clothing exports to the UK is paid for in pounds sterling, while the industry's imports are purchased in US dollars, which have been rising in value – the USD has gained by 1% against the rupee since the Brexit referendum.
"These companies are thereby faced with a double whammy effect with their profitability being squeezed both in terms of exports and imports," Rujmun-Jooseery adds.
A MEXA survey has concluded that the average profit margin for the Mauritius textile and apparel sector currently stands at just 6-8%. And with export revenue tightening, medium-size exporters selling into Britain will have a tough time, with prices 8% to 10% higher than before the Brexit vote.
MEXA officials have been lobbying for the government to reduce the value of the rupee as a result, even if this makes US dollar valued inputs more expensive.
American dollars are still more important than British pounds to Mauritius exporters, accounting for 52% of the country's total textile and apparel export receipts. A decision by the Bank of Mauritius monetary policy committee on 6 September to raise interest rates by 50 basis points to 3.5% was hailed in the Mauritius media as a move to satisfy exporters' urgent requests.
Vertically integrated industry
If this works, success for Mauritius' clothing and sector industry may still follow. It has come a long way from being a basic cut and sew clothing centre to today's vertically integrated supplier of a wide range of textile products to middle and up-market garment buyers.
Today, the island country's textile and clothing sector is an essential pillar of the economy, contributing 4% of GDP, employing 8.3% of the active labour force and accounting for 47% of exports by value, according to data from the Mauritius commerce and industry ministry.
"The sector has evolved over time to withstand the challenges of a fiercer competitive environment arising from trade liberalisation and globalisation," said commerce and industry minister Ashit Gungah, speaking at the Origin Africa 2017 exhibition staged in Mauritius last month.
Looking ahead, he said that in order to thrive, "the industry has been focusing more on design, innovation, product development and cleaner production to consolidate, diversify and expand its export market."
And Mauritius has a solid track record as an exporter of textiles and clothing to well-known international brands including Topshop, River Island, Levi's, Burton, Guess, Calvin Klein, Tommy Hilfiger, Zara, Harrods and Esprit.
Also, the government and industry have been making efforts to diversify markets away from Europe and the US to boost the industry's resilience. In this process, continental Africa has become a privileged partner in view of its proximity to the Indian Ocean state.
And Mauritius's membership of regional trading blocs such as the South African Development Community (SADC) and the Common Market for Eastern and Southern Africa (COMESA) have helped its exporters generate sales in African countries.
At the same time, Mauritius considers Africa as a focus for investment by its own entrepreneurs. Today, Africa, specifically South Africa, is the third largest export market for Mauritian textiles and clothing, representing 26% of total exports. Additionally, Africa ranks first as a destination for cotton yarn from Mauritian spinning mills.
Overseas investment
The Mauritius textile and clothing sector has also diversified its manufacturing base to cope with a lack of qualified workers and rising local labour costs.
These have have pushed companies to invest in new production plants abroad, notably in Madagascar, India and Bangladesh. One, Ciel Textile Ltd, a subsidiary of Ciel Group, has plants in all three of these countries, as well as Mauritius.
Ciel Textile has developed into a regional one-stop shop for textiles, with vertically integrated business units, from yarn spinning to finished garments, offering a flexible outsourcing alternative to China.
With an annual production capacity of 34m pieces and a total labour force of 20,000 workers, it offers value to medium- and up-market brands and retailers such as Marks & Spencer, Esprit, Calvin Klein, JCrew, Benetton, Guess, Dockers and Levi's, among others.
"The industrial environment is certainly challenging given the global competitiveness of the sector but, with vertical integration of our business and the air freight rebate scheme introduced recently, Mauritius has some opportunities" says Eric Dorchies, CEO of the Aquarelle Group, the shirt manufacturing segment within Ciel Textile.
This scheme, announced in the Mauritius government budget for 2016-2017, allows an air freight rebate of 40% for Mauritius-made exports of textiles and apparel to the European Union (EU). It aims to increase textile and apparel exports to EU member states by boosting speed-to-market and product delivery.