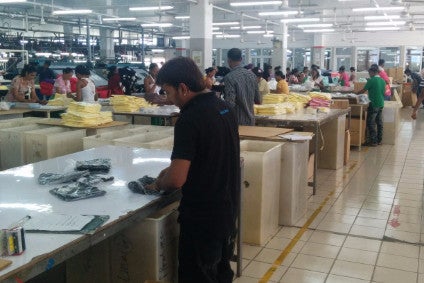 Clothing and textile industry and government officials within the Indian Ocean archipelago nation of Mauritius say they are hopeful that a trade deal will be struck with India this year.
Negotiations on forging the India-Mauritius Comprehensive Economic Cooperation and Partnership Agreement (CECPA) have been staged off and on since 2005. The latest round of negotiations, which finished on 1 January, were tantalisingly close to finalising the deal.
Mauritian government officials told just-style that the date for a last session of talks to tie up the deal was still under discussion.
Given India's market of 1.3bn people, Sunil Boodhoo, director of the Mauritius ministry of foreign affairs' international trade division, says: "The impact on the Mauritian manufacturing sector will obviously be huge in view of the access which Mauritius will have in the Indian market.
"The access to the Indian market will boost the production of high value-added garments in Mauritius, since it is this segment of the Indian market which Mauritius is targeting."
Meanwhile, Lilowtee Rajmun-Jooseery, director of the Mauritius Export Association (MEXA), is also optimistic, given "India has a growing middle-income population with a high purchasing power."
She believes the expertise that Mauritius clothing manufacturers have developed in serving international brands will stand the country's outsourcing sector in good stead, and that "Mauritian ready-to-wear products will easily find buyers."
Moreover, Rajmun-Jooseery says the trade deal is also expected to give clothing makers cheaper access to Indian upstream textiles, yarns and fibres. This would give the Mauritian industry a competitive advantage to strengthen its position in European and North American markets, and help manufacturers leverage investments in developing high-end production techniques.
Potential downside
Of course, the potential downside of such import flows is that CECPA would open the Mauritius market to Indian-made fabrics, so textile manufacturers could face tough additional competition.
Sunil Boodhoo says the Mauritius textile sector should not fear this. "We are already importing a lot of these products from very cheap sources and we do not foresee any impact as such."
He is confident that in the final agreement, Mauritian negotiators will have carved out exemptions on most sensitive sectors, where Indian low or zero duty competition could cause harm. He predicts negative impacts on local manufacturers will be "marginal".
Indeed, Rajmun-Jooseery says CECPA seeks to mutually benefit both countries and the trade in goods component is a "win-win situation for Mauritius and India."
Rebalance trade
India had a trade surplus of around US$1.09bn with Mauritius in 2018-19. According to international trade data, Mauritius imported US$23m worth of apparel and accessories from India in 2019, while only exporting US$1.8m worth of clothing and accessories to India that year.
The Mauritian government hopes these trade deficits will ease after an agreement, given that India currently charges 10% duties on Mauritius clothing imports while India-made clothing enters Mauritius duty-free.
Once the deal is done, it will also remove barriers to the trade in services, rules of origin, and technical barriers to trade, and will include a dispute settlement system.
Government briefing notes have argued that CECPA will also improve the attractiveness of Mauritius as a financing centre facilitating Indian investment across Africa – including in the clothing and textile industries – since the island state is also a ratified member of the African Continental Free Trade Agreement (AfCFTA).
Separately, the governments of Mauritius and Madagascar have been intensifying their efforts to improve cooperation between the textile and clothing sectors of the two neighbouring Indian Ocean island states.
Mauritius has also signed a free trade agreement with China, its second biggest supplier.
The latest Mauritius three-year strategy to 2021 outlines plans to reduce the island nation's dependence on Europe and accelerate a market diversification strategy, with greater penetration in ASEAN (Association of South East Asian Nations) markets as well as Africa, Gulf and Nordic countries.