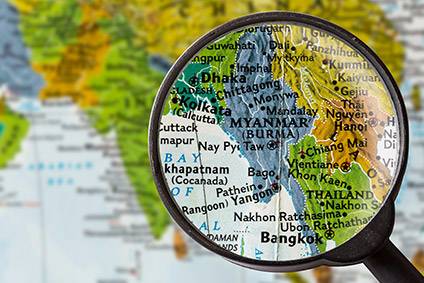 Myanmar's garment exports may be thriving, but the ongoing Rohingya humanitarian crisis in Rakhine State and rising wages are the latest shadows on the horizon.
The garment sector is a jewel in newly-democratic Myanmar's export crown; now the second largest revenue earner after natural gas. Yet all too often the headlines about the industry are negative.
Labour disputes and poor working conditions frequently take centre stage, while rising wages and the ongoing humanitarian crisis in western Rakhine State on the border with Bangladesh are the latest shadows on the horizon.
Industry experts, however, see a sector that can grow and thrive despite uncertainty, provided the government pushes on with critical reforms.
In March this year, not a single new garment or garment related factory was registered in Myanmar, according to the country's Directorate of Investment and Company Administration (DICA). April was the same. In May, DICA recorded just one factory registration, and yet between January 2017 and February 2018 the monthly average had been six.
Two likely explanations for the sudden drop are the crisis in Rakhine State, which creates political uncertainty and potential risks and reputational issues for firms sourcing from Myanmar, and the impact of a new minimum wage announced in January.
Thriving sector
Export numbers, however, show a thriving sector. International trade data suggests overseas sales of harmonised system of tariffs (HS) categories 61 and 62, which comprises the bulk of garment products, earned Myanmar US$2.7bn in 2017, up 25% from the year before.
A World Bank report published earlier this year showed garment export values for the first three-quarters of the 2017 fiscal year that began in April were up 40% compared to same period in the previous year. But even then, western garment buyers were already faced scrutiny in sourcing from Myanmar, where non-governmental organisations frequently highlight a host of problems around labour rights and workplace abuse.
One concern is that the Rakhine crisis, which intensified from August 2017, will prevent firms from setting up new factories or, if the situation worsens, see flexible companies shift existing production to less sensitive countries.
There are still strong arguments in favour of buyers continuing to source from Myanmar. A European Union (EU)-funded garments sector project, SMART Myanmar, in May organised a forum for international brands and retailers buying from the country.
"The consensus at the meeting was that they are making a very positive contribution, employing people that are sending a significant chunk of their wages back to their families, helping the economic development in these impoverished communities," says Jacob Clere, SMART Myanmar's team leader.
The process of opening a factory takes months, which means the drop in March and April probably reflects decisions made in late 2017. Three new factories opened in June, according to DICA, which says one was in Mandalay and another is in Pathein, in the Ayeyarwady River delta region – no other details were given. So, if Rakhine has put some firms off establishing new facilities, there are still those eager to expand their Myanmar footprint.
Minimum wage debate
Another factor that could have contributed to the drop in factory openings is the minimum wage, which was raised by 33% to MMK4,800 (US$3.38) in January – the first scheduled revision since the minimum wage was introduced in 2015.
The revision process and the final figure were the source of heated debate. Amid the rising cost of housing and services in Yangon, where much of the industry is based, unions felt it was too low. Some firms, unsurprisingly, felt it was too high, and neither group had much visibility on how the tripartite committee tasked with the revision arrived at MMK4,800.
"The recent minimum wage process was not ideal," says Jared Bissinger, a development economist who spent several years with the International Labour Organization (ILO) in Myanmar. "The decision came almost a year later than legally required, without much clarity on the timing or transparency about the result."
This uncertainty, say economists and industry experts, should be the focus of the debate rather than the actual figure. Firms can plan for wage increases, but not if they are announced without time to raise prices accordingly. Without transparency over the process, companies are now worried that in two years' time another 33% hike will be expected.
For many firms, the pace of the increase is just as important as the price of labour. Another problem was the decision to keep a single national minimum wage despite the inflationary pressure migrant garment labour has had on Yangon. A minimum wage in other regions would inevitably be lower, helping incentivise firms to expand in other urban centres.
"The failure to seriously consider a minimum wage that varies by region was a real missed opportunity," says Bissinger. "There are real advantages for businesses and workers to operating outside Yangon – workers are not hopping from job to job, which is good for businesses. Workers get stable employment and a predictable income, while being able to live in their hometown and come home to their families in the evening."
Labour law issues
Wage costs and political uncertainty may be the most high-profile problems for the industry. But neither should overshadow the deep-seated issues around labour laws and dispute resolution, which continue to hold sector back.
Here at least, unions and employers are both in agreement that serious reforms are needed. In a speech at an ILO conference in June this year, the president of the Confederation of Trade Unions of Myanmar (CTUM), Pyi Thit Nyunt Wai, pointed to prohibitions on peaceful assembly, limited understanding across the sector and among legislators on freedom of association rights, and settlement dispute loopholes that allow employers to pay money to avoid reinstating dismissed workers.
In her own ILO speech, Khine Khine Nwe, chair of the Myanmar Garment Manufacturers Association (MGMA), highlighted the lack of significant penalties for illegal strike tactics, which have included intimidation and physical violence against managers and non-union workers.
"The current dispute resolution system is not working well," says Bissinger. "It's not protecting workers' rights and not protecting businesses when they follow the law."
Khine Khine Nwe pointed to a press conference in May this year, where foreign investors in the manufacturing sector called attention to illegal industrial action and the potential for it to harm foreign investment.
Local firm Consult Myanmar held its first ever seminar on strike prevention in June this year in response to demand from firms. Reflecting the fact that Chinese firms own around one-third of the garment sector, the briefing was conducted in Mandarin.
Language and cultural barriers
Language and cultural barriers can exacerbate a situation where, as MGMA and CTUM representatives point out, there is insufficient understanding of the law and its proper application.
"We recommend having at the absolute minimum of one Myanmar manager who can be a bilingual member of the top management and also be a kind of communications and cultural bridge between foreign managers and technicians and their Myanmar workforce," says Clere. "Otherwise there will almost certainly be communication difficulties and a lot can easily get lost in translation."
The MGMA is also pushing for Myanmar's labour dispute law to follow international standards and send collective dispute cases to court and individual cases to arbitration. "We want the right case going to the right place," says Khine Khine Nwe.
Meanwhile, there are signs of buyers organising to help tackle some of the problems that crop up in the industry.
Following the SMART-organised buyers forum, Clere says there are plans to set up a coordination mechanism for buyers sourcing garments from the country. This would potentially see representatives from key buyers meet twice a year to discuss cooperation and developments in the Myanmar garment and footwear sector. Clere says there would be a definite advantage to buyers in coordinating capacity building activities.
"For instance, if there's a buyer trying to solve a problem with a factory supplier in Myanmar, and there are two or three buyers sourcing from that factory, then they can possibly tackle the issue as a group," he says.
Although the garment industry remains vulnerable to issues such as Rakhine, which are outside its control, there does seem to be a consensus that the industry can and should address the many challenges that it can tackle.
See also: