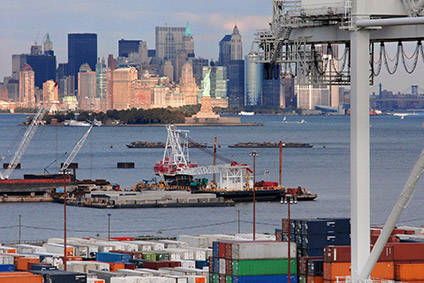 A combination of these factors and others is creating a perfect storm through which sourcing and supply chain executives are trying to navigate. But how can they steady the ship? Just Style explores the pressure points squeezing the apparel supply chain and the best ways to alleviate them.
When discussing companies' supply chain pressure points, it is critical to recognise that the fashion apparel supply chain has become highly complicated today, notes Dr Sheng Lu, associate professor at the Department of Fashion and Apparel Studies at the University of Delaware.
"For example, a clothing item labelled "made in Vietnam" could contain cotton made in the US, yarns spun in Japan, fabrics woven in China, and dyeing material from Taiwan. It is also common to see a fashion company sourcing its products from over 20 countries involving hundreds of vendors throughout the supply chain," he explains.
"In normal days, such a sophisticated supply chain network allows companies to leverage the global resources to source high-quality and price-competitive products. However, managing such a long, fragmented, and inter-connected apparel supply chain is particularly challenging during a pandemic when Covid-related lockdowns and disruptions are common and hard to predict.
"Second, fashion apparel supply chains are experiencing unprecedented supply shortages and bottlenecks like many sectors."
Lu points out that multiple factors contribute to the perfect storm we're currently. facing, On the consumer side, he says consumers are purchasing more because they are working from home, benefitting from government stimulus cheques and have discretionary spending available that would've otherwise been used on travel.
"Notably, the increased demand mainly relies on imports, which pressure the supply chain. For example, imports contributed more than 98% of clothing available in the US market. As a result, US apparel imports, measured in quantity and value, surged by more than 25% in 2021 (January-November) from a year ago."
The other, he suggests, is the supply side. "Covid-19 significantly reduced both the production and logistics capacity around the world. This can result from unexpected government lockdowns, Covid containments, and labour shortages. For example, when Vietnam was under a nine-week Covid lockdown, many leading US fashion companies struggled with empty store shelves."
Shipping crisis
As Covid is here to stay, Lu tells Just Style fashion companies and their suppliers must work more closely and treat each other as partners.
"Shipping delays remain a crucial challenge facing the apparel industry, especially since many are seasonable products. However, when fashion brands and retailers cancel late arrival orders and choose not to pay vendors, many small and medium-sized garment factories could go bankrupt, worsening the capacity shortage in the supply chain."
Stephen Lamar, president and CEO of the American Apparel & Footwear Association (AAFA), also points to shipping delays as being a key pressure point within the apparel supply chain.
"The ongoing shipping crisis and port backups – paired with tariffs on US imports from China and fuelled by Omicron – has been more than a pain or pressure point – it is an existential threat for many businesses across our supply chain.
"Despite White House attention to the shipping crisis, we see continued vessel backups, impossible freight costs, and unacceptable port fees – disrupting the supply chains of all goods and services, and fuelling inflationary pressures.
"Omicron is exacerbating labour scarcity. We also have a West Coast labour contract that expires this year.
"We continue to ask the Biden Administration to bring all stakeholders to the table for real and immediate solutions, that will bring today's crisis under control and provide immediate relief to businesses as costs, and inflation, spiral out of control."
The AAFA wrote to President Biden last month, urging further steps to resolve the shipping crisis.
Industry consultant Robert Antoshak furthers Lamar's point regarding the looming expiration of the West Coast labour contract. "There's going to be a difficult LA port labour negotiation in the summer," he says. "That has the potential to shut the port down if the talks don't go well and the workers stage a walkout."
This adds to what Antoshak calls the "unknown" that is plaguing supply chains as the pandemic continues to linger in the form of the Omicron variant, causing unforeseen logistical problems as worker shortages and port slow-downs affect both exporting and importing countries.
He also points to higher shipping costs, a factor he believes remains the most significant pressure point for companies: "Container rates from China to the US are still running at rates much higher than was the case pre-pandemic."
In addition, backlogs also remain a problem at importing ports. Antoshak says this begs the question: How will brands sell products that are released to them after being delayed at ports for a season or more?
Meanwhile, rising raw material costs rival the rising cost of container shipments. "All fibre prices are rising in line with sharply higher prices for cotton," he adds, noting this in turn causes a trickle-down effect down the supply chain as each segment raises prices to crawl back some margin. The net impact on brands and retailers, though, is sharply higher aggregated costs for their imported products, he notes.
The high cost of goods is also typically translated into higher prices for consumers, which causes the run-up in inflation. However, Antoshak notes prolonged inflation will inevitably result in weaker consumer demand as they will be put off by the higher prices.
"What's ironic, is that pent up consumer demand after months under lockdown during the pandemic soared which helped to create the supply chain problem in the first place," he explains. "Only now that recovery may stall if inflation remains a persistent problem. Either way, brands and retailers are caught in the middle between their customers and suppliers."
Offering a brand perspective, David Sävman, head of global supply chain at Swedish fashion giant H&M Group, also believes unpredictability continues to be the main pressure point in the supply chain. This, he says, includes infrastructural bottlenecks, volatile Covid restrictions as well as financial and physical effects on commodities.
"We see that agility and flexibility to adapt to continuously changing realities along the entire supply chain remain the most important capabilities going forward," he tells Just Style.
Spanish retailer Mango's head of sustainability and sourcing Andres Fernandez, meanwhile, suggests the main pressure points currently come from unstable logistics, with container availability and service or transits from the freight companies still not at normal levels.
He says: "The worldwide supply chain achieved the highest level of disruption in November and December, and currently the situation is becoming more and more stable, but as of today we still see some disruption and Omicron is still causing some lockdowns and delays in Asia."
Similar to Antoshak, Fernandez highlights the evolution of raw material prices, adding that the peak for Mango was achieved in December 2021. "Price levels should start a downward trend now, even though they will probably not reach 2019 levels this year," he adds.
Spotlight on sustainability
Manufacturers are also feeling the pinch, with Şenol Şankaya, CEO of Turkey's Yeşim Group, noting raw material and high energy costs as the main issues currently suppressing the supply chain.
While at David Nieper, one of the UK's last remaining vertical fashion manufacturers, managing director Christopher Nieper OBE lists a number of key pressure points, including inflation in supply chain pricing and in delivery costs, as well as the length of time to receive deliveries. He also highlights growing public pressure to know the sustainability credentials within the supply chain.
To alleviate some of these pressure points, Nieper believes manufacturing closer to home is key. "Look at what you need most of and consider bringing the supply chain onshore and preferably in-house. Manufacture in your own country and take advantage of just-in-time supply, this will eliminate overseas transport costs, transport lead time and customs costs."
Şankaya also points to sustainability as being a major pressure point. He says: "If our industry wants to reduce the pressure on the supply chain and maintain its competitive identity for the future, it should concentrate on sustainable production and recycling. Switching to more sustainable production by using less water and energy, allocating more resources to R&D and innovation, accelerating breakthroughs based on digitalisation, technology and automation will also help to reduce pressures."
Steadying the ship
For Antoshak, there are a number of ways apparel industry players can dig themselves out of the current supply chain issues.
The first is to diversify sources of supply as this will increase supply options. He explains that "the problem with supply chains boils down to simply a matter of a supply-demand imbalance".
Next up, he recommends exploring suppliers closer to consumer markets or suppliers located in consuming markets to either shifts ports of entry into consuming countries or avoid such ports altogether.
He also suggests experimenting with different fibre blend levels as this will maintain consumer appeal while mitigating the increases in fibre costs.
"Finally, adopt a comprehensive risk management strategy to hedge company exposure to unforeseen price spikes and maximise declines in costs when possible," he notes.