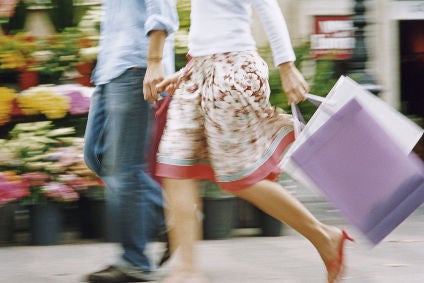 Broad-based growth is expected to continue for the US apparel and footwear retail sector in 2019 – but the potential for additional tariffs on imports from China poses a significant threat to company profitability, according to new research.
An improved economic backdrop in the US, cost savings initiatives, acquisition synergies, new product introductions, targeted marketing efforts, improved inventory levels and reduced inventory clearance activity mean profit growth has become more widespread, the latest forecast from Moody's Investors Service suggests.
Many companies are also continuing to develop international growth opportunities, especially in emerging markets such as China, where greater economic expansion tends to fuel branded apparel purchases.
However, tariffs are the biggest threat to future profit growth. Earlier this month incremental tariffs on $200bn worth of goods from China into the US jumped to 25%. And moves are also underway to add a further 25% tax to everything imported from China – which would include apparel and footwear.
Higher tariffs with China, or other countries, would increase costs of goods sold for all companies that import Chinese made goods into the US. Consumers could be adversely affected by price increases, thus reducing purchases and company revenues, while US brand perception could also suffer in those countries locked in tariff disputes with the US, Moody's analysts say.
Until now, apparel and footwear have been largely excluded from the current lists of Chinese goods facing increased tariffs, likely because they are already among the highest taxed US imports.
That began to change on 24 September 2018, when an incremental 10% tariff on $200bn of Chinese goods imported into the US went into effect. The list of apparel-related items was limited, but included certain apparel accessories such as handbags and leather gloves, textiles and yarns, leathers and cotton.
Should the broader increases take hold, companies will see margin pressure until they can implement ways to address the higher costs, such as moving production or cutting costs, Moody's says.
While companies may also opt to increase prices, they may find it challenging to fully recoup cost increases because consumers may be reluctant to pay higher prices.
"For some time now, many companies in this segment have been moving production of China-made goods, destined for the US, to other countries such as Vietnam or Cambodia. However, as more companies move production to lower-cost countries, capacity constraints may result in higher costs of production in the new countries due to rising demand," the analysts note.
Rising input costs
Along with tariffs, pressure on profit growth is likely to come from rising cotton prices and a further strengthening of the US dollar.
Cotton – a key apparel industry input cost – has started to rise again, up 13% to 79 cents in early April 2019 from 70 cents in mid-February 2019. Still, cotton prices remain nowhere near the 'cotton bubble' levels in 2011, when prices peaked at around $2.15 per pound.
Typically, it takes around six to nine months from the time when cotton prices rise to when the consumer sees the impact in the mall; that is, if companies were to raise prices. Companies that manufacture products with greater cotton content, could be impacted by significant increases in cotton prices.
Also, the US dollar began strengthening in mid-2018. Apparel companies typically source products from foreign manufacturers in US dollars, primarily in Asia, and sell goods in foreign markets in local currencies. Thus, a stronger dollar will increase the foreign entity's costs of goods sold.
Apparel companies typically hedge inventory purchases with foreign exchange contracts on an average 6-12 month forward basis. If the dollar strengthens and holds at higher levels, costs will increase as hedges roll off, and costs of goods sold in non-US markets will rise.
Some companies have taken pricing to at least partially offset rising costs, while others create some offset through offering new, innovative products that sell at higher price points.
"When coupled with realised benefits of cost saving initiatives and a less promotional environment as a result of better inventory positions, we believe the impact of these cost increases will be manageable," analysts say.
Positive outlook
The 'US Apparel Outlook Update' forecasts that operating profit in the US apparel and footwear sector will grow 6-7% in 2019, with sales growth in the range of 4-5%. This follows a very strong performance in 2018, when profits grew over 9.5% and sales grose 6.5%, and two very challenging years in 2016 and 2017, when profits declined -2.5% and -1.0% respectively.
The outlook includes international sales, which have been growing at a double digit clip in aggregate for the rated US apparel companies – providing an important revenue boost for the slower-growing, more mature US market.
Sportswear, athletic apparel and jeanswear are outpacing the broader global market thanks to increased casualisation and more active consumer lifestyles.