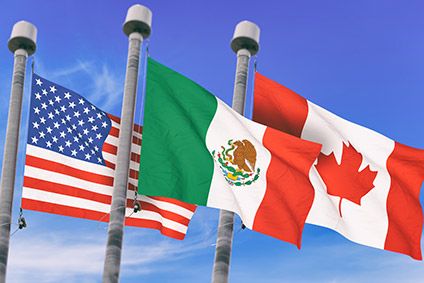 Apparel industry executives from the US, Canada and Mexico have told just-style they are largely in favour of the terms of the renegotiated North American Free Trade Agreement (NAFTA) – which will be called the United States-Mexico-Canada Agreement (USMCA).
"There are some very significant pluses for our textiles and apparel industries," is how Ilse Metchek, president of California Fashion Association, describes the benefits the fledgling United States-Mexico-Canada Agreement (USMCA) will bring for US suppliers.
"I'd say the three key benefits are the [expanded] TPLs, IPRs and increased vigilance on Made in America," the executive representing the State's $45bn apparel industry, tells just-style of the new treaty that will replace the embattled 24-year-old North American Free Trade Agreement (NAFTA).
The Tariff Preference Level (TPL) quota enabling garment makers to import scarce raw materials outside the three-country bloc is doubled for Canada and more than doubled for Mexico.
Specifically, US firms can now use up to 20m square metre equivalents (SMEs) of foreign inputs to make apparel that will be exported to Canada, compared to around half that much before, Metchek reveals, citing data from Assistant US Trade Representative for Textiles Bill Jackson. For Mexico shipments, the provision is increased to 15m SME from 2m SME, she adds.
Intellectual property
In another US win, the new treaty also sets tougher intellectual property rights (IPR) provisions shielding American labels from copycat firms in Mexico, illegally replicating trademarks for years without punishment.
"In Mexico, Forever 21 is Forever 22, while Karen Kane is Karen Kein with the same exact logo and customer target," charges Metchek, who helps guard copyright interests in the LA area, the seat of California apparel and home to 500 textile mills and 180,000 workers. "You even have Liz Minelli [evoking Liza Minnelli] and I don't even think she has been to Mexico.
"The brands have been suing for years but they can't win," Metchek adds. "Now there are very strong copyright and trademark protections to address this."
While some US brands source south of the border, they have typically shunned Mexican factory investments from fear of losing their trademark, she contends.
US negotiators also won new rules to ban manufacturers from importing sewing thread, pocket lining and narrow elastomers from non-USMCA nations, meaning many of those key raw materials will now be made locally, bringing back 'Made in America' trade that shifted to China during NAFTA's reign.
"This is a win for US manufacturers of those products and we have a number of them in California," Metchek says. "This whole area of components will now be protected and be made in America."
Meanwhile, US apparel manufacturing and retail groups – the American Apparel & Footwear Association (AAFA) and National Retail Federation (NRF) – welcomed the deal but declined further comment while they review its fine print.
Breakthrough accord
Canadian executives also welcomed the breakthrough accord, which their government joined in the eleventh hour, right before a US-imposed, 30 September deadline.
Bob Kirk, executive director of the Canadian Apparel Federation, says USMCA curbs wool suit makers' ability to import scarce materials to 4m SME from 5m SME. However, its utilisation rate is 3m SME so the breadwinning segment stands unharmed.
The proposed bill – which US lawmakers must still evaluate and approve – also halves cotton and man-made fibre makers' TPL to 40m square metres, with utilisation rates at a similar level.
"In a perfect world, we would have preferred our TPLs to remain nice and big, but I don't see a downside with the way these changes were negotiated," Kirk tells just-style, adding that Canadian makers will still enjoy flexibilities to ship clothing to US customers.
He adds Washington also agreed to remove so-called TPL merchandise processing fees impacting over $500m worth of merchandise.
'No big change'
USMCA should help key Canadian players such as mattress fabric maker and tailored suits firm Culp and Peerless Clothing, respectively, to stay in business, according to Kirk.
Culp is the top beneficiary of Canada's TPL and had fought hard – alongside Mexico – to retain the provisions against fierce US opposition.
"They [Culp] use rayon yarns unavailable in North America to make fabrics," Kirk explains. "They have production here, in the US and China. When you boil everything down, we are an integrated supply chain. A North Carolina factory can have plants in Canada and China, for example, so if you cut the Canadian component, they lose goods to China.
"The cost of eliminating the TPL was going to be eliminating the entire North American production chain."
Despite Trump's boastful speech, USMCA won't provide a huge boost to the region's textiles and apparel industry, Kirk claims.
"We are only happier because the sky has not fallen," he muses. "It's not better [USMCA]. It is just as good as before."
The deal pleases Trump's constituents in the US dairy industry – which finally gained access to the Canadian market – while the US's last-minute concession to waive Canadian auto tariffs "is cosmetic," Kirk adds.
"We basically did all of this to placate a bunch of dairy farmers in Wisconsin?" asked one Canadian executive, requesting anonymity. "These are the only people who really benefit, not the apparel sector. We've just had 18 months of angst-ridden negotiations…all for this?"
Mexico celebrates
NAFTA's successor is seen as a big win in Mexico, however – one certain to help assuage investors who had dumped its currency over fears Trump would cancel the deal, hurting its economy.
Victor Rayek, president of Mexico's main apparel trade association, Canaive, says the agreement "is positive in general terms" and will strengthen its members' textiles and apparel supply chains.
He says USMCA's rule-of-origin provisions are more flexible, lifting the 'de minimis' or weight threshold to import raw materials outside the region to 10% from 7% before.
Another positive development is the agreement between Washington and Mexico City to create a specific enforcement chapter to curtail a ballooning cross-border contraband trade. The activity continues to damage Mexico's industry but also has a negative impact for US suppliers, according to lead negotiator Jose Cohen.
Enforcement chapter
"We now have clear rules to verify rule of origin, stop triangulation and improve customs so we no longer get hurt," he notes. "The US also suffers from triangulation and sub-valuation so this was an important win for both countries."
Rayek won't comment on the so-called NAFTA 2.0.'s proposed, $16 minimum wage rule and other "labour protections," but one analyst says it won't have a major impact on lifting textile wages.
"I don't think Trump approved that with Mexico in mind," says textiles consultant Miguel Angel Andreu, adding that wage increases will likely stay limited.
The US, Canada and Mexico are scheduled to sign the USMCA on 30 November. After that, the deal faces a grueling vetting process in US Congress, which could prove complicated for Trump if Democrats win more seats in upcoming elections.
For now, however, his signature pledge to return power to American workers appears victorious.
"Trump pushes the buttons," Metchek says. "No other administration has tackled this problem" referring to local firms' long-running complaints over NAFTA.
Still, she is also quick to credit others.
"I don't know if it was just him or his Secretary of Commerce who understands textiles and apparel" referring to billionaire Wilbur Ross who owned Levi's supplier Cone Denim and textiles mill Burlington Industries before joining the White House.
The final text of the USMCA is due to be signed on or before 30 November 2019 by the leaders of Canada, the US and Mexico. Mexico is scheduled to ratify the agreement by 1 December 2018, with the US and Canada likely to follow during the first half of 2019. The treaty, once ratified, will replace the North American Free Trade Agreement.
USMCA – Textiles and apparel
According to the Office of the US Trade Representative (USTR), the new provisions on textiles in the USMCA are stronger than those in NAFTA 1.0 with respect to both enforcement and incentivising North American production of textiles. They also strengthen customs enforcement, and facilitate broader consultation and cooperation among the parties on issues related to textiles and apparel trade, it says.
Specifically, the provisions will promote greater use of Made-in-the-USA fibres, yarns, and fabrics by:
– Limiting rules that allow for some use of non-NAFTA inputs in textile and apparel trade.
– Requiring that sewing thread, pocketing fabric, narrow elastic bands, and coated fabric, when incorporated in most apparel and other finished products, be made in the region for those finished products to qualify for trade benefits.
– Establishing a Textiles chapter for North American trade, including textile-specific verification and customs cooperation provisions that provide new tools for strengthening customs enforcement and preventing fraud and circumvention in the sector.
USMCA – Labour laws
There is also a Labor chapter that brings labour obligations into the core of the agreement, makes them fully enforceable, and represents what are said to be the strongest provisions of any trade agreement.
– A key clause is on Worker Representation in Collective Bargaining in Mexico, under which Mexico commits to specific legislative actions to provide for the effective recognition of the right to collective bargaining.
– The Labor chapter also requires the US, Canada and Mexico to adopt and maintain in law and practice labour rights as recognised by the International Labour Organization.
– Additionally, the chapter includes new provisions to take measures to prohibit the importation of goods produced by forced labour, to address violence against workers exercising their labour rights, and to ensure that migrant workers are protected under labour laws.