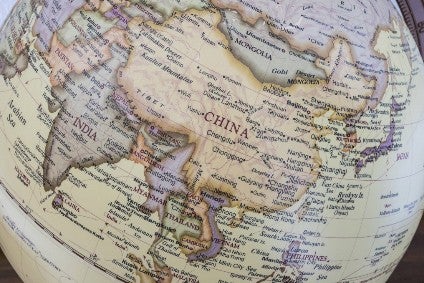 China has once again come up trumps when it comes to the most competitively priced US apparel supplier, with its per-unit cost for clothing falling 4.6% during 2019.
In the latest full-year data from the US Office of Apparel and Textiles (OTEXA), China's per-unit cost of apparel came in at US$2.24 per square metre equivalent (SME) in the 12-months of 2019, compared with $2.35 a year earlier.
Of the ten largest apparel suppliers to the US, this makes it the cheapest, followed by El Salvador, which at $2.49 per SME in 2019 still comes in 10.5% higher than China.
China is also significantly cheaper than the second-largest US apparel supplier, Vietnam, whose prices are at the higher end of the spectrum at $3.42 per SME in 2019 – a 4.2% increase on 2018 – and Bangladesh, the third-largest supplier into the US whose prices jumped 5.4% in 2019 to $2.94 per SME.
Even though its US market share slipped in 2019 from 41.92% to 39.93%, China remains by far the largest apparel supplier to the US. It is helped by the size of its supply base, its range of skills, its quality levels, its product variety and the completeness of its supply chain.
Over the last two years, the country has been engaged in a fierce trade war with the US, which has resulted in tit-for-tat tariffs between the two nations. The US slapped 15% additional tariffs on Tranche 4A goods – which includes most garments imported from China – back in September, although these are due to be halved to 7.5% later this month as part of the 'Phase One' deal agreed between the two sides.
That said, punitive tariffs still remain on 92% of the clothing shipped from China to the US, and US fashion brands and retailers have been seeking alternatives to reduce their exposure to China. This can be seen in the fact that exports from China to the US fell to 11.1bn SME from last year's 11.6bn SME. However, its shipments remain almost four-times higher than Vietnam, whose US exports grew to 3.96bn SME from 3.72bn SME year-on-year.
China's per-unit price of apparel has also fallen steadily over the last eight years – from a high of $3.02 in 2011 to a low of $2.24 in 2019 – as manufacturers continue to benefit from efficiency and productivity gains.
Vietnam is the second-largest apparel supplier to the US and gained further market share in 2019 from 13.39% to 14.46%. According to AT Kearney's sixth Reshoring Index, Vietnam has captured an additional US$36bn of import value, that's half of the $72bn lost by China in 2018. Brands that have increased sourcing from Vietnam, it says, include NIKE and adidas who have ramped up orders by 45% in the last 10 years at the expense of China.
Vietnam benefits from lower labour costs, proximity to Southeast Asian supply chains, and a government whose policies are highly favourable to foreign direct investment (FDI). But there remain concerns that it is not a "mature" sourcing market, and so is riskier than sourcing from China. After all, China still has the best and most competitive manufacturing infrastructure amongst all comparative apparel producing countries – be it ports, airports, roads, uninterrupted power supply, and efficient import and export procedures.
Bangladesh, whose prices have also risen on a per-unit basis, has seen market share jump in 2019 to 7.25% from 6.96%. The country has invested heavily in sustainable production and worker safety. Over the last year there has also been a push towards a value-add offering, in order to continue to remain relevant on the global apparel scene.
Except Mexico, Pakistan and El Salvador, all other apparel sourcing markets saw prices per unit of apparel increase in the last year. Mexico, however, remains the most expensive market to source clothing from at $3.95 per SME, followed by Indonesia at $3.89 and India at $3.61. Honduras saw the largest increase, with a rise of 7.3% year-on-year to US$2.78, with Cambodia jumping 7.1% to US$2.56.