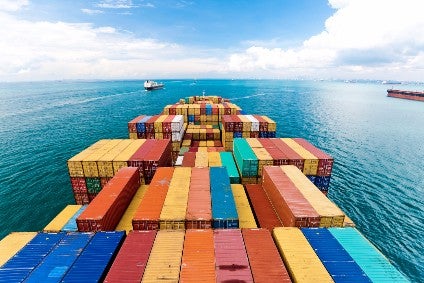 With the US retail industry in its annual lull between major shopping seasons, getting back up to speed following factory shutdowns for the Lunar New Year, and mulling the wider consequences of the US trade war with China, apparel imports plunged during March – fuelled by a double-digit decline in shipment volumes from the country's largest supplier, China.
The latest monthly figures from the Department of Commerce's Office of Textiles and Apparel (OTEXA) show the volume of US apparel imports from all sources dropped 14% month-on-month in March to 1.93bn square metre equivalents (SME). The figures for March also show a 5.5% drop in volume against the same month last year – but an 8.3% growth in value terms year-on-year to US$6.07bn.
In terms of individual supplier countries, seven of the top-ten recorded a year-on-year increase in shipment volumes in March, with Bangladesh booking the highest growth. But this was offset by China – the largest supplier of apparel to the US – whose shipments tumbled 13.29% year-on-year to 477m SME. Imports from the country were down by 47% month-on-month from the 907m SME recorded in February.
The second-largest supplier, Vietnam, booked a year-on-year increase in shipment volumes of 17.4% to 289m SME. But again, down on February's 334m SME.
Bangladesh – ranked number three in the top ten US supplier table – recorded a year-on-year shipment increase of 25.31% to 195m SME.
Indonesia, number four on the supplier league table, recorded the second largest shipment growth at 21.51% to 116m SME. And India, which booked the highest growth in shipment volumes during February, also saw shipment volumes rise 17.61% to 115m SME in March.
Of the remaining countries, Pakistan booked exports to the US of 50m SME, 13.52% higher year-on-year. Nevertheless, it is the country supplying the smallest amount of apparel to the US market. Cambodia recorded an 8.46% shipment volume growth to 82m SME, and Honduras saw a 7.22% rise in shipment volumes to 87m SME.
Mexico and El Salvador both posted a decline in US exports of 4.43% to 75m SME and 3.84% to 66m SME respectively.
Meanwhile, combined textile and apparel imports during the month of March grew 2.74% year-on-year to 4.8bn SME, and in value terms by 5% to $8.1bn. Textiles alone recorded growth of 0.93% to 2.86bn SME, but in value terms were down 3.9% to $1.97bn.
Year-to-date and six-year overview
In value terms, US apparel and textile imports from all sources reached $26.8bn in the first three months of the year, up 4.92% year-on-year. On a volume basis, they were 5.9% higher year-on-year to 16.4bn SME.
For the January to March period, apparel imports grew 6.06% year-on-year to $14.22bn and rose 4.61% in volume to 6.81bn SME. Textile imports were up 1.52% to $6.5bn and 6.83% up to 9.62bn SME in volume terms.
Six of the top ten apparel supplier countries booked growth during the first three months of the year, with Vietnam once again seeing the largest increase at 12.75% to 1bn SME.
Bangladesh registered the second highest gain, at 11.85% to 571m SME. Imports from China, meanwhile, have edged up by 0.85% to 2.5bn SME. The country remains by far the biggest supplier of apparel to the US with a 42% share of the market.
India meanwhile, booked the third-highest growth, with exports up 10.5% to 325m SME, followed by Pakistan with a 7.72% rise to 143m SME. And Indonesia saw apparel shipment volumes rise 5.49% for the period year-on-year to 335m SME.
Mexico booked the largest decline at 3.93% during the period to 205m SME followed by Cambodia at 3.86% to 253m SME. Imports from Honduras were 1.07% lower over the three month period compared to the previous year at 222m SME, and imports from El Salvador declined 0.68% to 174m SME.
Facts behind the figures
The most pronounced fall in apparel imports to the US came from China during March – down 47% month-on-month and 13.29% year-on-year. This may be due to a combination of factory shutdowns for the Lunar New Year, as well as US retailers and importers moving to alternative suppliers amid the looming prospect of new tariffs on goods from China.
Unsurprisingly, China retains the largest market share of the US at 41.92% in 2018. Despite the lower shipment volumes during March, its apparel shipment volumes into the US were still 1465m SME clear of Vietnam, the second largest apparel supplier to the US.
However, while trade negotiations between government officials from the US and China had appeared to be making progress, it is likely brands and retailers had already started looking at alternative sourcing options to counter any negative impact on business. Their caution appears to be well-placed. The US has suddenly increased import duties on around $200bn worth of Chinese imports – such as textiles, handbags, yarns, embroidery and leather – raising these to 25% from 10% on Friday (10 May). And it has just released a list of $300bn of Chinese imports that will be hit by additional tariffs of up to 25% on top of the regular rate of duty – essentially all remaining imports from China, including all apparel, footwear, and manufactured textile products.
Meanwhile, Bangladesh's clothing industry has largely continued to build momentum as a low-cost sourcing destination. Since the collapse of the Rana Plaza building in April 2013, two major industry-backed remedial plans, together with one supported by the government, have worked to resolve issues over safety and worker rights, including the closure of some garment factories.
Recently, the World Trade Organization (WTO) said it expects Bangladesh to graduate from the Least Developed Countries list in 2024 – the status under which it enjoys duty-free access to the European Union, Canada, and Japan – thanks to GDP growth at an average annual rate of approximately 6.8%, reaching nearly 7.9% in 2018-18, mainly due to the readymade garment sector. The growth has resulted in a decline in poverty levels, stable inflation moderate public debt, and greater resilience to external shocks. But the WTO has urged the government to make reforms so it can to continue to capitalise on global trade opportunities.
At the Fashionology Summit held in Dhaka last week, garment suppliers were told they must move away from focusing on volume production and instead look at meeting demand for value-added products, to prevent Bangladesh losing ground amid industry-wide change.