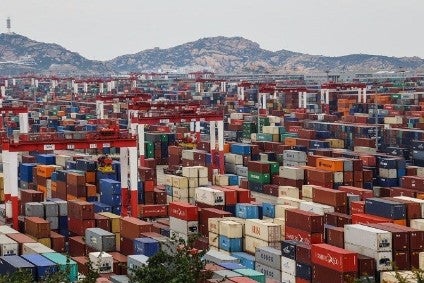 In a move that US apparel and footwear retailers and importers have been dreading, the Trump administration is moving forward on threats to impose a 25% tariff on nearly all Chinese exports to the United States.
The ongoing tariff war with China took another turn yesterday (13 May) after the US released a list of $300bn of Chinese imports that will be hit by additional tariffs of up to 25% on top of the regular rate of duty.
This would extend the Section 301 punitive tariffs to essentially all remaining imports from China, and could come into force any time after 24 June, according to trade law firm Sandler, Travis & Rosenberg.
However, analysts at Cowen Research believe a 12-week timeframe is more likely based on previous 301 rounds – and that a tariff hike by Labor Day (2 September) "is a decent benchmark."
The list of 3,805 full and partial HTSUS subheadings, which can be seen here, includes all apparel, footwear, and manufactured textile products, among others, but excludes pharmaceuticals, certain pharmaceutical inputs, select medical goods, rare earth materials, and critical minerals.
The US has already increased import duties on around $200bn worth of Chinese imports into the US – such as textiles, handbags, yarns, embroidery and leather – raising these to 25% from 10% on Friday (10 May).
Rick Helfenbein, president and CEO of the American Apparel & Footwear Association (AAFA), describes Trump's latest move as "a self-inflicted wound that will be catastrophic for the nation's economy." The AAFA has calculated that a family of four will be charged an additional $500 per year to cover the new tariffs on clothing, shoes, travel goods and related items.
"Taxing Americans on everyday products like clothes and shoes is not the answer for holding China accountable," adds Matthew Shay, president and CEO of the National Retail Federation (NRF). "We urge the US and China to get these critical negotiations back on track. Both sides will lose in a full-blown trade war, and the global economy will suffer."
Meanwhile, the USFIA commented the tariffs on apparel, footwear and textiles did little to punish China and ultimately impacted consumers who were already paying a high tax on these products. "
Clothing and shoes for American families are currently taxed more than $15 billion per year. And these tariffs already are extremely high — tariffs on clothing can be as high as 32%. Tariffs are a direct tax on the American consumer—and will affect consumers at all income levels. These tariffs on imports of clothing, home textiles and footwear will do little to punish China for its intellectual property and technology transfer practices but do a lot to harm American fashion brands and retailers as well as consumers of their products. Let's work together to find a solution that does not use American companies and American families as the hostages to a trade deal."
The US action under Section 301 of the Trade Act of 1974 relates to China's acts, policies and practices on technology transfer, intellectual property and innovation.
The world's two largest economies have met repeatedly this year for trade negotiations to try to resolve the issue, but the USTR says tensions ratcheted up when, "shortly in advance of the last scheduled round, China retreated from specific commitments made in previous rounds. China also has announced further retaliatory action against US commerce." However, it adds the two sides intend to continue further discussions.
Key concerns for apparel and footwear
Apparel stocks have taken a hit as investors factor in a wide and uncertain range of financial outcomes on the back of higher tariffs.
Among the key concerns for apparel and footwear retailers and importers are the long lead times needed to move manufacturing out of China and the potential impact on consumer spending from higher prices. And of course there is the challenge of finding additional manufacturing capacity, especially since 42% of clothes, and 69% of shoes sold in the US in 2018 were made in China.
As Cowen Research analyst John Kernan points out, "cheap, low cost sourcing from the Far East is a bedrock of the US retail ecosystem, and backstops the financial model of many companies. In a time of accelerating disruption from technology and Amazon, 25% tariffs on apparel and footwear will create major disruption."
Among the many questions are four key issues:
How much incremental cost can be offset through price increases, given the historical deflationary trends in apparel – "we would imagine demand is fairly elastic and render markdowns very costly";
How much cost will the factories in China agree to absorb themselves, will the Chinese government subsidise the factories, and how will the Yuan adjust?;
How quickly can companies move production outside of China; and
The extent of non-tariff related disruption which could come in the form of forced inspections, shipping delays etc, and potential boycott that US companies operating in China could face in retaliation.
Diversifying from China sourcing will be slow, Kernan notes, adding: "There is little capacity in other regions for a mass migration out of China sourcing, and supply chain costs will continue to rise globally."
Chris Krueger at Cowen's Washington Research Group (WRG) also believes it is hard to identify off ramps, "as both sides lose face domestically if seen as climbing down from their positions and retaliation risks hardening positions."
A "deal" or another "truce" at the G-20 Summit in late June could also forestall the implementation of the new tariffs, the analysts say, "but we know from earlier rounds that once the train leaves the station it gathers speed quickly and risks derailment."
USTR will hold a public hearing on its latest proposals on 17 June, and is seeking input on the specific tariff levels that should be imposed, and requests to exclude specific subheadings from the proposed tariff increase.
A recent apparel industry event in Washington heard how brands and retailers can reimagine their supply chains to mitigate the risks and related costs of a US-China trade war.
And a separate analysis on just-style into the impact of various China tariff scenarios on the US textile and apparel industry found a likely rise in US-made textile and apparel production, but a decline in US textile exports – and a rise in apparel imports from Asian suppliers other than China: China tariff war – the impact on US textiles and apparel