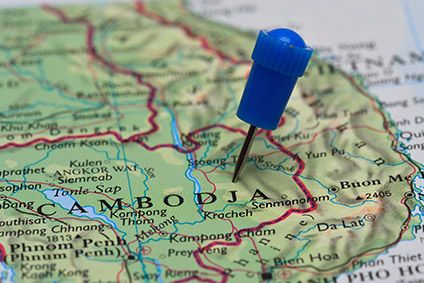 The volume of US apparel imports fell for the fourth consecutive month in November, with a 20% drop in shipments from largest supplier China. The figures suggest early stockpiling in the run-up to the holiday period as retailers moved to bring in merchandise ahead of new tariffs imposed in September and another tranche that had been due to take effect in mid-December.
The latest figures from the Department of Commerce's Office of Textiles and Apparel (OTEXA) show the volume of US apparel imports from all sources tumbled 25% month-on-month in November to 1.8bn square metre equivalents (SME). The figures also show a 9.4% decline in volume against the same month last year and a 9.9% drop in value terms year-on-year to US$5.5bn.
In terms of individual supplier countries, four of the top-ten recorded a year-on-year increase in volumes in November, with Cambodia booking the highest growth at 14.8%.
China – the largest supplier of apparel to the US – saw the biggest decline in shipments at 20.36% year-on-year to 679m SME, with imports from the country tumbling 29.4% month-on-month from the 962m SME recorded in October.
The second-largest US apparel supplier, Vietnam, booked a year-on-year decline of 1.84% to 253m SME, while Bangladesh, ranked number three in the top-ten US apparel supplier league table, recorded a rise of 8.99% to 141m SME.
Of the remaining countries, Pakistan reported a 12.41% rise in shipments to 53m SME, while India booked the only other increase at 0.62% to 73m SME.
Indonesia recorded the second-highest decline with shipments falling 15.08% to 67m SME, closely followed by El Salvador which booked a 14.41% drop to 51m SME. Elsewhere, Mexico and Honduras also reported declines at 10.95% 2.08% and respectively.
Combined textile and apparel imports, meanwhile, fell 4.66% year-on-year to 5.31bn SME, and dropped 9.2% in value terms to $7.73bn. Textiles alone were down 1.96% to 3.48bn SME and fell by 7.2% in value terms to $2.19bn.
Year-to-date and eight-year overview
While monthly trade data is often volatile, with big swings from one month to the next, a broader view of the year so far shows the value of total US apparel and textile imports edged up 0.83% to $103.46bn in the year-to-date, from $102.61bn in the same period a year ago.
Drilling down, apparel imports grew 1.61% to $78.05bn, while textiles slipped 1.48% to $25.41bn.
In value terms, all but four of the top-ten apparel supplier countries booked growth during the first 11 months of the year, with Cambodia seeing the largest increase at 11.41% to $2.49bn.
Vietnam, Bangladesh, Honduras, India, and Pakistan also reported growth.
Facts behind the figures
The volume of US apparel imports from all sources fell for a fourth consecutive month in November, with the last increase in shipments seen in July when a 23.7% month-on-month surge to 2.82bn SME was booked. The declines since suggest the knock-on effect of retailers bringing orders forward to beat both the September and December tariff hike deadlines continue to be felt.
Apparel imports from China to the US fell by 20.36% year-on-year in November, with shipments tumbling to their lowest level since April.
During August, US President Donald Trump confirmed an additional tariff hike on Chinese imports – including all clothing and footwear – pushing up duties by 15% from 1 September and a rise on additional items from 15 December.
With China being the largest supplier of clothing to the US, the move sent waves of panic through the industry with many brands noting they were taking steps to reduce their reliance on the supply powerhouse, including Guess Inc, American Eagle Outfitters, GIII Apparel Group and Tommy Hilfiger and Calvin Klein-owner PVH Corp.
The industry was granted some relief at the eleventh hour, however, with the US and China reaching an agreement on a Phase One trade deal on 13 December. The move announced by President Trump on Twitter suspended new tariffs that had been due to take effect on 15 December and proposed a halving of the punitive rates already imposed on List 4A goods – which includes most apparel items imported from China – to 7.5%. This move is due to take place 30 days after the signing of the agreement, which is expected next week, although the text of the 'Phase One' trade deal has yet to be released.
The latest figures from OTEXA continue to suggest industry players are opting to source elsewhere, with South and Southeast Asian countries the favoured alternatives for replacing lost production in China, at least in the immediate term.
While it may come as no great surprise to see Cambodia reporting higher shipments, Pakistan continues to gain attention of its own, with the second-highest growth in US apparel imports for the third consecutive month in November.
Where agricultural production forms the backbone of the Pakistan economy, trade has become increasingly important. Textiles and apparel, which benefit from plentiful raw materials such as cotton, and fabric inputs, account for most of Pakistan's export earnings, 40% of the labour force, 46% of manufacturing, and 67% of exports, with the US being the top in a diversified market.
The country recently hosted the 35th International Apparel Federation (IAF) Fashion Convention, co-organised by the Pakistan Readymade Garment Manufacturers and Exporters Association (PRGMEA) in Lahore, where executives heard how Pakistan is becoming an increasingly attractive location for foreign direct investment – especially in the textile and clothing sector.
Meanwhile, the number of footwear and garment factories registered for exports in Cambodia jumped 24% in 2019 compared with the year earlier, according to new data from the Ministry of Commerce.
Its annual report notes that export rights under the preferential trading system were granted to another 78 garment, footwear and bag factories in the first 11 months of last year. It adds Cambodia's exports to international markets reached more than $10bn in the first ten months of the year, mainly from the garment, textile, footwear and travel products sectors. Garment exports were worth $6.4bn and footwear $905m.
However, concerns about the country's declining human rights and the rule of law mean the European Union (EU) is currently evaluating Cambodia's preferential trade benefits under the Everything but Arm (EBA) scheme. A temporary suspension could lead to a slowdown in economic growth in 2020, the International Monetary Fund (IMF) has warned.
And in February last year, two US Congressmen introduced bipartisan legislation requiring the Trump administration to review the preferential GSP trade treatment that Cambodia receives from the US.