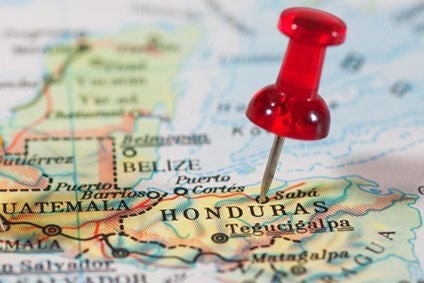 US apparel imports regained their upward trajectory in April with retailers stocking up on their summer merchandise. Both Honduras and El Salvador recorded double-digit gains – yet China was not to be outdone, securing its first rise in clothing shipments to the US since January.
The latest figures from the Department of Commerce's Office of Textiles and Apparel (OTEXA) show the volume of US apparel imports from all sources increased 5.7% month-on-month in April to 2.04bn square metre equivalents (SME). The figures for April also show a 3.37% rise in volume against the same month last year, and a 4.8% increase in value terms year-on-year to US$6.16bn.
In terms of individual supplier countries, half of the top-ten recorded a year-on-year increase in shipment volumes in April, with Honduras booking the highest growth.
China – the largest supplier of apparel to the US – saw shipments rise 6.15% year-on-year to 659m SME. Imports from the country surged by 38% month-on-month from the 477m SME recorded in March, and mark the first rise in shipments since January.
The second-largest US apparel supplier, Vietnam, booked a year-on-year increase of 8.51% to 322m SME – this compares to March's 17.4% rise in shipments to 289m SME.
But Bangladesh, ranked number three in the top-ten US apparel supplier league table, booked the third-highest decline in shipments, with exports down 2.25% to 158m SME.
Of the remaining countries, Honduras booked the highest growth with a 16.21% surge to 84m SME, closely followed by El Salvador with shipments increasing 15.65% to 62m SME. India recorded a 6.96% rise to 114m SME, while Cambodia saw the largest fall at 14.87% to 69m SME. Indonesia, Mexico, and Pakistan booked declines of 11.8%, 1.78%, and 0.39% respectively.
Combined textile and apparel imports, meanwhile, grew 5.68% year-on-year to 5.25bn SME, and in value terms by 4.8% to $8.34bn. Textiles alone, meanwhile, recorded growth of 7.21% to 3.21bn SME, and a 5.1% increase in value terms to $2.18bn.
Year-to-date and eight-year overview
In value terms, total US apparel and textile imports were up 4.92% to $35.13bn in the year-to-date, from $33.48bn in the same period a year ago.
Drilling down, apparel imports grew 5.76% to $26.45bn, while textiles were up 2.43% to $8.68bn.
In value terms, all but one of the top ten apparel supplier countries booked growth during the first four months of the year, with Bangladesh seeing the largest increase at 13.91% to $2.03bn and Mexico booking the only decline.
Facts behind the figures
April saw China book its first increase in shipments since January, with exports rising 6.15% year-on-year to 659m SME – but this was still more than double the 322m SME recorded by number-two Vietnam.
Amid the ongoing trade war between the US and China, it is likely brands and retailers have been seeking alternative sourcing options to China to counter any negative impact on business. And their caution appears to be well-placed after the Trump administration last month released a list of $300bn worth of Chinese imports that could be hit by additional tariffs of up to 25% on top of the regular rate of duty – essentially all remaining imports from China, including all apparel, footwear, and manufactured textile products.
As US brands and retailers assess alternative sourcing options to China, countries closer to home, such as Honduras, appear to be on their radar.
Honduras is strengthening its apparel industry, which now accounts for a growing number of jobs, in part due to an initiative that seeks to boost manufacturing capacity and speed and ease to market by 2020. A top executive told just-style at the end of last year the Central American country has now raised over $1bn to transform its textile industry as part of the Honduras 2020 development plan.
A key component is building capacity in synthetic and stretch fabrics to meet growing demand for athleisure and sportswear garments. Additional investments include a $20m site for Nike, $5m for a sewing facility by Suyapa Apparel and a $7m facility by Five Star Apparel.
Honduras is also working to build stronger collaborative relations with its neighbours, according to the resource by just-style strategic planning tool. The government has also moved to streamline public-sector institutions and create sustainable economic growth.
Honduras remains heavily dependent on US trade, however, and internal instability remains a problem. Central America's second-poorest country, it has a high rate of violence and widespread corruption. Its main apparel exports are T-shirts, sweatshirts, and cotton shirts.
Yet textile and apparel workers in the country are to receive a near 40% hike in wages over the next five years after a historic agreement was approved with worker and employer representatives. The move was announced late last year by the President of the Republic, Juan Orlando Hernández, who said the agreement will generate much-needed confidence and certainty for domestic and foreign investors. Under the new package, maquila workers will see the minimum wage jump by 38.5% between 2019 and 2023.
Meanwhile neighbouring El Salvador – which also reported a double-digit hike in shipments to the US in April – last year joined the Customs Union of Central America, also called the Northern Triangle Customs Union. The move paves the way for 98% of internal tariffs between Honduras, Guatemala and El Salvador to be harmonised, thus allowing for 95% of products to move freely across borders between the three countries. As well as boosting US corporate investment and American trade with the region, it will also facilitate digitised paperwork, cheaper transport logistics, public infrastructure improvements and industry clusters.