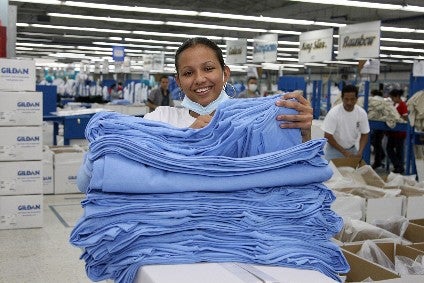 Setting out progress on its environmental and social and governance initiatives last year, apparel maker Gildan Activewear says its vertically-integrated manufacturing model is also allowing it to adapt to the challenges thrown up by the coronavirus pandemic.
As one of the world's largest vertically-integrated manufacturers of everyday basic apparel – including activewear, underwear, socks, hosiery, and legwear – the Montreal, Canada based company employed 53,000 workers and operated 24 manufacturing facilities globally at the end of 2019.
These factories are located in Honduras and Nicaragua in Central America; the Dominican Republic in the Caribbean Basin; the US and Mexico in North America; and Bangladesh in Asia.
"This direct control of almost the entire manufacturing process, from raw materials to finished products, allows the company to ensure that responsible and sustainable practices are consistently deployed throughout the complete value chain," it says in its just-released Genuine Responsibility Environmental, Social and Governance (ESG) report.
Products are sold under its own brands – such as Gildan, American Apparel, Comfort Colors, GoldToe, Kushyfoot and Secret Silky – as well as retail private labels. The company also sells its activewear primarily in "blank" or undecorated form, without imprints or embellishment, to wholesale distributors within the imprintables channel, who then sell the blanks to screenprinters and embellishers.
"Our strategy of owning and operating our facilities has given us the ability to provide rewarding jobs, safe and healthy work environments, and the capability to implement innovative environmental solutions in our operations while continuously improving the lives of our neighbouring communities," explains Claudia Sandoval, vice president, corporate citizenship at Gildan.
"Even more so during these uncertain times, our vertical integration enables us to minimise disruption in our supply chain and allows us to leverage our manufacturing excellence to adapt our business to this changing environment."
Over 90% of Gildan's annual sales – it booked revenues of $2.82bn in 2019 – are generated from products that are manufactured within the company's owned and operated manufacturing network. Because it owns the factories, Gildan says it is willing to invest in technology, sustainable innovation and training and development programmes that continuously improve product, reduce impact and create value for stakeholders.
Achievements last year
Among achievements last year was a 13% reduction in greenhouse gas (GHG) emissions from a 2015 baseline, largely due to the implementation of new energy initiatives, the use of higher quality biomass feedstock, and changes in emissions factors. In total, 44% of total energy use at Gildan was powered by renewable resources.
In terms of water intensity, it saw an 11.2% reduction compared to 2015, which it attributed to the full implementation of condensate and heat recovery systems in its manufacturing operations, as well as the continuous improvements in water management processes and product development. Both mark an early achievement of the 10% reduction goal set for 2020.
There was also a 6.2% reduction in landfill waste from 2018 thanks to improvements in waste management systems, and energy intensity was cut by 3.1% compared to last year. However, is said progress was still needed around these two targets to achieve the goal for a 10% reduction in 2020. Energy intensity in particular has seen an overall increase of 0.5% from a 2015 baseline "due to the integration of new yarn-spinning operations and product mix offerings."
In 2019, 151 audits were conducted at company-owned facilities and third-party contractor facilities throughout Asia, Central America, the Caribbean Basin and North America.
Another highlight last year was Gildan's Social Compliance Program being re-accredited by the Fair Labor Association (FLA) for the second time, after becoming the first basic activewear apparel manufacturer to receive this accreditation in 2007. The re-accreditation in July 2019 followed a two-year review of the company's practices and policies that are in place to ensure fair labour practices across its global supply chain.
In 2019, 96% of Gildan workers were represented by formal Health and Safety committees. The company provided almost 2.5 million hours of training to its employees and invested $13.9m in supplemental benefits, which included free onsite medical health care, vaccination and medicine programs, parental leave, financial assistance, subsidised meals, and free transportation at Gildan facilities in Latin America and Asia.
Reaching out into local communities, "buying locally wherever possible" also helps reduce lead times and costs. Last year it calculated over $260m worth of materials were purchased from local suppliers in Latin America and Bangladesh.
Back to Basics
Changes last year also included factory expansion, closures, downsizing and restructuring as part of its ongoing 'Back to Basics' strategy to simplify its product portfolio and optimise operations.
Gildan consolidated sheer hosiery manufacturing within its global supply chain through the closure of its facility in Canada; and consolidated sewing capacity from its STAR sewing facility into existing sewing capacity located closer to its textile manufacturing complex in Honduras.
During the fourth quarter it also began ramping down production in Mexico and relocating the equipment to operations in Central America and the Caribbean Basin.
Expansions included the ramp-up of production at the Rio Nance 6 textile facility in Honduras, which is equipped to manufacture open-width and tubular fabric. And plans are underway to build a large multi-plant manufacturing complex over the next few years next to its existing facility in Bangladesh, which will be used to service international markets.