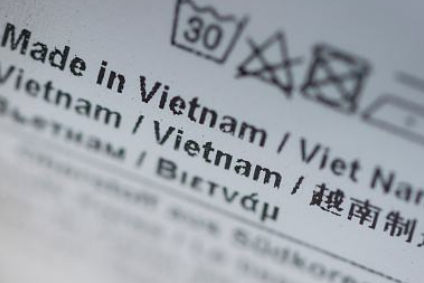 Vietnam is seeking to boost fabric production so that its domestic garment makers can prosper from the "yarn-forward" rules of origin under the CPTPP trade deal.
The Comprehensive and Progressive Agreement for Trans-Pacific Partnership (CPTPP) took effect in December 2018, forming a potential trading market with 495m consumers across 11 countries and 13.5% of global GDP.
The pact entered into force for Vietnam in January 2019, incrementally bringing down import tariffs for Vietnamese garments traded with signatories Australia, Brunei, Canada, Chile, Japan, Malaysia, Mexico, New Zealand, Peru and Singapore.
But Vietnamese garment-makers are struggling to reduce costs to deliver pricing that is competitive enough to make the most of CPTPP. This is partly because of the CPTPP's textile rules of origin (yarn-forward) being the most difficult to satisfy of all the 16 free trade agreements in which the country currently participates.
Under the yarn-forward rules, fibres may be produced anywhere, but each component starting with the yarn used to make the apparel garments must be formed within the free trade area in order to qualify for duty-free treatment.
With weak local backwards linkages, Vietnamese garment factories still have to import more than 60% of the raw materials they need, and the real problem here is that more than 60% of those from outside other CPTPP member nations.
"Vietnamese factories are overwhelmed with inquiries at the moment, which is partly due to increased interest from CPTPP member nations that want to produce in Vietnam with lower tariffs," says Chris Walker, a garment-sourcing advisor based in Ho Chi Minh City.
However, he told just-style: "The factories struggle to offer competitive pricing, delivery times and payment terms and consequently don't get the business. Competitive pricing would certainly be easier to offer if more fabrics could be bought from local suppliers."
On the plus side, backward linkages are starting to strengthen. For instance, the Tran Hiep Thanh Textile Joint Stock Company, a Ho Chi Minh City-based manufacturer of woven and knitted fabrics, in January announced a VND1 trillion (US$42.7m) investment into building a new fabric plant with an annual capacity of 77 million metres to help its clients take advantage of the CPTPP.
And TNG Investment and Trading Joint Stock Company, a major exporter of apparel products based in the northern province of Thai Nguyen, has switched to importing raw materials from CPTPP member countries and built a factory to produce its own feedstock to substitute imports from non-members.
Policy changes for textile production
A tailwind to aid such investments is being supplied by the government. Officials speaking earlier this month at a Vietnam Private Sector Economic Forum in the capital Hanoi flagged upcoming policy changes to pave the way for more textile production investments to help Vietnamese garment makers reduce input costs.
Specifically, Tran Quoc Khanh, deputy minister of industry and trade, called for a new VAT policy to encourage investment in textile mills to overcome the current dilemma of Vietnam being a country that exports yarn in large quantities but still relies on imported fabrics.
Khanh explained that under current regulations, imported fabric used for manufacturing garments for export is not subject to VAT, whereas domestic fabric is subject to 10% VAT that can later be refunded when the garment is exported.
According to him, this has effectively been disincentive for investment in local fabric manufacturing.
"So, if I am a garment manufacturer now, I have to choose between two options, one is to import fabric as provided by the customer without taxes, and the other to purchase domestically with [frontloaded] taxes," Khanh says.
Recognising the potential key role of a Vietnam textile industry, Khanh's boss, Tran Tuan Anh, minister of industry and trade, said at the same forum that a new strategic policy promoting backward linkages would be submitted to the government in the third quarter of 2019. "Time has come for Vietnam to actively increase the localisation value," Anh says.
While Vietnam is widely expected to be one of the biggest beneficiaries of the CPTPP, an analysis on just-style warns buyers to prepare for limited growth in exports out of Vietnam as the CPTPP and EU-Vietnam free trade agreements will intensify competition for labour between the apparel industry and other export-oriented sectors: Can Vietnam reach its apparel export potential?