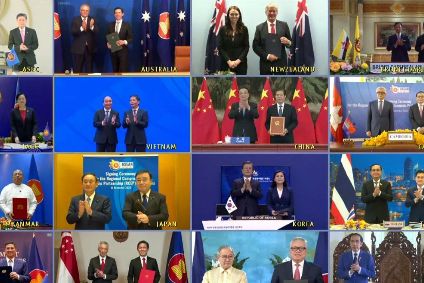 Fifteen countries including China, Japan, South Korea, and Australia have formed the world's largest trading bloc – a move that industry experts say matters significantly for textile and apparel.
After eight years of negotiations, the Regional Comprehensive Economic Partnership (RCEP) was signed on Sunday (15 November) on the fringes of an Association of Southeast Asian Nations (ASEAN) meeting.
The deal, which sees China join a regional multilateral trade pact for the first time, excludes the US, which withdrew from the rival Trans-Pacific Partnership (TPP) in 2017.
RCEP's signatories include ten Southeast Asian countries – Brunei, Cambodia, Indonesia, Laos, Malaysia, Myanmar, the Philippines, Singapore, Thailand and Vietnam – along with Australia, China, Japan, New Zealand, and South Korea. The 15 countries account for about 29% of global gross domestic product (GDP).
What the deal means for the apparel and textile industry
Dr Sheng Lu, associate professor of fashion and apparel studies at the University of Delaware, explains the RCEP matters significantly for the textile and apparel sectors.
According to statistics from the United Nations, the 15 RCEP members together exported US$374bn worth of textiles and apparel (or 50% of the world share) in 2019, and imported US$139bn (or 20% of the world share).
In particular, RCEP members serve as critical apparel-sourcing bases for many US and EU fashion brands. For example, in 2019, close to 60% of US apparel imports came from RCEP members, up from 45% in 2005. Likewise, that same year 32% of EU apparel imports also came from RCEP members, up from 28.1% in 2005.
RCEP members have been developing and forming a regional textile and apparel supply chain. Within this regional supply chain, more economically advanced RCEP members (such as Japan, South Korea and China) supply textile raw materials to the less economically developed countries in the region. Based on relatively lower wages, the less developed countries typically undertake the most labour-intensive processes of apparel manufacturing and then export finished apparel to major consumption markets worldwide.
As a reflection of an ever more integrated regional supply chain, as much as 72.8% of RCEP members' textile imports in 2019 came from other RCEP members – a substantial increase from only 57.6% in 2005. Nearly 40% of RCEP members' textile exports also went to other RCEP members in 2019, up from 31.9% in 2005.
The implementation of RCEP will further strengthen the regional textile and apparel supply chain among its members. Specifically:
RCEP members have committed to reducing the tariff rates to zero for most textile and apparel traded between them on day one after the agreement enters into force.
In general, RCEP adopts very liberal rules of origin for apparel products – RCEP members are allowed to source yarns and fabrics from anywhere in the world, and the finished garments will still qualify for duty-free benefits. In other words, most garment factories in RCEP member countries can immediately enjoy the benefits without having to adjust their current supply chains.
In particular, RCEP will likely strengthen Japan, South Korea and China as the primary textile suppliers for the regional textile and apparel supply chain.
Meanwhile, RCEP will also enlarge the role of ASEAN as the leading apparel producer in the region.
That being said, the detailed tariff phaseout schedule – the time for the tariff rate to reach zero – is very complicated.
Not only does each RCEP member set its own tariff phaseout schedule, which can take up to 21 years (such as Japan), but the phaseout schedule can be country-specific (for example, South Korea sets different tariff phaseout schedules for textile and apparel products from ASEAN, China, Australia, Japan and New Zealand). For companies interested in taking advantage of the duty-free benefits under RCEP, they need to study the "rules of the game" in detail.
RCEP will also have ripple effects that affect both RCEP and non-RCEP members. For example:
As a trading bloc, RCEP could make it even harder for non-RCEP members to get involved in its regional textile and apparel supply chain.
Signing the pact could accelerate negotiations on other trade agreements in the Asia-Pacific region, such as the China-South Korea-Japan Free Trade Agreement.
Many say RCEP may create new pressure for the new Biden administration to strengthen US economic ties with countries in the Asia-Pacific region, such as rejoining CPTPP or launching talks on new bilateral trade agreements.