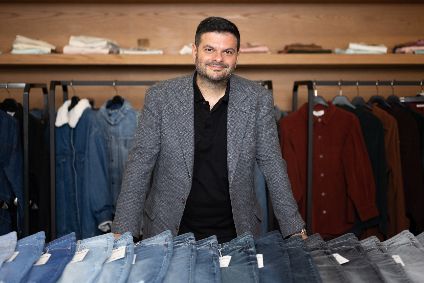 Trust, people and partnerships – key tenets underpinning fashion supplier and sourcing powerhouse PDS Group – have been tested to the limit during the coronavirus pandemic. But they've also stood the business in good stead, helping to not only weather the storm but reposition it to emerge even stronger from the crisis, as founder and vice chairman Pallak Seth explains.
What a difference a few weeks make. Meeting with Pallak Seth back in February at PDS Group's office in Soho in central London, discussions focused on how the company's unique business model has helped it become one of the world's largest suppliers of fashion apparel – and plans for a new venture capital arm that would mark the next step in its growth trajectory.
Key standouts from that first conversation were a focus on risk management, financial stability and talk about trust, people and partnerships. All of which were key to navigating headwinds including Brexit and the US-China trade wars, and would prove crucial to the company's survival over the upcoming months.
Since setting up the business 21 years ago, Seth has quietly positioned PDS as a design-led sourcing and manufacturing powerhouse with annual revenues of US$1.25bn, supplying over 1 million garments a day to around 200 of the world's leading brands and retailers. Matalan, Primark, Next, Sainsbury's, Asda's George label and Tesco are at the top of its customer list.
A key feature is that the group has been built without a single acquisition. Instead, its core 'Plug & Play' design-led sourcing platform connects 45 independent business units with around 300 partner factories. Each business unit is run separately by a CEO with a shareholding in the business, and has brought new customers, product categories or geographic location to the network.
"We've made sure that we're going to come out of this so the company will be stronger and more stable going forward. It's an evolving target, but we have been able to act quickly – and by taking all these steps, there have been so many new opportunities" – Pallak Seth
But all tap into the central PDS hub that offers group-wide oversight in "non-negotiable" areas such as financing, risk management, internal and statutory audits, financial reporting, information technology (IT), and other group best practices around social and ethical compliance and sustainability initiatives.
"We are a large company with a lot of smaller business units. We are very agile, we are very entrepreneurial, but at the same time we've got a framework in place that protects the risk and reputation of the business," Seth explained back in February.
But lurking in the background was the spectre of coronavirus – at the time an issue largely choking supplies from China.
Since then, of course, "it's been such a rollercoaster ride," Seth explains on a follow-up call from the Group's Hong Kong headquarters. "The whole world is in turmoil and there's a lot of uncertainty about the future."
Crisis management
The company's response to the catastrophe could be a case-study in crisis management – in fact, the Harvard Business School is planning exactly that – and is a credit to Seth who has tried to uphold the core values he spoke so passionately about just two months before.
"Out of the 45 companies in PDS, being a people-first company we have not closed a single company down. We have restructured, but we've made sure we've given everyone a chance. I think there will be a big shakeout in the industry and we will be able to survive from this."
The entire focus in the last 6-8 weeks has been around four key areas: "Maintaining balance sheet strength [the basis on which banks lend money for working capital]; sustaining cash flow so we are able to meet all our cash commitments to our employees, to our suppliers, to our banks and all statutory requirements; taking care of our people; and engaging with our customers."
At PDS, decision-making is transparent. About three years ago an executive board consisting of 12 members was formed, including some of the experienced business heads, and functional heads such as Group COO, CTO, CFO and HR director. The role of the executive board is to define the future direction and strategy of the overall company, and also finalise group policies that act as non-negotiables and which all PDS companies must follow.
"Yes there has been pain, but we're making sure everything is done in an empathetic and ethical way. We have had to let people go, but also ensure we retain our critical talent so we can scale up our business as soon as the situation normalises."
One of PDS's biggest strengths is the fact that despite achieving 15-20% year-on-year growth over the past decade, the company was financially stable going into the crisis. "In the last 20 years PDS grew the business by reinvesting its profits in establishing new businesses without taking any significant amount of debt. We are virtually debt free company, with debt equity ratio being 0.1%," Seth explains.
Like other suppliers, the group "was left high and dry" by many of its retail customers as markets around the world went into lockdown to stem the flow of the Covid-19 pandemic, with order pushbacks and cancellations totalling $70m.
But its strong financial discipline and robust risk management policy meant "we had negligible credit hits to our entire accounts receivable of close to $100m at the end of February" because all was fully insured or factored.
The group's asset-light business model has proved to be another strength. "Our vendors have shared the pain with us," each taking a hit of between $100-300,000 as orders were culled. "Considering overall cancellations of US$70m, the impact on any single vendor entity has been very minor, given the grand scale of things."
It is a source of great pride that the"vast majority of outstanding payments from PDS [to these vendors] were made because of our factoring arrangements with our banks."
The production line at PDS Group's Green Smart Shirts Ltd (GSSL) in Bangladesh.
Manufacturing hit
Three years ago PDS moved into manufacturing, setting up four state-of-the-art production units in Bangladesh, India and Sri Lanka to make babywear, schoolwear, shirts, ladies' and children's wear. The move helped the company onboard new US customers keen to work with manufacturing groups rather than sourcing firms, as well as adding new product categories and demonstrating its commitment to investment.
But the PDS Manufacturing business, with an installed annual production capacity of 36m pieces and projected annual sales of US$200m, has been hugely impacted by order cancellations, not only of finished goods but goods in production and unused fabric lying at the warehouses.
"My manufacturing business is bleeding a large amount of money," Seth explains. "However, we've made sure that all our statutory requirements, all the worker payments, were done. This has been possible because 90% of PDS revenues come from our design-led sourcing, which has been able to support our manufacturing business.
"The liabilities of the manufacturing business are huge, and if this was a standalone business, I worry how it would have survived. I have a lot of empathy right now with standalone manufacturing businesses who have been so severely impacted that it's going to be difficult for them to come out of this."
The hit from order cancellations and pushbacks has also been partially mitigated by a diverse customer base.
"At the group level we're not dependent on any single individual company; we have 200 customers, the largest customer is 10% of the business, which also is a good advantage, as not too many eggs in one basket.
"We're not dependent on any country: the UK is our biggest customer market, around 40% of the business, and Bangladesh is our biggest sourcing country [at 45%]."
The showroom at Green Smart Shirts Ltd (GSSL) in Bangladesh.
Restructuring
As well as immediate actions to shore up the business, Seth explains a restructuring has also taken place to "make sure that we're going to come out of this crisis stronger than we went into it."
To protect the PDS platform "we've reduced our overheads substantially from April to July to a level that can cover our costs with the income that we generate." This has involved making use of government furlough schemes wherever possible, while senior executives and their teams have agreed to take salary cuts.
But ironically, the quick actions to shore up the business have also elicited more engagement from key customers.
"We are having a lot of strategic discussions with some of the largest retailers in the UK and Europe as they also feel with the massive consolidation in the industry it will be time for companies to work closer together rather than shop around like before. Some of our customers are asking us to take over their sourcing operations, or manage categories on their behalf.
"The whole process of having large design teams and big sourcing operations seems to be contracting because they need to cut costs. They want to focus on their core strengths and competencies, which is retailing and the consumer, and outsource a lot of the other functions to professional companies.
"We've already had to take people out of furlough, and are trying to bring the company out of the restructuring earlier than we had anticipated."
With operations across 50 offices in 22 countries, PDS is able to provide a global solution to clients that offers the right product in the right factory in the right country.
Its services include creative and market intelligence from a team of 150 in-house designers and product development specialists, as well as a vendor base that has been fully ethically audited to high standards, offering a sustainable product portfolio and sourcing options.
"That's one of the big USPs, where the large retailers put their trust and confidence in PDS, because they believe that we're doing the right thing. We won't put our brand or the customer's brand at risk – so they trust PDS to be the right sourcing arm for their business."
Salvaging the relationship with the group's top customers has been a priority. Seth singles out Asda's George, Tesco, Primark, Sainsbury's and Next as among the retailers who have acted responsibly despite having tough decisions to make.
Progress Apparels Bangladesh Ltd (PABL).
Broken relationships
Talking of trust, Seth is unapologetic in his condemnation of the many retailers who have acted unethically by triggering force majeure clauses to cancel orders and payments.
"The industry needs to take these retailers to task. They should be named and shamed. They have killed a lot of supply chain jobs and smaller businesses because of their actions.
"The scenario is like everyone's house is on fire and companies are trying to save their own business over anything else. They will have no trust left with their supply base to supply them in the future."
Indeed, he believes the mistrust created between factories and their retail customers is going to cast a shadow over the apparel supply chain for some time to come.
"We only want to onboard customers who have a strategy to grow together, rather than doing transactional business," Seth explains.
To prove the point, PDS is slowly opening its factories in Bangladesh – but only at 30% of capacity to begin with.
"We are only taking orders from customers who have acted and behaved ethically during the last six weeks; many retailers either cancelled or withheld payments, so we are basically saying we are not interested to produce for them in the future. We're not the only ones who have taken this stance.
"At the back of our mind is that if there's a second lockdown in October or November, no-one wants to take autumn/winter orders from retailers who might start cancelling again. People would rather play safe, take less business and work with customers who have done it in the right way, and only open up capacity to work with those people.
"I'm almost certain that we'll lose a big part of our customer base – but at the same time, the retailers that survive and who are in our top 20 are talking to us so strategically right now that whatever lost turnover we had with customers who are either going bankrupt or losing insurance, we'll be able to cover that in the next 12-18 months."
He believes the shakeout on the retail front could see 150 among the top 500 retailers "not survive this crisis; they will go bankrupt, especially standalone clothing retailers. Another 150-200, even if they survive, will lose credit insurance, so they will ask for anywhere between 30-180 day payment terms, so no-one is going to supply them.
"There's really only 150 retailers left globally who will come out of this crisis and still be able to get insurance, based on which they will be able to get supply in the future."
Contraction
Looking ahead, Seth believes it may take a year or more to recover ground lost during the Covid-19 pandemic.
In terms of the core PDS design-led sourcing business, "This year definitely is a washout. I feel there will be a contraction of the autumn/winter 2020 order book by 30-40% compared to last year, because retailers are cautious of buying less. For spring/summer 2021 there could be a reduction of up to 50%, because all retailers are sitting on a lot of unsold inventory from spring/summer 20, so they'll bring that inventory out [next year].
"The real increase in demand will come in autumn/winter 2021, so the production cycle from April 2021 onwards will see capacities returning to 70-80% normalcy, but not to the level they were before."
Opportunities
Despite this contraction, PDS is also finding unexpected opportunities emerging from the devastation wrought by the coronavirus.
The group is looking at expanding its platform after being approached "by a lot of small and medium sized suppliers" who have lost payments and customers but retain strong teams and complementary product categories "who want to become part of our group."
It has also converted a large part of its supply chain in China, which employs 500 people, to produce personal protective equipment (PPE) such as masks and gloves for retail customers preparing to reopen their stores.
"This means we are able to generate some income and have not had to let people go. But we are trying to keep a charitable angle to it as well…I've donated almost half a million masks to the Great Ormond Street Hospital Children's Charity."
As for the PDS Growth Fund, this has been scaled back from its initial commitment of GBP20m capital in the next two-to-three years. "I'm still setting up the professional VC fund, but want to have a structure and team in place to evaluate deal-by-deal opportunities, rather than committing capital up-front," Seth explains.
Set up to back startup brands and disruptive business models to fuel future growth – especially those with a sustainability focus. Investments so far have included Yellow Octopus, whose ReGain app offers a multi-brand take-back programme that aims to revolutionise fashion recycling; and Reflaunt, a Singapore and London-based resale platform for luxury fashion brands.
PDS Group is also changing course in other ways too.
"Covid has done what a CEO couldn't do, what a CTO couldn't do: our company is now moving very fast on the track of digitisation. We also want to diversify our sourcing from being a supplier of fashion apparel into other categories as well, since a lot of our customers have come to us wanting to source cosmetics, masks and gowns."
Another area for accelerated development is to invest in companies in the direct-to-consumer space, "because online will become stronger going forward."
"One of our first acquisitions, just before Covid, was acquiring Lilly & Sid, an online premium B2C branded babywear company." It's a potential win-win, giving PDS access to a direct to consumer brand with a higher margin potential, but one that also leverages its existing babywear sourcing base.
"We've made sure that we're going to come out of this together with our teams in a way that the company will be stronger and more stable going forward. It's an evolving target, but the company has been able to act quickly – and by taking all these steps, there have been so many new opportunities."