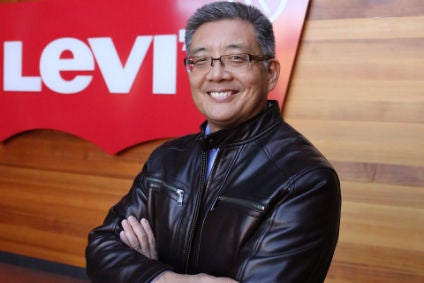 The denim and jeans sector is having to work tirelessly to change perceptions over its sustainability, or lack of it. But change is nigh, promises Michael Kobori, vice president of social and environmental sustainability at Levi Strauss & Co. The company recently expanded its Partnership for Cleaner Textiles (PaCT) programme to four countries in Asia, which has so far delivered 20% savings in water and energy consumption for six key vendors. Next on the agenda is a new target to reach 40% savings by 2025.
Levi Strauss is one of the world's oldest jeans makers, having produced its first blue jean in 1873, the masterpiece of two visionary immigrants Levi Strauss and Jacob Davis. The company is also one of the biggest players in the sector, booking revenues of $5.58bn and net income of $283.1m for the year ended 28 November 2018 across its Levi's, Dockers, Signature by Levi Strauss & Co, and Denizen brands. Earlier this month the denim giant filed documents stating its intention to list on the New York Stock Exchange.
However, there is increasing pressure to come up with new ways of producing denim, given that sustainability and organic continue to be major trends in the sector, and manufacturers are being tasked to adopt more environmentally-friendly processes within their operations and supply chains.
After all, on average, 7,000 litres of water are required to make each pair of jeans. Growing cotton also uses pesticides that threaten biodiversity and weaken the natural eco-systems. And then there are the chemicals used in production: from the spinning process to the dye bath, which contains dye fixatives, oxidising agents, reducing agents, and enzymes to bind the synthetic dye to the cotton; then in the desizing process, these are all washed out into the wastewater stream. Bleaches and lightening agents are used for fades and finishes.
With its large global footprint – Levi Strauss (LS&Co) sources products that include jeans, casual and dress pants, tops, shorts, skirts, jackets, footwear and related accessories for men, women and children from factories on nearly every continent according to its 2018 published factories and mill list – the company is very aware of the environmental impact of denim production, Kobori explains.
The company has rolled out a number of sustainability initiatives over the years, including plans to eliminate thousands of chemical formulations from its supply chain by replacing the hand-finishing process with ozone and laser equipment. The so-called Project F.L.X. (or Future-Led Execution), should also slash finishing time and speed-to-market.
Doubling-down on sustainability
However, it is now engaging in one of its most ambitious plans to date, with a target to cut carbon emissions across its supply chain by 40% by 2025. This goal applies to the manufacturers making its products and its fabric mills, while its owned and operated facilities such as stores, offices and distribution centre are tasked with a reduction of 90% in carbon emissions and a 100% renewable energy rate.
"At this point, that is the most aggressive target in the industry, we believe, in terms of both the magnitude and the timeframe"
"At this point, that is the most aggressive target in the industry, we believe, in terms of both the magnitude and the timeframe," says Kobori.
In order to achieve this, LS&Co will be teaming up once again with the International Finance Corporation (IFC), part of the World Bank Group, to expand its Partnership for Cleaner Textiles (PaCT) programme. The aim of PaCT is to drive the long-term competitiveness and environmental sustainability of the textile wet processing sector by addressing high water, energy, and chemical use through the adoption of best practices – ultimately leading to lower resource consumption, higher profits, and a better reputation for the sector.
PaCT first launched in 2013 across 165 textile factories in Bangladesh and was extended for a further year past its original finish date of 2016. 11 major brands proceeded to sign up to it including Hennes & Mauritz (H&M), Gap Inc, Inditex, Kappahl, Tesco, Primark and G-Star. By August 2016, the implemented projects helped realise cumulative cost savings of US$7.7m per year for the factories. Savings have also included around 14bn litres of water a year, the avoidance of 10.6bn litres of wastewater discharge annually, and energy savings of around 1.1m mwh per year.
In 2016, the IFC and LS&Co announced plans to roll the project out further at six of its supplier factories in Vietnam, Bangladesh, Sri Lanka and India as part of a pilot programme.
"In these six vendors, we found that through the programme they were able to save 20% on their water and energy consumption on average," explains Kobori. "Together the six vendors combined saved over US$1m, and that is only in that nine-month period. So we know the programme works."
The next goal is to get from 20% to 40% savings by 2025, which Kobori acknowledges is "an uphill climb," and one that will mean a move away from a low-to-no-cost investment to a much more significant one.
"Previously it was simple things the vendors could do, like changes to their heating, ventilation and air conditioning systems, to simply reduce the amounts they were using. It did not go into larger investments like highly water-efficient washing machines. Some of the [appliance] supplier companies call them rainforest washers because the machine is not filled with water, instead, it uses a mist to wet the garment and get it moist, then it performs all the functions of a standard washing machine but using a fraction of the water. So the first way the vendors are going to get more savings is the use of bigger investments in equipment."
The second way to deliver higher savings on energy efficiency is by developing renewable energy on site – either via solar or wind renewable energy technologies, or by teaming up with other supplier factories in the area to implement a power purchasing agreement.
Also, previously it was only the manufacturing factories that were looked at, not the fabric mills.
"The mills are three times as energy intensive as factories and use all kinds of equipment, so there is much more opportunity there," Kobori explains.
"So that's three ways we will be getting to that 40% through the PaCT programme."
But with many of L&S supplier factories in developing countries, are the suppliers expected to foot the cost?
Getting supplier buy-in
"That's the beauty of the programme: the IFC will help the vendors with the financing for these larger investments that they make," assures Kobori. "They do get savings from this project," he adds, pointing to just one reason encouraging suppliers to get on board.
Generally, he says, it has been pretty straightforward to get partners to comply with sustainability objectives; firstly because of the noise they are hearing about protecting the environment, and secondly because of the business case for it.
"Nine months ago, we held our global summit in Bangkok, and we brought all of our vendors together and we talked to them about production, delivery, quality and we also talked to them about sustainability. We did a little survey asking them what they were most interested in when it comes to sustainability. And the vast majority are thinking about sustainability, reducing energy and their water footprint. It was extraordinary for me to see their forward-thinking in this area of sustainability and that they are thinking about renewable energy themselves."
What has also helped with getting supplier buy-in when it comes to green initiatives is LS&Co's close relationship with them. In the last five years, the jeans-maker has "dramatically reduced" the size of its vendor base, leaving it with fewer, larger and more capable suppliers that it has long-term relationships with. These are suppliers it appears to deeply trust; a feeling that is reciprocated.
Indeed, the company has also been working with the IFC on a separate Global Trade Supplier Finance (GTSF) programme, which recognises the need for short-term finance for its suppliers. With manufacturers having to advance money to their raw material suppliers for the fabric, yet not being compensated by brands until the product is delivered, there is a time-lag that doesn't account for the supplier needing to cover its cash flow needs.
"Normally the vendors would go to a local bank and get short-term trade finance to finance that period. Under this programme, the IFC provides the trade financing. And because it's the IFC and because it's Levi Strauss, they are able to offer the interest rate we get to our suppliers. Essentially since Levi is a bigger company and has a better credit rating, the interest rate is lower than the vendors might ordinarily get."
The added benefit is the programme that LS&Co has developed with the IFC links to the supplier's sustainability performance. The better a vendor's sustainability performance, the lower the interest rate on its short-term trade plan.
"Normally with suppliers, if they don't perform to standards, we [brands] tell them they'll get fewer orders – they're penalised. There isn't necessarily the reciprocal going on where we say if you do well on sustainability, we will give you more business. Sometimes, with a financial incentive, they do better knowing they can get more money"
"This is actually the first programme of its kind where vendors get a true financial incentive for being more sustainable. Normally with suppliers, if they don't perform to standards, we [brands] tell them they'll get fewer orders – they're penalised. There isn't necessarily the reciprocal going on where we say if you do well on sustainability, we will give you more business. Sometimes, with a financial incentive, they do better knowing they can get more money."
Are the changes being driven by LS&Co enough to change the perceptions of denim and jeans production as the industry bad guy, or to stop or at least slow the impact of garment production on the environment? Put simply, no. But that's why the company is keen to talk about the steps it is taking to be more sustainable.
Sharing best practice
"For all the sustainable innovations we have – like the Water<Less finishing techniques, the jeans production process, our programme on worker wellbeing – we open-source all of our lessons and information. That's our policy. We want to share these breakthrough innovations with everyone so that the industry gets better and we help to change the unsustainable system that exists out there," says Kobori.
He adds Levi Strauss is also "very active" with industry-wide initiatives such as the Sustainable Apparel Coalition (SAC) and the Better Cotton Initiative (BCI). Under BCI, 63% of the cotton LS&Co uses is better cotton, grown with a reduced environmental impact and for the benefit of farming communities.
"We do really try to get others to see the benefits of things like the PaCT programme and the GTSF. We've actually gone out and shared our lessons with others in the industry.
"We're trying to get this PaCT programme to scale because we all use the same suppliers. We've introduced PaCT to the Apparel Impact Institute. My hope and dream is that these programmes will be adopted by all the leading brands because that's what we need to change the industry."
But more needs to happen to get brands on board with becoming more sustainable. The initiatives LS&Co has set in motion are off its own back – or voluntary. Other brands have a choice on whether to seek out and employ the tools to make them more sustainable, or not.
"There are companies like us and a couple of other industry leaders who do this because we know that the future demands it; we know that for our future business success we need to do this. But there are other companies that are not doing as much."
Kobori adds that policies and legislation that hold brands to account over their decisions concerning environmental and social sustainability would help create real change in the industry.
"It would certainly be helpful if governments and other policy actors took steps to incentivise more sustainable behaviour by the apparel industry – we would welcome that. If policy providers could provide the incentives or actually make certain things required, it would really help to drive us to that more sustainable future."