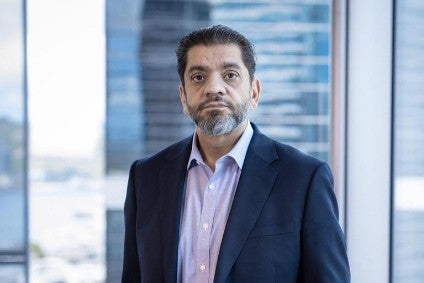 For Ranjan Mahtani, chairman and CEO at Epic Group, one of the world's largest clothing manufacturers, the global Covid-19 pandemic is the final straw. He believes the time has finally come for brands, retailers and their suppliers to take stock, re-evaluate current practices – and redefine their roles for the future.
"Where is the industry going? That is what baffles me," he explains on a call from the Group's headquarters in Hong Kong. "We think we have evolved, but we're still counting buttons."
With a workforce of 25,000 people and 11 state-of-the-art manufacturing units producing over 90 million garments every year for some of the largest brands and retailers in the US, Europe, Japan and Canada, Epic Group is well-placed to comment on how – and why – the industry's current way of working needs to change.
Like most on the supply side, it has had to make some tough decisions over the past four months.
Despite being "blessed with long-proven strategic relationships with blue-chip retailers and brands who partner with us through this storm," there have still been order cancellations, bankruptcies and slumping demand to contend with.
As a consequence, the company is in the process of consolidating its two manufacturing centres in Vietnam and Jordan, and focusing on its operations in Bangladesh – where it is the single largest producer of woven bottoms and shirts – and Ethiopia, where it was one of the first to export garments from the country's flagship Hawassa Industrial Park three years' ago.
But reflecting on what's next for the Group has prompted Mahtani to ponder the wider question of where does the industry as a whole go from here? When it comes to rebuilding once the pandemic has passed, is it a case of simply going back to normal – a long and fragmented supply chain constantly pushed to find the cheapest cost – or is there an alternative?
"While we've had to take some steps, we're also challenging ourselves to look forward to see what's going to happen to the market, and to our business, in 12 to 24 months' time," he explains.
"The first thing we have to deal with as an industry and as a supply chain is to look beyond today, tomorrow or next month. And even if that picture is blurred, if you can paint it you can prepare for it – and come out in much better shape."
He is adamant that nothing can be taken for granted any more. "The world is evolving too fast now. What is normal today is not going to be normal tomorrow. The 'new normal' is to be highly agile, nimble and keep absorbing how the world is changing. That's what we have to do in our industry… just make it more simple, because there are so many other things that are happening which will keep defining how we do things."
Simplified ecosystem
The Covid-19 pandemic has shaken the apparel industry to its core with order pushbacks and cancellations, job losses and bankruptcies, and mountains of unsold inventory as retail markets around the world were locked down.
Mahtani, however, believes this is just the beginning. "The next 12-24 months are going to be nail-biting, with intensive consolidation at both ends. Business is going to change totally: the way people dress, the way people shop…and it's going to change further. People are working remotely from home; they want clothing that's comfortable and offers performance. And they want it super-fast."
As he sees it, the way forward involves simplifying the apparel supply ecosystem and rebalancing the relationship between brands and factories so that each can play to their strengths.
"Our ecosystem is very complex. It starts with the consumer, then goes to a brand or retailer, then probably either a domestic importer or a middleman, then a factory, a mill, a freight forwarder, a banker – and none of these processes are in a straight line. So the idea is to simplify the ecosystem, and define where the ownership and the responsibility lies."
"It doesn't have to be so complex. We have one objective: that is, to provide high performance, comfortable, trend-right apparel to our consumers and do it as simply as possible. But when we have so many layers, we're actually taking away from the product.
"The reality is that we take 20 minutes to make a cotton chino, but everything else around it takes forever.
"The only thing brands and retailers should worry about is protecting their brand equity and focusing on sales and distribution. That's the way it should be. And if they want to protect their brand equity, then they need a supplier who's well-rounded. They must find the right partner who can do everything to meet their expectations, their standardisation, their value, and keep that process simple.
"I see an opportunity for brands to go for a very deep and narrow relationship with their suppliers – not shallow and wide, which has been the industry norm. There's a lot of simplification that could come into the industry if each side took more ownership of what they have to do. At the end of the day, the most important person is the consumer."
Creating respect
Driving this change won't be easy, but the Covid-19 crisis has exposed the extreme inequality of power in international fashion supply chains where "there's still so much transactional business." It has also revealed that for all the talk of collaboration in recent years, the shift has been slow to materialise.
"I understand that we must negotiate what we buy; that's true for any business. What I don't understand is the cheapest cost. Because if you want the cheapest cost, then you're telling the vendor to take a shortcut," Mahtani acknowledges.
"When I look at this industry, it hurts me. We employ more people than any other industry, particularly the poor and female workers, but get a different level of respect. Just because I'm making a shirt doesn't mean that my job is any less respectful than manufacturing a car or an iPhone.
"Creating that respect depends on us. I would love for this industry to thrive, and for the manufacturers and brands to all work closely with each other and create a manufacturing which is respectful. Maybe this is a chance for us to reorganise ourselves, look at our motivation and why we are doing this.
"Because while we're negotiating every button, we can sometimes forget there's something else much bigger that's missing."
Crucially, creating respect also applies to the estimated 60-70m – mainly female – workers in international apparel industry supply chains, for whom factory jobs provide an important lifeline in developing countries with few employment opportunities and poor social protections, and a step up the ladder to economic growth and development. Yet many of these already vulnerable workers have been hardest-hit by the global pandemic, seeing their livelihoods at risk from order cancellations and knock-on factory closures as major brands and retailers have scrambled to minimise their own losses.
Redefined roles
On the supplier side "it's about redefining what we are doing. Have we really challenged ourselves?" he asks.
"The days of the middleman were already numbered, and the cut, stitch and make manufacturers are heading to extinction. Value is the new king. The manufacturers of the future must have a responsive and nimble supply chain with low MOQs [minimum order quantities], which reduces inventory risks for their principals."
They must be prepared to submit their financials, show their distribution ability, design capability, add value to the product, and demonstrate a real commitment to sustainability, social and ethical compliance.
And in return for this deepening trust, "brands will be able to really tell us who their target consumer is, what the product aspiration is, and give us a concept, so we will be able to continuously add value by having the right product in the right place at the right time. They should be telling us this is the kind of IMU (initial mark-up) we want or this is the kind of gross margin, and work it backwards."
It might seem like a tall order – especially coming from a supplier – but Epic Group has never been one to rest on its laurels.
"As a company, our responsibility starts from the development of the product and only ends with the long-term satisfaction of the consumer. It's a fallacy that you have handed over the baton when the goods leave your factory," Mahtani explains.
"We can never be the cheapest guys, but we can definitely bring value to the table. We'll guarantee your margin, we'll drop ship, we'll bring the right product, we'll be responsible for what we do…is that not important, or is it only the first cost?
"Our job is to understand each customer's requirements and tailor our solutions to meet these requirements. And that's the only discussion that should take place between buyer and seller.
"Once you give us an order, it becomes our problem. You don't want excuses. And once that mindset comes in you create more respect for the industry, you create more respect for the factory, for the workers.
"It's about making things more simple, not making them more complex. If I have a customer who's going to give me business, I will make sure that I meet all expectations because I know I won't have a customer left [if I don't]. The ultimate equaliser is that you're doing it for the right reasons."
Putting it into practice
Putting this into practice has already seen Epic Group build small lines in some of its factories. "Our goal is to cut in the morning and ship in the evening" with parts being processed through 8-10 machines, finished and packed on the same day – compared with the more usual 27-28 days.
"It then boils down to planning and capacity, which are the normal KPIs a business should deal with."
Linked to this is digitisation and distribution. "We have digitised the entire process in our factories, starting from every cut part, so we have all the information about work in progress – which is very complex. If you're making 100,000 garments in a factory you're dealing with a million parts a day.
"So why can't we allow our customers to access that? Technology will bring buyers and suppliers closer. Can we in turn get access to their sales and continuously add value by having the right product in the right place at the right time?"
It's already happening to some degree, Mahtani explains. "Today as a company, we're not only responsible for manufacturing the product, we have to monitor sales, we have to replace the goods as they're sold…we've been doing this for 7-8 years.
"Every week we have to monitor what got sold by size, by colour, by SKU, and it eventually reaches the point where the customer says 'you've got all the information, write your own ticket'. This is the ultimate trust that you create between a supplier and a buyer."
Mahtani is also passionate in his belief that sustainability, social and ethical compliance are a moral responsibility for suppliers in such a labour-intensive industry – despite entailing huge investment and expertise.
He would like to see such costs divided "along the entire value chain – consumers, brands and suppliers – thus creating an ecosystem where all stakeholders share the responsibilities, the costs and the benefits of doing what is right. It feels like the sustainability task and cost are entirely and completely pushed down to the suppliers alone."
A new balance
Necessity is also likely to be another driver of change. "It's a time of choice – for the brand, the retailer, and the supplier."
With travel and factory visits on pause or limited, buyers are "not going to be able to get into our factories as often as before. So really this is a time for them to pick and choose the suppliers who care about quality and compliance – not those they need to patrol."
Likewise, the thorny issue of payments and supply chain financing should see both sides of the supply chain – buyers and manufacturers – gravitate to those who are financially sound.
"In the new world, our customers will expect our financials and certificate of good financial standing as part and parcel of doing business.
"By the same token, suppliers will probably only do business under secured payment terms. The factories can no longer be the de facto bankers of the industry with no collateral to protect themselves.
"A new balance needs to be found in the way the business is being financed. As a company, we want to focus on the product; we don't want to be worrying about how we get paid."
Next steps
As for the next steps, "a slow recovery and a claw back arresting the plunge in demand would be number one in our wish list versus expecting any miraculous recovery. We are extremely wary of another slowdown or a relapse."
That said, Mahtani continues to push Epic Group forward. "We're always looking at things with fresh eyes. Our factories are working, we're shipping, we're doing video calls and developing new product, we've started booking orders for the next season, we're launching new offices – and we're making masks."
It's this last development that epitomises the company's entrepreneurial spirit and its "relentless pursuit to create an agile organisation poised to be a supplier leading the way in the new way of working."
From a standing start just a few months ago, Epic Ethiopia this month begins commercial production of surgical masks at a brand new facility at the Hawassa Industrial Park. With a capacity of 6m masks a month, manufacturing takes place in a temperature, humidity and particle controlled environment using fully automated machines, with no human intervention in handling the masks to ensure the highest levels of hygiene.
"We continue to be bullish in the long term, Mahtani concludes. "We built our first plant in 2006, and we have come a long way. What we have done well is to clearly tell our customers we are in this for the long run. We make no excuses and provide solutions when we falter. We have always relished the challenge. We know the opportunities will come."