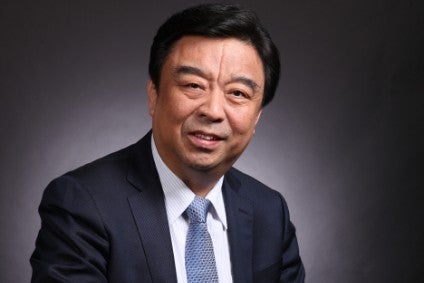 Qiu Yafu, chairman of Shandong Ruyi Technology Group, tells just-style how the Chinese textile and clothing conglomerate is weathering the storm thrown up by the challenges of the Covid-19 pandemic, the US-China trade war and the high cost of an acquisition spree over the last four years that has added international luxury brands and The Lycra Company to its portfolio.
As one of the largest textile and clothing manufacturers in China, Ruyi Group's vertical operations span everything from raw materials (cotton and wool production), spinning and weaving, dyeing and finishing, to apparel design, manufacturing and retailing. An acquisition spree over the last four years has added international luxury brands including Aquascutum, Gieves & Hawkes, Sandro, Maje and Claudie Pierlot, and specialty fibre maker The Lycra Company.
China has been ahead of the rest of the world in emerging from lockdown, and Ruyi Group chairman, Yafu Qiu, says the group's business is now fully "back to normal."
Nonetheless, he remains cautious looking ahead. "We are concerned that as this pandemic in other countries continues to worsen, it will affect our raw material supplies and orders in the future."
However, he is also confident the company is "well prepared to cope with the changes in this current environment," with the hit to its own fashion brands' traditional in-store sales partially offset since "our early preparation on e-commerce platforms helped us mitigate the current impact of the pandemic." Ruyi, which has more than 6,000 stores worldwide operating in 84 countries and regions, is currently "researching and formulating" relevant countermeasures, he adds.
For many brands and suppliers, communication internally and along the value chain has had to change after Covid-19 put a stop all non-essential travel. Technology has taken a front seat at Ruyi, with video conferencing helping the company to manage and operate its business.
Even so, Qiu says the relationship with its suppliers has not changed during the pandemic. "We started our business in Jining, Shandong province, where Confucianism deeply influences the culture. 'Win-win cooperation,' 'overcoming difficulties together' and 'one world, one family' are advocated by Confucianism, and they are rooted in our corporate culture and the cornerstone of our friendly relations with upstream and downstream partners."
Trade war
Despite its severity, the coronavirus crisis may have taken the spotlight off the challenges faced prior to the pandemic by the escalating US-China trade war.
While the conflict has had an "adverse influence" on the textile industry in China, Qiu says the challenges have also meant opportunities for "smarter" companies. "For companies that truly transform from 'Manufactured in China' to 'Created in China,' the impact of the China-US trade war is relatively small."
Ruyi Group has been in the process of transforming its business since 2010, shifting from a traditional textile giant to a world-leading fashion group. Ruyi currently owns four listed companies: Ruyi Woolen Garment Group, SMCP (the French luxury group that owns Maje, Sandro and Claudie Pierlot), Trinity Group (Hong Kong), and Renown Incorporated (Japan). The Lycra Company, which it bought last year, is in the process of being listed on China's Sci-Tech innovation board.
"Our strategy is to create Ruyi's own 'smiling curve' through its efforts in new technologies, smart manufacturing, and fashion brands. So far, we have not finished the journey of transformation, and the result has only been shown in its preliminary form. These transformation results make the impact of the trade war on us almost negligible," Qiu says.
"The acquisition of Lycra, completed in early 2019, was the only high-tech merger and acquisition project approved during the China-US trade war. The trade war cannot obstruct the development of Ruyi Group."
Building an industrial chain
Often referred to as 'China's LVMH' thanks to its acquisition of luxury brands, Qiu says Ruyi's strategy is very different.
"I don't think we are trying to duplicate another LVMH. Our strategy is fundamentally different from the traditional luxury goods groups and brand management companies, which rely on a capital operation. Our goal is to build an industrial chain through efforts in three areas: new technology materials, intelligent manufacturing, and fashion brands, to form an ecological series of the entire industry chain, instead of a parallel fashion brand matrix."
In terms of new technological materials, Qiu says its integration of The Lycra Group will allow Ruyi to develop into a "world-class giant" in the field of new fibres.
Ruyi has also built new industrial parks in Shandong, Ningxia, and Xinjiang, taking its total to 13 – helping its goal of creating a "one-stop internationally advanced intelligent industrial chain" from spinning, weaving, printing and dyeing, and garment manufacturing.
Prior to 2010, the group's primary acquisitions were domestic. Since then it has made a number of global purchases, particularly upstream in response to changes in domestic cotton prices, with its acquisition of Australia's Lorento Ranch, global wool management firm Rumpley, and wool property Larundel. US$300m was also spent on Australia's Cubbie Station cotton field.
Two years ago, plans were underway to invest $410m in its first facility in North America. It was intended that the Arkansas site would process more than 200,000 tons of cotton annually – almost all of the cotton produced in the state – spinning yarn for textile use.
While reports last year suggested the facility had got caught up in the crosshairs of US President Donald Trump's trade war with China, and that the plans had been abandoned, Ruyi says the project is still on the cards.
"The production positioning and other development plans of the factory need to be adjusted. That's why we are currently reassessing and planning our projects in Arkansas. Our team is re-planning the project, and we are not planning to cancel this project."
Meanwhile, the company has been locked in a dispute with Bagir Group after the Israeli men's clothing manufacturer threatened legal action over an unpaid $10m investment in the business. Shandong was looking to acquire a majority 53.7% stake in Bagir for $16.5m, but so far, just $3.3m has been paid. The Chinese firm is also said to have reneged on the delivery of production equipment.
For its part, Ruyi argues the industry has faced "great uncertainty" over the Sino-US trade war, and that Bagir's production has not performed as promised. Qiu says the two sides are currently "communicating." He adds: "I believe the problem will be resolved successfully."
Global ambitions
In the meantime, Ruyi's sights are set on growing its market share in Europe, which represents 29.9% of its garment export business. Africa is also on its radar, particularly Nigeria, Egypt and Mali.
Two years ago the group inked a US$2bn deal with the Nigerian Ministry of Industry, Trade and Investment for the country's first-ever cotton value chain from growing to garment making.
Qiu says the company plans to carry out "the entire industrial chain layout of textile printing and dyeing in Africa due to the rising cost of various domestic production factors."
"As of right now, we have reached some cooperation intentions with governments or partners in Nigeria, Egypt, and other countries, and we have sent professionals to conduct field research and negotiations on many occasions."
As the investment projects are at the planning and preliminary stages, Qiu declined to put a figure on the company's overall investment in Africa.
Tripartite confrontation
With more than 20 fashion labels under its belt, the chairman says the future for Ruyi will be in using "big data and other means" to form a "tripartite confrontation" with new technology materials, intelligent manufacturing, and fashion brands.
Technology, in particular, appears to be playing a crucial role for Ruyi in determining how it moves forward and handles the current challenges coming its way.
"A straightforward and understandable principle is that whoever has mastered technological innovation has the power of discourse and the bargaining power in the industry," Qiu explains. "Enterprises without technological innovation will be the first ones to be eliminated as external factors change. And obviously, it is common for external factors to change, such as the trade war."
This technology extends to its sustainability efforts, which surprisingly for a company of its size, it reveals few details about. Ruyi's website offers only details of its green energy but Qiu says the company has invested from green design to production technology. It is also a member of the Fashion Pact launched last year to reduce the industry's negative environmental impact.
Much like the tariff war, the Covid-19 pandemic, Qiu says, has had "no retrogressive impact at this moment" on its sustainability investments.
"Ruyi's vertical industrial chain is committed to sustainable development from beginning to end. Adhering to the belief of environmental protection, Ruyi has always strived to build a cleaner, safer and greener sustainable development pattern.
"As the leading textile company in China, some of our explorations in technological innovation, such as low water and waterless printing and dyeing, will have a "revolutionary" impact on sustainable development not only on us but also on the entire industry."
Qiu appears to have a relatively pragmatic approach to dealing with the challenges the industry has thrown its way. "It is normal to encounter all kinds of problems in the process of enterprise development, and no matter how big or complicated the problems are, they must be solved step by step."
And what of the industry as it is now? What can it learn from this pandemic experience?
"The problem Ruyi faces is a common problem of the entire Chinese textile industry. It is in a low value-added position in the industrial value chain. If it does not exert efforts at both ends of R&D, design and branding, it will always be at the low end of the industrial chain."
Following the interview with Ruyi Group chairman Yafu Qiu, it emerged that the company's Japanese apparel maker Renown Inc had filed for bankruptcy protection with around JPY13.9bn (US$130m) in debt – including JPY5bn from a Ruyi Group affiliate. There have also been reports that Ruyi Group itself is facing increasing financial pressure after spending billions of dollars on acquisitions. We put these questions to the company, and its responses are as follows:
Renown filed for bankruptcy last month. What were the main reasons for this?
The Covid-19 pandemic was the direct cause of Renown filing for reorganisation. In March 2020, the Covid-19 pandemic began to spread in Japan, causing department stores, general merchandise stores, and other commercial facilities to limit operations nationwide. Travel restrictions enforced on consumers caused changes in their shopping patterns, which led to a sharp decline in Renown's sales. With the Japanese government's implementation of the national emergency declaration, almost all department stores, general merchandise stores, and shopping centres across the country were closed. Renown has been in a state of near no sales from its primary sales channel for nearly two months.
Of course, speaking from a deeper level, there are other reasons for Renown's current situation. Ruyi Group saved Renown by funding CNY4bn in 2010 when Renown's operations were at stake. In 2013, we also implemented a second capital increase of CNY3bn to help Renown to continue its development. Through our helping hands and further support, Renown was able to survive. With our active guidance, Renown reformed its business by drastically integrating the brands and stores that were not profiting and improved business efficiency and reduced costs. Renown's main business was profitable in the second year of Ruyi's funding.
However, due to the rapid changes in the market and consumer behaviour, Renown's management failed to keep up with changes, failed to develop new sales channels and research and develop products based on different countries' consumer preferences. Renown failed to develop e-commerce business in the new retail era, resulting in the loss of consumers from its main sales channel. Renown also failed to seize [ the rapidly developing Chinese apparel market to seek further growth, leading to severe losses in its brand business in 2018 and 2019, resulting company's significant loss of cash flow.
What is your response to reports that Ruyi is facing increasing refinancing pressure following the purchase of a number of European and Asian brands?
Our focus this year is to continuously utilise fashion capital to optimise the asset allocation of Ruyi Group. We have formulated the 2020-2022 enterprise reform and development plan. We are currently utilising the three company listing platforms – China A-Shares, Japan Tokyo Exchange, and Euronext – actively promoting the capitalisation of stock assets. Through listing and debt-to-equity swaps, we can achieve debt slimming and reduction, thereby effectively reducing the asset-liability ratio, improving profitability and debt repayment ability, and achieve our development blueprint. As for the decline in revenue, the Covid-19 pandemic is spreading worldwide, which restricted the economic development of various countries and caused severe adverse effects on the survival of enterprises and daily life. Due to the virus, our first-quarter revenue also declined. We believe that as the pandemic is gradually brought under control, especially since we have fully resumed production in February this year, the company's business performance in the second quarter will improve from the first quarter.