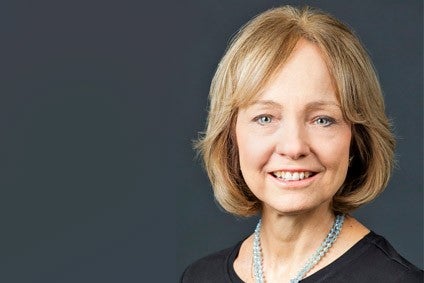 Performance fibre specialist The Lycra Company is ramping up its Planet Agenda sustainability platform, developing more solutions for the circular economy and taking a broader look at the issues from design to consumer – as sustainability director Jean Hegedus explains.
As the global fashion industry faces increasing pressure to reduce its impact on the environment, companies along the entire supply chain are collaborating to try to help brands and retailers achieve their sustainability goals and scale solutions for a circular economy.
At the start of the process sit fibre producers such as The Lycra Company, whose Lycra spandex/elastane, Coolmax, Thermolite and T400 polyester are found in virtually every apparel category, including ready-to-wear and denim, activewear and athleisure, lingerie and underwear, hosiery and socks, as well as swimwear.
"We're working with a variety of companies up and down the distribution chain to make products more sustainable," Jean Hegedus, The Lycra Company's sustainability director, tells just-style.
"Developing products that fit into the circular economy is really where the bulk of our focus is, and probably the most challenging part is how do you bring that to scale, not just for ourselves but for the industry as a whole."
Designing for the circular economy – essentially replacing the traditional linear 'take-make-waste' process by minimising waste and using materials that can be recycled and reused at the product's end of life – "requires a whole different mindset and can require developing new business models. You have to start at the design stage and it involves change. Sometimes that means looking at your business in a whole different way.
"There is a lot of great work going on out there and a large number of different pilot projects, so how do you bring them to scale? Today, less than 1% of clothing is being recycled, so there are both technical and logistical challenges, and solutions won't come overnight." But, given the number of projects underway and the fast pace of technology change, Hegedus believes the industry will get there.
She also points to technical issues in solving garment-to-garment recycling, as well as logistical problems that need to be addressed, such as getting consumers to drop off clothing at collection points for recycling versus disposing of their apparel.
Planet Agenda
The Lycra Company was formed almost exactly a year ago when Shandong Ruyi Investment Holding, one of the leading textile and apparel companies in China, acquired Invista's Apparel and Advanced Textiles business (A&AT). An independent subsidiary, it operates in 14 countries with eight manufacturing facilities and five R&D centres.
Among its most recent moves, the company has ramped up its Planet Agenda sustainability platform with the launch of its first branded elastane made with pre-consumer content.
The new Lycra EcoMade joins other fibres in the EcoMade recycled product range, which now spans the majority of its apparel fibre brands, including Lycra, Lycra T400, Coolmax (moisture-wicking and breathable polyester) and Thermolite (hollow-core insulation) fibres. The company plans to convert the majority of Coolmax and Thermolite fibre products to recycled PET, rather than using virgin polymer, by the end of 2021.
Having launched its Planet Agenda platform over a decade ago in 2008, "we felt there was a lot we were already doing and we wanted to make the industry aware of that but also our new developments as a new company," Hegedus explains. "We're very conscious of the need for transparency and are working to achieve that."
She also points out that "many brands and retailers have developed preferred fibre strategies…so that is definitely having an impact on sourcing decisions."
The Planet Agenda platform "focuses on providing insights, technologies, products, and processes that can contribute to a more sustainable industry," and is built around three pillars: corporate responsibility (including the fair and ethical treatment of its employees, and being a good corporate citizen in the communities in which it operates), manufacturing excellence, and product sustainability.
In terms of manufacturing excellence, one key area of focus is energy intensity. "Two of our plants have already reduced their energy intensity by more than 20% and half are well past the 10% mark," Hegedus says. A number of facilities have also started programmes to recycle and purify the water they use, generating "a significant reduction in our water consumption."
Under its product sustainability pillar, reducing waste is a key focus for the company. "Developing products that fit into the circular economy is where the bulk of our focus is, and probably the most challenging part is how you bring that to scale, not just for ourselves but for the industry as a whole."
Less than 1% of its Lycra fibre production is sent to waste "and we're trying to reduce that even further." The new Lycra EcoMade, for example, takes Lycra fibre waste from manufacturing sites that would potentially have gone to landfill, "and puts it back into fibre production" by blending it with virgin content at specific concentrations.
Innovation stations
The demand for more sustainable fibres has also led The Lycra Company to ramp up its R&D capabilities with the opening of a new Advanced Textile Innovation Center (ATIC) in China in May last year.
Located in Nanhai, it is the company's fourth globally and second in Asia (the others are in Thaiwan, Delware and Virginia), and its aim is to help mills, brands and retailers create innovative fabrics and garments using the firm's branded textile solutions. A research team at the centre will also work on the development and commercialisation of new polymer, fibre and textile technologies.
"These labs are like the textile industry in miniature," Hegedus explains. "They have weaving, knitting, dyeing, finishing. When we have a new fibre, we're doing a lot of the initial work there on how it performs in downstream processing. We also have equipment for testing fabric, yarn and fibres. If things go well there we take it out to some of our customers to prove out on a larger scale."
The key is to have the R&D centres in close proximity to customers. "Many of our customers will come and visit the lab and often we will be working collaboratively with a brand or retailer on a new development and this is where we can do a lot of testing and prove that."
Shared responsibility
The issue of collaboration to drive change in the industry also crops up at the other end of the value chain.
"Even ingredient manufacturers like ourselves need to be doing our part [in educating the consumer]. One of the things we have seen in research is consumers say they would like to buy an ethical or environmentally-conscious product but they don't necessarily know where to find them. So that is part of it as well – identifying your product so the consumer has a cue for when they are looking for something more sustainable. You make it easier for them to find."
"In Europe we are seeing a lot more advertising on issues related to sustainability, and that has really helped to increase consumer awareness.
"Research shows that once consumers understand what the issues are they are more motivated to change their behaviours."
Cost is another challenge: "In some of the consumer research we've done, you see that the consumer is only willing to pay up to a certain percentage for products that are sustainable. There are a fair number of consumers that think this is just the right thing to do. And in some cases that's possible but in other cases it really does cost more. Especially at the beginning when you're not necessarily at scale to drive a new technology.
"It's something that's going to take time to get people to understand, which is why consumer communication is critical."