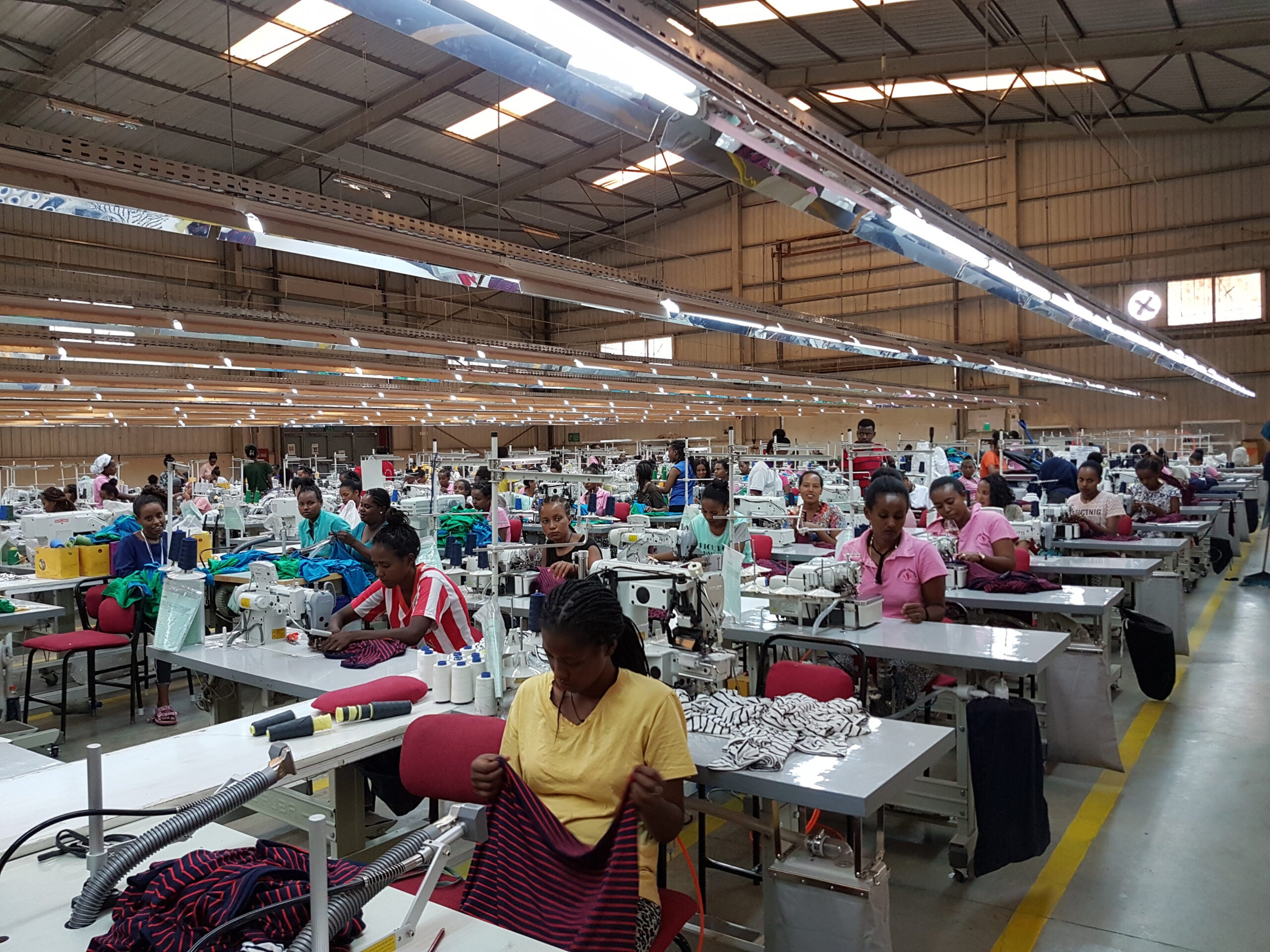 Over the past three years, the Tony Blair Institute for Global Change (TBI) has worked with several governments in West Africa – specifically Cote d'Ivoire, Ghana, and Togo – to support the development of a best-in-class and sustainable textile and apparel sector that meets the needs of international retailers and consumers. TBI aims to facilitate manufacturing investment into the sector by helping to create top-of-mind awareness about West Africa's potential to become a vertically integrated textiles and apparel sourcing destination.
Just Style discovers why TBI is focusing on West Africa and why Ahiable believes the region is one of the last frontiers for sustainable yet competitive apparel manufacturing.
"First, it's largely greenfield with few of the legacy challenges experienced in other regions. This offers a ripe opportunity for investors and manufacturers to start from an almost clean slate, which is key as the apparel industry makes strides toward a more environmentally sustainable footprint," she tells Just Style exclusively.
In addition to raising awareness about the region's suitability to grow a viable textile and apparel sourcing hub, TBI also works to facilitate investment into priority countries.
Specifically, its role has centred around supporting partner governments' business development drives by liaising on relevant sector strategies and reviewing policies; as well as designing attractive investment incentives; and attracting interest in the region from relevant fashion trade actors.
In her current role, Ahiable coordinates the Institute's regional textile and apparel project which aims to support the development of a best in class, sustainable, and circular cotton-to-apparel manufacturing hub across five West African countries.
How well do you really know your competitors?
Access the most comprehensive Company Profiles on the market, powered by GlobalData. Save hours of research. Gain competitive edge.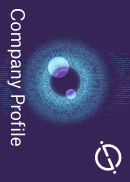 Company Profile – free sample
Thank you!
Your download email will arrive shortly
Not ready to buy yet? Download a free sample
We are confident about the unique quality of our Company Profiles. However, we want you to make the most beneficial decision for your business, so we offer a free sample that you can download by submitting the below form
By GlobalData
The project aims to target Europe, the UK, and North America for consumer markets, and manufacturers and mills mainly based in Asia, as strategic investors to develop the domestic production ecosystem.
West Africa: The last frontier
Other factors account for TBI's assertion that West Africa has the potential to become a vertically integrated textiles and apparel sourcing destination, including the region's sustainable cotton.
"80% of West Africa cotton is rainfed and hand-picked, 80% is classified as preferred cotton, and 90% is currently exported unprocessed, which provides huge scope for investment. We are seeing increased interest from investors to harness this immense economic opportunity," Ahiable says, pointing to a new investment by industrial park developer and operator Arise IIP to build a 400-hectare eco-industrial park dedicated to textiles and apparel manufacturing in Togo.
Other draws include the region's geographical proximity to Europe and Noth America, its youthful population offering what Ahiable calls "trainable and accessible labour", and its favourable sector policies.
"When you look at Europe to Morocco on the map, you'll notice countries such as Senegal, Cote d'Ivoire and Ghana are pretty much less than two weeks away from the main consumer hubs by sea, which is also a more sustainable mode of transportation," she says.
Exclusive video interview: West Africa's potential for vertical integration
Ahiable tells Just Style it's that potential for vertical integration, from cotton processing to apparel manufacturing, that makes West Africa stand out from other regions within the continent.
West Africa vision: A circular textile economy
As to whether the region can become "the next Ethiopia", Ahiable says: "In terms of how fast Ethiopia developed, that would be great."
But TBI believes there is an opportunity for something new.
The vision includes West Africa's potential for a circular textile economy and in addition to the main retail regions, the growing online retail market in Africa as a whole. This is estimated to increase to US$75bn by 2025 with projected $3.4 trillion aggregate GDP under the African Continental Free Trade Agreement (AfCFTA).
"West African textile and apparel small and medium-sized enterprises (SMEs) very much want to scale and tap into the regional market as well as international," Ahiable asserts, adding global retailers can also use this as a launchpad into the growing continental market, with free movement of goods and services under the agreement.
With regards to other African competitors, Ahiable points to four key factors that set West Africa apart and notes: "Development finance institutions (DFIs) and development partners recognise these natural advantages and are supporting viable businesses and initiatives that facilitate vertical integration, backward linkages for the cotton value chain, and circularity."
Key benefits of using West Africa as a sourcing destination include:
The region's natural geographical proximity to the main consumer markets of Europe and North America gives it a near-shore advantage, with its ports less than two weeks away from those in Europe, such as Antwerp and Hamburg, by sea.
The concentration of premium, sustainable cotton with free movement of goods and services under Economic Community of West African States (ECOWAS) and now AfCFTA.
It has stability and a conducive investment environment with agile governments who have demonstrated their readiness to facilitate the needed investments.
Countries like Ghana with large import of secondhand clothing have strong potential for a circular textile economy by developing initiatives like with the West Africa Regeneration Zone (WARZ) project.
Yarn to garment pilot
As part of the WARZ initiative, TBI is supporting a group of actors to pilot a yarn to garment facility in Ghana that transforms post-consumer waste into a raw material.
"WARZ aims to support the development of a sustainable and circular textile and apparel supply base in West Africa where post-consumer textile waste is recycled at scale and becomes feedstock for making new apparel. This would be underpinned by disruptive recycling and traceability technology.
"In our role as non-vested convenors and facilitators, we are convening a consortium of stakeholders to work on a pilot in Ghana, which is the world's number two importer of second-hand clothing. Members include a North American-based recycler, brand partners, domestic textile manufacturers, and development partners," Ahiable says, adding preliminary scoping puts the project size at more than US$500m with the potential to generate over 60,000 jobs along the value chain over the next five to ten years.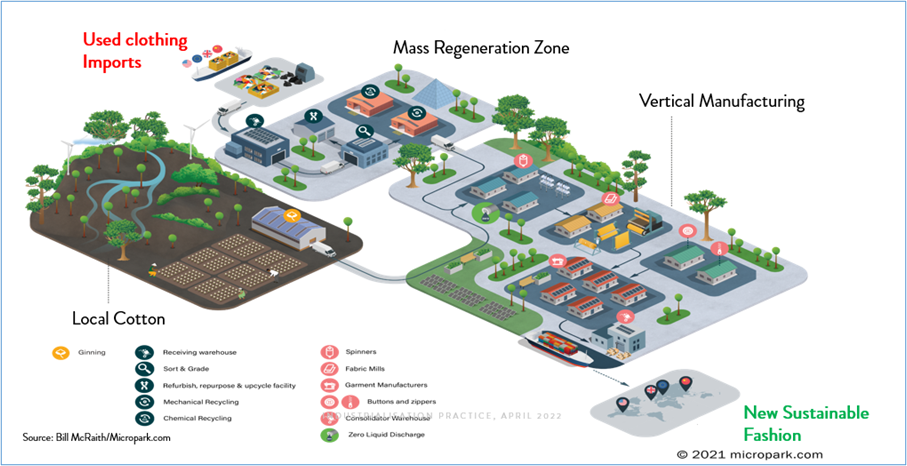 What's more, in contrast to other African destinations, Ahiable notes there is a long record of democracy and stability in the priority countries TBI works with, which makes the region a stable and attractive market for brands and investors.
"Ghana, for instance, has been consistently ranked the number two most peaceful country in Africa, with a consolidated democracy with over 30 years of multi-party democracy that feature frequent, robust elections and power changing hands."
"The right ingredients"
Despite all of the region's potential, Ahiable notes there are challenges to scaling West Africa as a sourcing destination to rival the likes of China and Asia – among which, unsurprisingly, is investment.
"While its relatively greenfield nature has many appeals for investors looking to build best-in-class platforms from scratch like the Arise eco-park in Togo, this also means a critical mass of funders is needed to make this happen. Covid, and more recently instability in Ukraine, have been risks for the project as capital becomes more conservative during these periods for projects like this.
She also acknowledges what she calls a "wait and see attitude", pointing to reluctance by several investors to be the first movers after experiencing challenges elsewhere.
"So those are challenges but that's why TBI is doing what we're doing, preaching about the advantages the region has for commercially viable sustainable apparel manufacturing which we really believe is the future of apparel manufacturing. The industry is moving toward having a more environmentally sustainable footprint and we believe West Africa has the ingredients to help offer that sustainability to industry.
"We have many years ahead of us, but the governments and private sector actors are very determined."
Ahiable is also realistic about the impact of the secondhand clothing trade with sub-Saharan Africa. Concerns continue to be raised about the situation, which some say is hobbling the development of the region's clothing and textile sector.
"Unfortunately, this is a global issue which West Africa is not excluded from," she tells Just Style.
"There is a market for secondhand clothing, and that's why the supply chains are routing the bales here. However, there is also a fast-growing global market for fabrics made from recycled materials as brands and manufacturers take steps to make their footprint greener.
"We are exploring practical solutions, particularly through the recycling project which ploughs back unsold clothes into the textile manufacturing economy. This not only reduces the need for virgin fibres, but with the scale envisioned for the regional textiles and apparel manufacturing project, it increases the fabric feedstock available for manufacturers and serves to differentiate the region as the destination for circular apparel sourcing."
Gathering momentum
While the pandemic has posed a risk, it has also highlighted the weaknesses of the apparel industry's supply chains, including the sector's tendency to rely heavily on Asia, and China. Seeing these supply chains judder to a halt in the face of the crisis led to a number of businesses attempting to diversify their sourcing and no longer rely so heavily on one location – a boon for the TBI project.
Ahiable says while the early stages of the pandemic slowed a lot of things down, since the world has opened back up, TBI has seen a lot of engagement from brands and retailers when organising events, and a lot more interest in scoping the sub-region.
Beyond general interest, she also points to practical examples such as moves made by Arise, Northshore Apparel, and activewear specialist DTRT Apparel.
In addition to the eco-park in Togo, which Ahiable describes as a "haven for sustainable apparel manufacturing, Arise Group is investing in two vertically integrated knit apparel units which will start commercial operations from October of next year, while Northshore Apparel is setting up a 10,000-worker factory in Ghana.
Elsewhere, DTRT Apparel, which Ahiable describes as the region's largest apparel exporter, is jointly scoping the feasibility of establishing a synthetic fabric mill in Ghana as part of a recent deal with the International Finance Corporation (IFC).
"What we also see is an increasing appetite from retailers who are already sourcing from the region to expand their order footprint. I can point to The Children's Place (TCP) and SanMar who are doing this, thereby actively supporting their domestic suppliers to scale. While, many other big brand names are actively scoping the region," she adds.
"All of that, together with brands and retailers showing they want to diversify and connect with the manufacturers already in the country is encouraging."