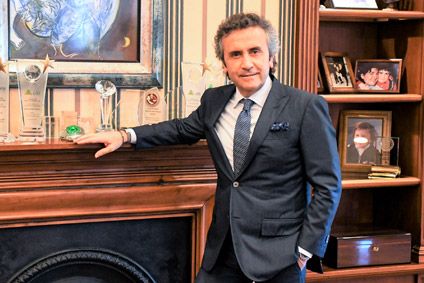 Despite the upheaval of the global coronavirus crisis, the future looks bright for Turkish textile and garment mega-producer Yesim Tekstil with European brands increasingly seeking vertically integrated suppliers, sustainability and options to near-shore production. CEO Senol Sankaya tells just-style how the company adapted to the pandemic, and why it is optimistic going forward.
Like its peers, the past few months have been far from business as usual for Yesim Tekstil, which switched over to manufacturing face masks when the coronavirus pandemic hit and clothing orders sank.
As one of Turkey's largest apparel and textile suppliers, it was one of the more proactive mask manufacturers, starting production as early as January on forecasting demand would soar as virus protection became a priority. But Sankaya is not afraid to be brutally honest about the impact the pandemic has had on the group's day-to-day production.
The company supplies the likes of NIKE, Under Armour, Zara, Pull & Bear, Bershka, Esprit, Tommy Hilfiger, Tommy Jeans, Lacoste, Polo Ralph Lauren, Calzedonia, Guess, Aldi and Tchibo. It has forecast turnover and exports will take a 20% hit in 2020 compared to the year before.
Yesim began manufacturing face masks under its YSMGuard brand, using two different fabrics that it says are 99.94% effective in reducing the coronavirus (Covid-19). The masks, developed in cooperation with biotechnology specialist HealthGuard, are washable up to 25-50 times, making them sustainable over a longer-term.
"We have managed to utilise our idle production capacity, albeit partially, by manufacturing face masks," Sankaya explains. "Thus, we are able to maintain our employment level and to support the government's efforts to fight the consequences of the epidemic, by continuing to manufacture products both for domestic and international markets. We are seeing strong demand both from our domestic and international contacts.
"This struggle is not only about business results but also about social responsibility."
"This struggle is not only about business results but also about social responsibility."
It's a tale that will likely be a familiar one to many a garment manufacturer after international brands and retailers cancelled orders, extended payment terms and demanded discounts after they shuttered stores to try to halt the spread of the virus.
Q1 sales sink
According to the latest available data from the Istanbul Ready Wear and Apparel Exporters Association (IHKIB), Turkey's apparel and garment exports fell 6.1% year-on-year to US$4.2bn in the first quarter. The country was "deeply affected" by the pandemic impacting the world economy. Going forward, it also predicts the effect of the UK leaving the European Union will result in a further contraction in Turkey's exports.
Thanks to its close proximity to the European Union and duty-free access through the Euro-Mediterranean Economic Partnership Agreement and the EU Customs Union, Europe is the largest market for Turkey's ready-made garments.
Within this, Germany, Spain and the UK are the largest customers – but the first fiscal quarter saw shipments to Germany fall 2.3% to US$751.1m, decline 11.4% to Spain to $508.2m, and drop 15.1% to the UK to $392.5m.
IHKIB has issued a plea for a government support package for the sector, noting store closures and declining retail sales led to a sharp fall in clothing and apparel exports in May.
A whole new world
For Sankaya, who became general manager of Yesim in 1987 before being promoted to CEO, the challenges Covid-19 brought completely disrupted the supply chain as he knew it.
Yesim, which first began production in 1983 as a strategic partner to world-leading ready-to-wear and home textiles brands, has a daily production capacity of 50 tonnes of knitting, 60 tonnes of dyeing, 100,000 metres of printing and 150,000 pieces of ready-to-wear, and claims to be one of the few integrated facilities in the ready-made garment industry that can carry out all operations from yarn to finished product under the same roof. The company is also among the biggest employers, with 4,000 workers in Turkey, many of whom are women.
Social distancing and new hygiene measures were among the first measures introduced in March as the first cases were seen in Turkey. "The first action is to preserve the health of our employees; we have made the necessary investments for this, installing thermal cameras, reviewing and revising all the production processes at our manufacturing plant.
"We divided the garments department into two sections and two shifts to maintain social distancing at the production area. We adopted a resolution to suspend production and all other activities in our company between 30 March and 20 April and used this period to accelerate our efforts to take appropriate measures against the Covid-19 pandemic.
"We have made significant revisions on our occupational health and safety budget, increasing it by 51%. We have also revised the annual budget allocated to our healthcare and personnel department. We have set up a crisis desk comprising our executives with a view to fighting with the Covid-19 pandemic. We have increased the number of our commuter shuttles, cutting their seating capacity in half. We have also shut down most areas of congregation.
"We have been disinfecting the entire manufacturing plant periodically on a regular basis since the outbreak of the pandemic, and we have made the masks manufactured in our plant available to our employees before launching them on the market."
The safeguarding measures are likely to continue for the foreseeable future as Yesim adapts to a "new normal."
Top of this list
"We [production] were adversely affected by the pandemic during its initial stages as demand declined due to closure of the shops of our customers in Europe in March and in the US in April," says Sankaya. However, the European market began to recover in early June, triggering new demand.
"Turkey is a prominent sourcing hub to this end as it is both 'near the shore' and 'close to market.' Since major buyers were left with undeliverable high stocks in China and the Far East with the start of the pandemic, they gravitated towards the Turkish market."
"Previously cancelled orders were re-placed, followed by new orders as a result of the recovery of the European market and increasing demand in Turkey. European brands, in particular, tend to supply their instant needs from Turkey. Turkey is a prominent sourcing hub to this end as it is both 'near the shore' and 'close to market.' Since major buyers were left with undeliverable high stocks in China and the Far East with the start of the pandemic, they gravitated towards the Turkish market.
Despite taking a hit this year, he is expecting "high demand" for the Turkish market in 2021, where production capacity is available to "meet all purchase orders that might be placed."
Sankaya says brands started to transfer their products and ancillary accessories to supplier countries with an integrated manufacturing infrastructure, as a measure to protect them against sales losses during the pandemic.
"These countries and companies have gained prominence and Turkey is at the top of this list. Manufacturing companies in our country are highly suitable for vertical operations thanks to their totally integrated structure."
Going forward, he predicts more and more brands will be looking to partner manufacturers that can boast an integrated service, particularly as factors such as sustainability and traceability grow in importance among consumers.
Nearshoring and sustainability
Yesim Textile operates from a 325,000 square metre facility, with 144,000 square metres of covered production space, in Bursa in northwest Turkey. In addition to the production facility in Turkey, it has factories in Egypt and a production facility in Moldova. It also contract manufactures within Turkey and exports 90% of its production.
Sankaya says that until now it had suited brands, economically, to work with manufacturers whose operations spanned several countries. But the hiccup to supply chains brought about by the pandemic has forced a rethink.
"The pandemic has demonstrated the cruciality of using the world's resources more carefully and economically once again. Consequently, all brands bearing environmental responsibility prefer integrated companies and countries with integrated structure over others with a view to reducing their carbon footprints."
"As the number of countries where a product is processed increases, the manufacturing carbon footprint of that product also increases. However, the pandemic has demonstrated how crucial it is to use the world's resources more carefully and economically. Consequently, all brands bearing environmental responsibility prefer integrated companies and countries with integrated structure over others with a view to reducing their carbon footprints.
"Our company attaches utmost importance to social compliance and sustainability efforts. We have held the SA 8000:2014 certificate, one of the most prestigious social compliance certificates in the world, since 2005. We are the first Turkish garment manufacturer to receive this certificate. This certificate guarantees Yesim's compliance with a social accountability policy that conforms to SA 8000:2014 Social Compliance Standards at the highest level. We are the first company in Turkey which was entitled to receive the Oeko-Tex STeP (Sustainable Textile Production) certificate, one of the most significant sustainable production commitments in the world, in 2015, and we manage to maintain this certificate through annual audits."
Other efforts include waste reduction and recycling activities.
"We manufacture our products in line with 'Green Factory' practices, and act as a role model for our employees, customers, contract manufacturers and suppliers and raising public awareness in this issue. We have succeeded in integrating our long-standing environmental efforts to our work processes. We have taken steps to save water and energy and to support sustainability through the projects we have implemented so far. We commissioned our in-house treatment plant in compliance with international standards in 2000, which is one of the first examples of its kind with a daily water treatment capacity of 7000 metric tons."
On the social sustainability front, the group was selected as a pilot firm in the Social and Labor Convergence Program (SLCP), which launched at the end of 2015 with the aim of improving labour conditions in global supply chains through the creation of sustainable remediation. The group operates a 'People First' philosophy and it is all measured by KPIs. Consequently, the future challenges that Covid will leave behind, requiring manufacturers to put their green foot forward, is not much of an ask for Yesim, Sankaya concludes.
"Our infrastructure helped us to take action to revise our processes through the new measures implemented during the pandemic. I can frankly say that it was not much of a challenge for us to adapt to the fight against the pandemic. I sincerely believe that these strengths will increasingly attract buyers to our company.
"Under the light of all these parameters, we can comfortably assert that both our sector and our company are positioned well for a strong recovery and can rapidly compensate for current losses."