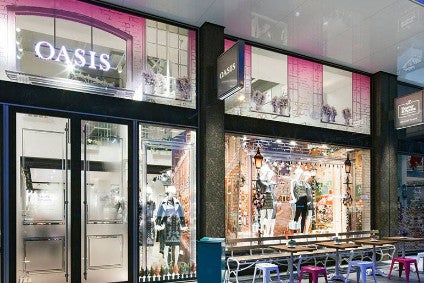 The Oasis and Warehouse Group is to cease trading online and close all stores indefinitely after administrators were unable to secure a buyer for the fashion business.
The joint administrators of the group – which includes Oasis and Warehouse Limited, Oasis Fashions Limited, Warehouse Fashions Limited, The Idle Man Limited and Bastyan Fashions Limited – confirmed they have been unable to rescue any part as a going concern. The move will result in more than 1,800 redundancies.
However, some stock and intellectual property assets associated with the group have been sold to investment firm Hilco Capital.
Rob Harding and Richard Hawes, restructuring partners at Deloitte, were appointed as joint administrators on 15 April. At the time of appointment, the business operated from 92 branches across the group's leasehold stores, with 437 concessions located in third party retailers.
Following their appointment, the joint administrators carried out a "rapid assessment" of the costs associated with maintaining the business in the short-term to allow sufficient time to sell the business and/or re-open the stores after the Covid-19 lockdown.
However, on 22 April the decision was made to temporarily stop online trading as a result of rising costs of fulfilling online orders and associated logistical challenges. As a result of this, and as it became clear that a sale of any part of the business as a going concern would not be possible, the decision was taken to accelerate a sale of some of the group's assets.
"Covid-19 has presented extraordinary challenges which have devastated the retail industry," Harding said. "It is with great sadness that we have to announce a sale of the business has not been possible and that we are announcing so many redundancies today. This is a very difficult time for the group's employees and other key stakeholders and we will do everything we can to support them through this.
Sofie Willmott, lead analyst at data and analytics company GlobalData, notes like the Gordon Brothers' rescue deal for Laura Ashley, Hilco's purchase of the Oasis and Warehouse brands excludes their store portfolios, bringing yet more bad news for retail landlords that have already been hard-hit by the Covid-19 pandemic.
"With the online channel accounting for almost 30% of UK clothing and footwear spend in 2019 and the shift to digital being accelerated in 2020 due to non-essential store closures, companies buying up retailers are not interested in their physical estate.
"Oasis and Warehouse operated around 90 standalone branches – a far smaller estate than many of their competitors – but were present in over 400 department stores which will leave struggling retailers like Debenhams and House of Fraser with gaping holes in their womenswear stock when they are able to reopen.
"With more clothing specialists at risk of collapse over the next few months as demand for fashion items remains depressed, department store retailers are at risk of losing more of their third-party brands."