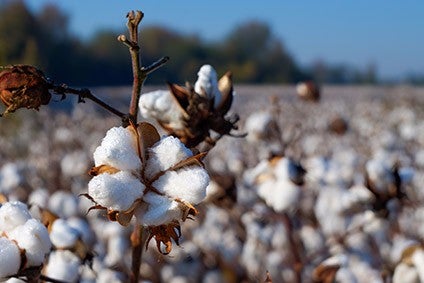 Another 23 apparel and footwear brands including Adidas, Burberry and Timberland have joined a pledge to use 100% sustainable cotton by 2025.
The move means the so-called Sustainable Cotton Communiqué has now been signed by 36 major brands and retailers, according to an announcement at the annual Textile Exchange Sustainability Conference in Washington DC.
The programme launched earlier this year by the International Sustainability Unit (ISU) led by HRH Prince of Wales, in collaboration with Marks & Spencer and The Soil Association (UK).
The pledge demonstrates there is a demand for more sustainable cotton and the commitment made by companies will help to drive sustainable practices across the sector.
"In turn, this will help alleviate the environmental and social costs that are too often associated with cotton production, including the over-use of pesticides, the release of greenhouse gases, the depletion of local water sources and rising costs of production," Textile Exchange adds.
While there have been "substantial gains" in scaling the production of sustainable forms of cotton – which now stands at over 3m tonnes – companies are actively sourcing just one-fifth of this.
"In order for sustainable cotton to become standard business practice, the amount of sustainable cotton grown and bought must increase significantly. This pledge sends a signal to millions of producers that there is a real demand for a more sustainable approach to cotton production that reduces the environmental and social costs.
The updated list of 36 brands that have now committed to the 100% by 2025 pledge is:
ASOS
EILEEN FISHER
Greenfibres
H&M
IKEA
Kering
Levi's
Lindex
M&S
Nike
Sainsbury's
F&F at Tesco
Woolworths
Adidas
A-Z
BikBOk
Burberry
Burton Snowboards
Carlings
Coyuchi
Cubus
Days like This
Dressmann
Hanky Panky
House of Fraser
Indigenous Designs
KappAhl
Kathmandu
Mantis World
MetaWear
Otto Group
prAna
SkunkFunk
Timberland
Urban
Volt
Wow
Launched separately at the event were two reports; one investigating pesticide use in cotton, and another that found sustainable cotton production is now replacing genetically modified (GM) cotton in India.