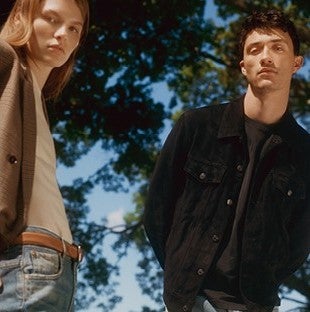 Traceability Powered by FibreTrace is the newest initiative within 7 For All Mankind's Sustainable For All Mankind platform. It consists of ready-to-wear and denim styles across both men and women, backed by FibreTrace's traceability technology, and incorporates what it calls the world's first third-party verified carbon-positive cotton, Good Earth Cotton.
FibreTrace technology is described as an indestructible, luminescent pigment embedded into the raw fibre. The pigments can be tracked throughout the supply chain, and are read and verified prior to the garment's distribution.
"This groundbreaking insight into the supply chain and manufacturing practices empowers us to make more informed decisions, driving continued progress towards our Sustainable For All Mankind platform objectives," says Sylvia Gonzales, director of fabric and trim for 7 for All Mankind.
With its 'Sustainable For All Mankind' platform, the company has put forth the goal that 80% of its product will have sustainable properties by 2023.
It continues to introduce new initiatives to its global platform and track progress within the brand's sustainability pillars of materials, manufacturing, and mankind.
FibreTrace is a patented technology that traces, verifies and audits fibre in real-time at each step of the global textile supply chain. Fibre, yarn, fabric and finished goods are identified and quantified, connecting the physical fibre to a secure blockchain specifically designed and engineered for the textile and apparel supply chain, with consumer interface capabilities.
Real-time results and data housed on the FibreTrace platform can be accessed live and securely.