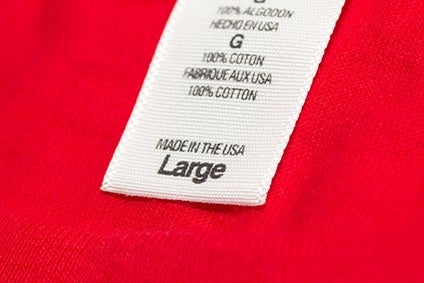 The SB 62 Durazo bill aims to stop exploitation of California's garment sector workers and to stop issues such as wage theft.
But the AAFA says that while "well-intentioned" it would impose unprecedented joint liability on businesses with no control over garment workers and could drive manufacturing out of California.
Existing law makes garment manufacturers liable for guaranteeing payment of wages to employees of their contractors. It also expands the definition of garment manufacturing to include dyeing, altering a garment's design and affixing a label to a garment. It prohibits payment on a per piece basis and imposes statutory damages of US$200 against a garment manufacturer or contractor, payable to the employee, for each pay period in which the employee is paid by the piece rate.
But the AAFA says while it strongly supports the protection of labor rights for all workers in the apparel and footwear industry and that there are elements of the bill which it supports, the brand guarantor provision, creating joint and severable liability "represents an extraordinary misunderstanding of who is responsible for the payment of workers' wages and will worsen the situation of garment workers by creating an exodus of brands from California and subsequent job loss."
"This will only exacerbate the economic pressures behind the situation the legislation is intended to avert," said AAFA president Steve Lamar in a letter.
Presently, all businesses engaged in garment manufacturing must register with the California Labor Commissioner and pay a registration fee. If a worker experiences a labor violation, their employer as well as any manufacturer who contracts directly with the employer is jointly liable.
"SB 62 significantly expands this joint liability by creating per se joint liability between the employer, manufacturer, and any other company in the garment supply chain, including licensors. The bill, as currently drafted, does not recognise that brands or buyers may have little to no control over how a particular garment factory employer manages their payroll or enterprise finances. Further, any "brand guarantor" would be liable for the worker's entire wage claim, not only wages for time spent on garments related to their brand," read the letter.
"While proponents of this bill seek to punish irresponsible buyers who do not pay contractors enough money for garment contracts, this bill in actuality punishes good actors, as we note in our example below. Furthermore, the legislation includes intellectual property licensors, who do not issue purchase orders or set prices. The end result of this legislation, as currently drafted, would be significant job loss in California's garment manufacturing sector.
"Instead, the Legislature should address the need for more enforcement in the garment industry and eliminating these bad actors who often do not register with the state and who fail to comply with labor law. The conduct this bill seeks to prevent such as the failure to pay minimum wage and poor working conditions is already illegal. Entering into a contract to make garments where the company knows the price is insufficient to pay workers minimum wage is already illegal. To fix the problems in the industry, the Labor Commissioner should focus on targeted enforcement to identify and hold liable the true bad actors and the direct employers, which it has the statutory authority to do.
"Driving good brands out of California and causing significant job loss in California's garment manufacturing sector is not the answer."