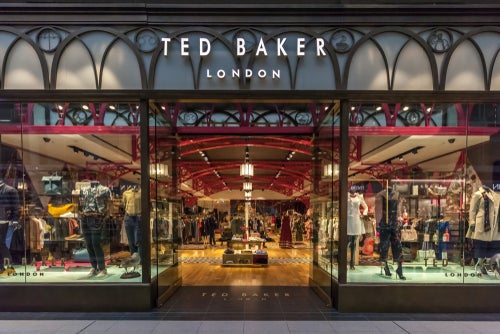 US-based ABG agreed a 110 pence per share deal this morning (16 August) to acquire Ted Baker through ABG-Robin BidCo (UK) Limited – a newly incorporated entity wholly-owned by ABG. The deal is 18.2% higher than the closing price of Ted Baker's shares yesterday.
In a statement to the stock exchange this morning, Ted Baker said its directors consider the terms of the deal to be "fair and reasonable" and are recommending shareholders vote in favour.
The British lifestyle company was founded more than three decades ago and its offerings include apparel, accessories, footwear, fragrance and home. With distribution across five continents, Ted Baker has 370 stores and concessions in the UK, Europe, North America, Middle East, Africa, Asia and Australasia.
The company began a formal sales process in April after rejecting a number of bids from private equity group Sycamore Partners. In June, Ted Baker said a preferred suitor had backed out of a potential deal.
In May, Ted Baker reported a pre-tax loss of GBP38.4m for the year to 30 January, down from GBP59.2m the year before.
Helena Feltham, interim chair of Ted Baker, believes the offer "balances the company's growth prospects with the risks of the uncertain economic environment in which the business is operating".
"The Ted Baker board believes that ABG will be a strong and supportive owner of the business. We are confident that with ABG's experience, reach and investment, the Ted Baker brand will be capable of achieving its long-term global potential."
ABG, which acquired assets including Reebok and David Beckham earlier this year, said it plans to separate the Ted Baker business into an intellectual property holding company, and one or more operating companies which would manage the physical retail, e-commerce and wholesale operations of the Ted Baker business.
"Ted Baker is a highly regarded, uniquely British brand whose strong fashion credibility resonates with consumers around the world," said Jamie Salter, founder, chairman and CEO of ABG. "We are excited to build on the brand's global foundation through a business model focused on licensing, wholesale, retail, digital and strategic marketing partnerships. Under ABG's ownership, we believe that Ted Baker is poised for continued growth and success."
With Ted Baker, ABG said it intends to use its global network of established operating partners, together with its business model, to enhance Ted Baker's revenue and profitability across merchandise categories and geographic regions as it has done for other acquired brands.
In particular, ABG believes there are significant growth opportunities for the Ted Baker brand in North America given the Ted Baker brand's strong consumer recognition in this market.
ABG owns 50% of SPARC Group – a North American retail, e-commerce and wholesale operating joint venture alongside Simon Property Group, a leading owner and operator of regional shopping malls and outlet centres in North America.
While detailed intentions and plans have not yet been formulated, in order to accelerate growth and provide operating economies of scale, one of the options ABG may explore is the potential to enter into formal discussions to seek to combine Ted Baker Operations in North America with those of SPARC.
Authentic Brands Group must refresh Ted Baker's proposition to survive
Emily Salter, senior apparel analyst at GlobalData believes this will give Ted Baker the stability it needs to turn its fortunes around as it has fallen out of favour among shoppers and faces more difficulties as consumers cut back on spend on clothing & footwear amid the cost of living crisis.  
She says: "Even before the pandemic, Ted Baker was suffering as its distinctive brand handwriting limits its audience, and Covid only compounded its troubles. It fell victim to the lack of demand for occasionwear and formalwear in 2020 and 2021, and although occasionwear is popular again this summer as consumers flock to weddings and other long-postponed events, Ted Baker has not adapted to the long-term casualisation trend. This is vital for Authentic Brands Group to tackle to ensure that it regains relevance among shoppers."