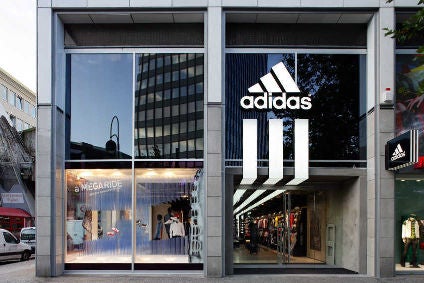 Sportswear firm adidas says its sales in Greater China have slumped 85% since Chinese New Year amid the coronavirus outbreak, with a significant number of stores closed and a reduction in footfall at its locations that do remain open.
The company notes its business in the country "performed strongly" in the first three weeks of the year, but have tumbled year-on-year since then.
"Since the start of the crisis, we have been working closely with the Chinese authorities to take measures to contain the epidemic and show our solidarity with the people directly affected. All of this has led to a significant number of store closures – both own- and partner-operated – and a pronounced traffic reduction within the remaining store fleet," Adidas says in a statement shared with just-style.
"Consequently, our business activity in Greater China has been around 85% below the prior-year level since Chinese New Year on 25 January."
It adds while it has also seen some traffic declines in other markets – mainly Japan and South Korea – there has not yet been any major business impact outside Greater China.
"As the situation keeps evolving on a daily basis, the magnitude of the overall impact on our business for the full-year 2020 cannot be quantified reliably at this point in time. We will provide more details when we release our full-year results on 11 March."
The update from Adidas comes after German sportswear company Puma warned yesterday (19 February) its first-quarter results will likely be affected by the impact of the coronavirus outbreak.
The firm has closed more than half its stores in China and says business in other Asian markets have also been affected by the decline of Chinese tourists. However, it remains optimistic about hitting its full-year targets.
Click here for additional insight on the coronavirus outbreak: Is coronavirus a threat to the clothing industry?